Join a pleasure cruise
through historical Nagasaki Port
Special Deals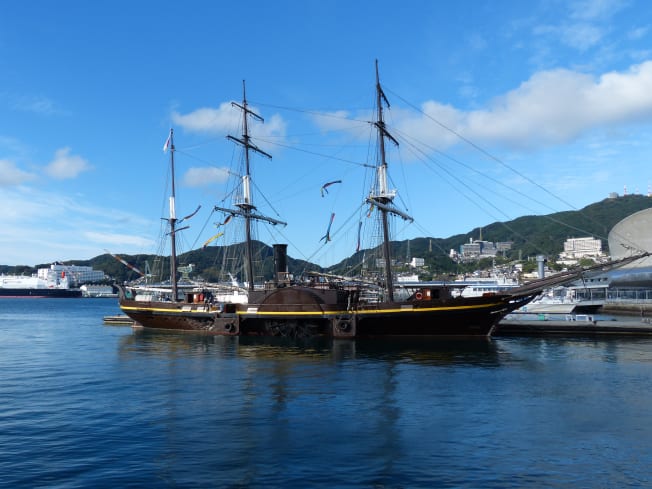 Duration:
This program is currently being postponed.
April 1 to December 31, 2020
Overview:
Nagasaki is one of Japan's most renowned and diverse port cities. Early international trade influenced Nagasaki's cosmopolitan cuisine and architecture, and historical structures from long-standing maritime industries dot the city's harbor. This campaign will guide visitors through Nagasaki Port's many appealing sights: Oura Cathedral (a UNESCO World Heritage Site), Glover House and Office, Kosuge Slip Dock, Mitsubishi's Nagasaki shipyard, and more.

Visitors can enjoy these views around Nagasaki's mountainous terrain from the newly restored steamship the Kanko Maru. This former warship is now a coveted vessel of tourism and a fixture of the city's harbor. An English- and Chinese-speaking guide will be on deck to help you navigate Nagasaki's many unique attractions.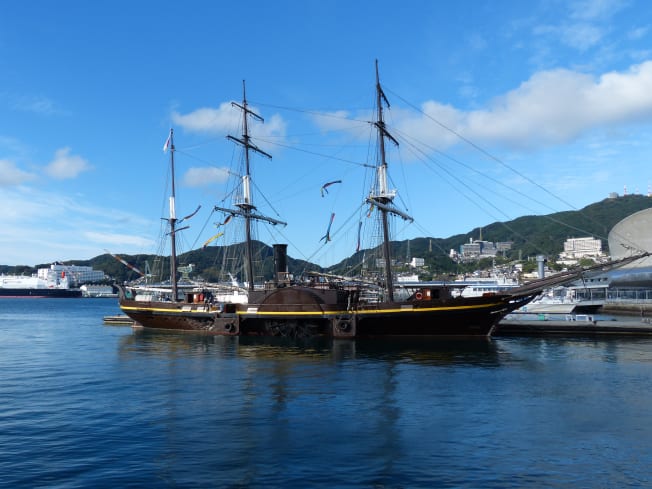 Benefits
Overseas visitors can enjoy:

A special reservation-only plan each Wednesday during the campaign period. A dedicated English- or Chinese-speaking guide. Sales of commemorative goods unique to Nagasaki. Commemorative photographs in uniforms modeled after 19th-century sailors.
How to get involved
Please show your passport at the ticket office.
Eligibility
Maximum of 30 people per day.
Conditions
Voyage offered Wednesdays only. Make reservations at least seven days in advance.
Disclaimer
Voyage may not be possible in cases of severe weather or mechanical failure. The Kanko Maru may be substituted for a high-speed vessel without advance notice. Commemorative photo sessions will be canceled in case of rainy weather.
Information
Venue Name and info
Yamasa Shipping Co., Ltd.
Venue Address
Nagasaki Port Terminal 1F, 17-3 Motofunamachi, Nagasaki-shi, Nagasaki Prefecture
Inquiries
Tel.: 095-822-5002
E-mail: gunkan-jima@honey.ocn.ne.jp
Languages supported: English
Site URLs