معرض كيوهارو آرت كولوني
清春芸術村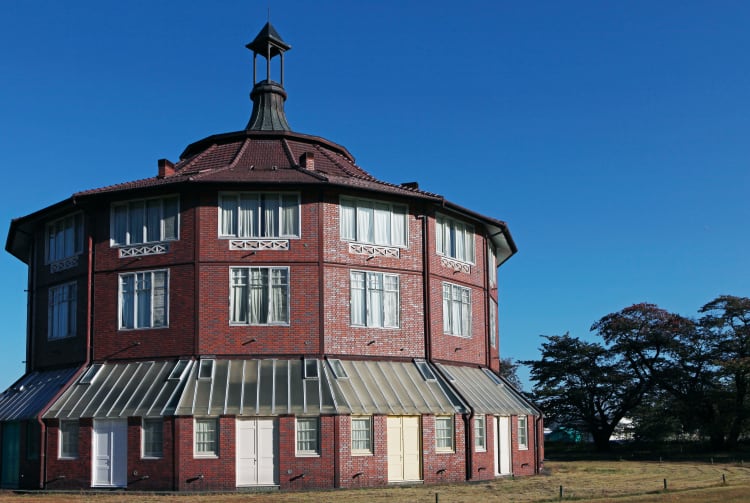 An eccentric architectural marvel is the perfect venue for art
Based in a re-purposed elementary school, the Kiyoharu Art Colony utilizes the original school buildings, along with new structures, each with its own striking style, from an ultra-modern concrete box to a quirky tree house. Quick Facts
The cherry blossom trees here were planted by school children in 1925
Japan's top architects, including Tadao Ando, have designed the structures
How to Get There
It is accessible by train and then by taxi.
If you are coming by train, Kobuchizawa Station is the closest stop and is a 10-minute taxi ride away. If you are driving, the Nagasaka Interchange is around a 15-minute drive from the Colony.
Artistically unique
Apart from the original circular school building, two original structures are must-sees. The Tearoom Tetsu was constructed in 2006 by Terunobu Fujimori, a respected architectural historian. The piece sees a quaint little tea shop constructed on a treetop. The Museum of Light was built in 2011 by renowned architect Tadao Ando. It displays works by Antoni Clave, all of which are lit exclusively with the natural light funneled through this amazing building. A temple to religious art
The Rouault Chapel is an area dedicated to the reverence of Georges Rouault, perhaps the most notable religious painter of the 20th century. The chapel includes a stained glass window created by Rouault and a 17th century crucifix he decorated by hand.
The La Ruche structure is an homage to the huge wine rotunda that Gustave Eiffel built in 1900, which later became temporary lodgings for artists, including Marc Chagall and Chaim Soutine. Honoring Gustave Eiffel
This is not the only connection to Gustave Eiffel at the museum, as in 1989, marking the 100-year anniversary of the completion of the Eiffel Tower, an original section of the tower was relocated from Paris to the museum. A statue of Gustave Eiffel stands to one side, forever admiring his handy work.
Ryuzaburo Umehara
The museum celebrates Japanese artists as well. The late artist Ryuzaburo Umehara has many of his works displayed, as well as some of his beloved belongings from brushes and paints to his favorite easel. The Atelier that displays his work was built by Isoya Yoshida in 1989.
قريب من معرض كيوهارو آرت كولوني الفنون والتصميم
معرض كيوهارو آرت كولوني
Hokuto-shi,
Yamanashi-ken التاريخ
ضريح ميسوغي-جينجا
Hokuto-shi,
Yamanashi-ken جاذبية
صنتوري هاكوشو ديستيلرَي
Hokuto-shi,
Yamanashi-ken الفنون والتصميم
متحف طريق الحرير هيراياما إيكو
Hokuto-shi,
Yamanashi-ken الفنون والتصميم
مجموعة ناكامورا كيث هارينغ
Hokuto-shi,
Yamanashi-ken التاريخ
مسار شينغن بوميتشي
Yamanashi-ken