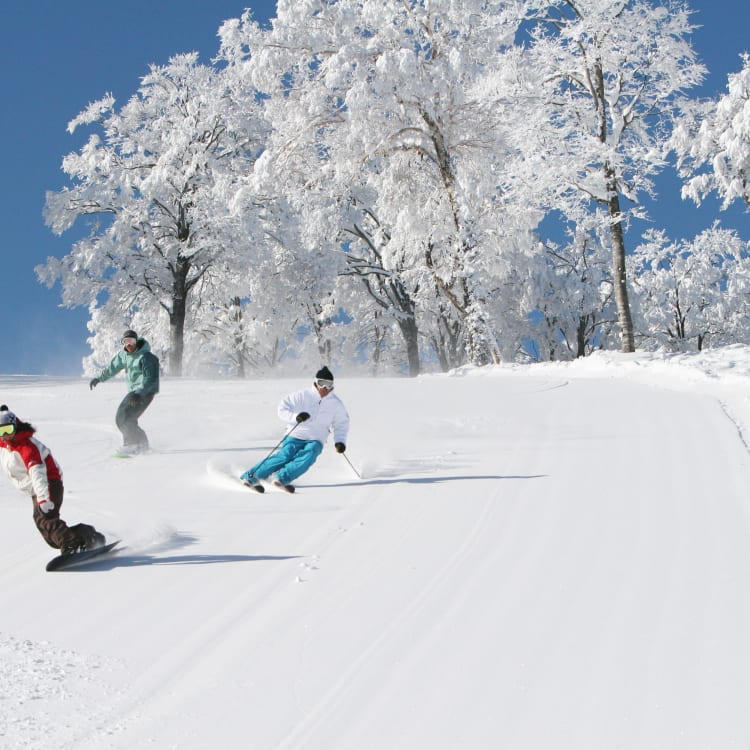 Skiing and snowboarding in Japan
Skiing and Snowboarding in Japan
While flying under the radar of globe-trotting skiers and snowboarders, Japan boasts a plenty of ski resorts throughout its mountainous northern regions: Hokkaido, Tohoku, Nagano, Niigata, and Gunma.
These regions are bestowed with some of the best quality powder snow in the world, with most ski resorts receiving an average snowfall of 10 to 15 meters each season.
Whether you are a skier or snowboarder, beginner or expert, planning a ski vacation to Japan or day trips while in Japan, you will not be disappointed.
Video: Gendron Travel
 
Tips on How to Enjoy Skiing and Snowboarding in Japan
The ski season generally starts in December and lasts until April in Japan, with excellent snow conditions almost guaranteed from January through February.
You might be surprised to find that one-day lift passes, costing around 4000 to 4500 yen, are relatively inexpensive in Japan compared to other countries. Ski and snowboard equipment/wear rentals are available at most resorts, but if you are using your own equipment, local delivery companies provide convenient door-to-door delivery services at reasonable prices.
Many ski resorts in Japan are also onsen (hot spring) resorts, hence the popular Japanese ritual of Ski and Soak. Soaking in an onsen to relax tired muscles after an exhilarating day on the slopes makes the Japanese skiing experience unforgettable.
Area Guide
HOKKAIDO
Hokkaido is quickly becoming known for its excellent snow conditions and cold winters. Niseko is the most popular resort area, boasting some of the driest, lightest powder in the world and a wide variety of terrain. Hirafu is now a bustling town with some of the best après-ski on offer in Japan. This area is also known for its superb powder snow throughout most of the season. Other resorts in Hokkaido are the nearby Rusustu and Furano and Sahoro to the east of Sapporo.
TOHOKU
The Tohoku region comprises six northern Honshu prefectures and the resorts are more scattered, with the main popular resorts being Appi Kogen and Shizukuishi in Iwate Prefecture. Hakkoda in Aomori Prefecture is less of a resort but is popular for people hunting out powder conditions on the mountain.
NAGANO
Nagano played host to the 1998 Winter Olympics and as might be expected has some excellent, world-class ski resorts. Resorts are found throughout the Nagano mountains, but the biggest resort areas are Hakuba, Shiga Kogen and Nozawa Onsen. Hakuba is arguably the most popular winter sports destination on the mainland and is home to a number of snow resorts set against an impressive mountain backdrop. There are a number of resorts along a 30km stretch of mountains, including Happo-one, Iwatake, Tsugaike Kogen, Hakuba 47 and Hakuba Goryu. The men's downhill and supergiant slalom as well as the ski jump and Nordic combined events of the 1998 Nagano Winter Olympics all took place in Hakuba. Shiga Kogen is one of the giants of the Japanese ski areas and is actually one of the largest ski resort areas in the world. There are about 20 connected resorts that make up Shiga Kogen and it may very well take you more than a few days to ride every course. One lift pass will give you access to all 71 lifts, gondolas and ropeways at Shiga Kogen. Nozawa Onsen is a small hot spring village with its very own large-scale ski and snowboard resort and is a favorite for many due to its charming village atmosphere.
NIIGATA
There are two main ski resort regions of Niigata – Yuzawa and Myoko. Yuzawa is the most hassle-free daytrip destination from Tokyo. Echigo Yuzawa is the main bullet train station and is only 80 minutes away from Tokyo Station. The GALA Yuzawa resort has its own bullet station that doubles as a gondola station so you can step off the train and straight onto a gondola! There are many other resorts in the region, including Ishiuchi Maruyama, Iwappara and NASPA Ski Garden. Twenty minutes from the station is Kagura resort and a little further the popular Naeba. The other main region is Myoko, home to the Suginohara, Akakura and Ikenotaira resorts.
GUNMA
The northern region of Gunma also has a good share of ski resorts. Kusatsu is located to the west on the border with Nagano Prefecture and is another traditional hot spring town. In the north east of the prefecture are Marunuma Kogen, Kawaba, plus more resorts in the Minakami and Katashina town areas.
---
Gendron Ski Tours                                                      
Niseko (Hokkaido)
Hakuba Valley (Nagano)
FROM 2015-2016 SKI MAGAZINE
JAPOW
By Brigitte Trottier and Frédéric Jean, Special Contributors Skiing in Japan is an incredibly unique experience we guarantee you'll never forget. The charm of the Japanese culture and the sheer joy of skiing some gorgeous powder are just two of the reasons you are sure to love a ski vacation in Japan. Your trip will start off with a few nights at one of the downtown core's magnificent hotels. This will give you a chance to explore Tokyo and discover all that Japan's modern culture has to offer. Visit the most popular neighbourhoods or go off the beaten path— the choice is yours! Indulge in some local delicacies or try foods you've never seen or heard of before! This brief stay in Tokyo will give you enough time to shake off the jet lag, and satisfy your curiosity for Japanese culture before you are ready to hit the slopes. Next stop: Niseko on the Island of Hokkaido!
Continue reading…
FROM 2015-2016 SKI MAGAZINE
POWDER PARADISE
By Daniel Melançon, Sports Journalist for Salut Bonjour! A ski trip to Japan is a truly unique experience, and one that requires as much preparation as possible. In addition to the 14-hour flight and the ensuing jet lag, you'll also have to prepare for the culture shock and language barrier. Another thing you should expect to see in Japan is snow—and lots of it! The Town of Hakuba, located in the heart of the Japanese Alps, in Nagano Prefecture, is the best place to indulge is some fluffy white stuff. The average annual snowfall here is over 11 metres. Hakuba is a mere 90-minute ride by Shinkansen (high-speed train) via Tokyo Station in the heart of the megapolis. Once in Nagano, a 40-minute drive or bus ride will get you to your hotel at the foot of the slopes. My choice of accommodations was the Tokyu Hotel, a modern facility boasting two restaurants (Japanese and French) and shuttle service that will take you right to the main gondola. Happo Village, with its restaurants and boutiques, is a great slopeside option.
Continue reading…
Tours Altitude Ski Tours
Niseko (Hokkaido)
Hakuba Valley (Nagano)
---
Useful Links