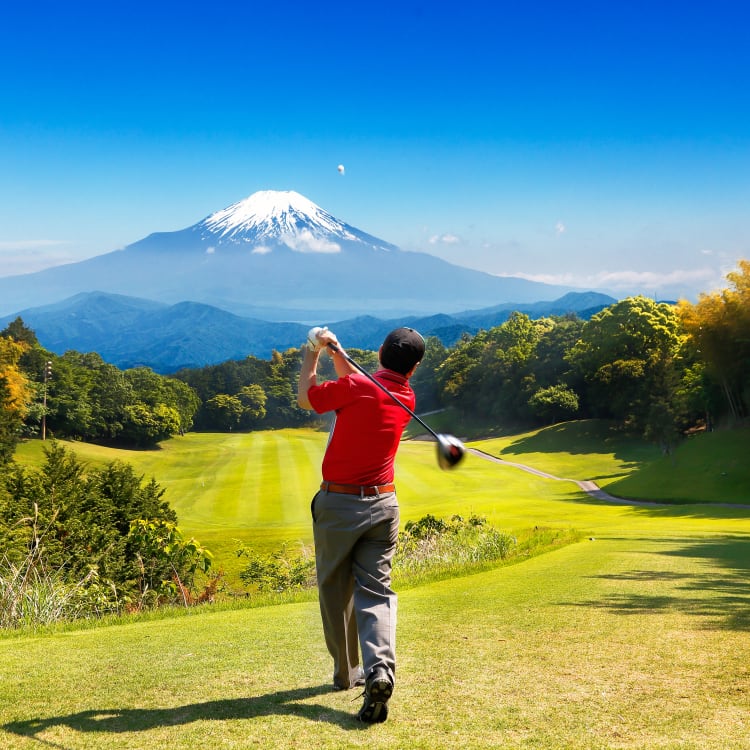 GUIDE
Golfing in Japan
Japan is home to almost 2,350 golf courses with 18 holes or more
Tee off on one of Japan's golf courses
Long seen as the exclusive playground of the rich and important in Japan, golf courses in the country are looking to make a sport the legendary golfer Arnold Palmer described as "without a doubt the greatest game mankind has ever invented" more accessible.
There are just shy of 2,350 courses with 18 holes or more dotted across Japan—only the United States has more—offering facilities and degrees of difficulty to suit all tastes and abilities. Many Japanese courses are renowned for their beauty, their perfect maintenance and, often, technical requirements that will challenge even the most accomplished players.
Making a reservation for a round of golf is becoming easier as more and more courses have English-speaking staff. Alternatively, reservations can be made online or over the phone by a Japanese-speaking colleague or friend.
Courses can be found from Hokkaido in the far north of Japan to Okinawa at the other end of the archipelago. Many clustered in the countryside within close driving distance of the major cities. World-class courses
Kasumigaseki Country Club, in Saitama Prefecture


, north of Tokyo, opened in 1929 and became Japan's first 36-hole course three years later. Since then, it has hosted numerous international tournaments. The course has also been selected to host the golf tournament for the 2020 Tokyo Olympic Games.
For a round with a view, few places in the world can compare to Gotemba Golf Club, which combines stunning vistas of Mount Fuji and the Pacific Ocean with a mixture of challenging and more straightforward holes. Southwest of Tokyo, Gotemba


is one of Japan's most famous resort areas and the course was one of the first in the region when it opened in 1971. At 6,320 yards, the course is a par 72—although wind and the lie of the land ensure it remains a challenge, especially holes 11 through 14.
Windsor Park Golf and Country Club opened in 1998 among some of the best rolling countryside in Ibaraki Prefecture


, only one hour north of Tokyo. And as well as 18 impressive holes, the club offers dining and accommodation facilities for anyone looking to stay a little longer. Making a reservation
Reservations can typically be made by phone or via a course's website. Clubs and carts are available at the vast majority of courses for an additional fee. Caddies can also often be provided for a round, although English-speaking caddies are a rarity.
While the top courses are expensive and require membership, there are plenty that are open to the public and still provide a challenging round. Green fees can start from as little as 4,000 yen and many are under 10,000 yen for an 18-hole round. Prices may be marginally higher on weekends, while many courses do not accommodate single players and may have a surcharge for two players. What to expect
A round of golf in Japan is usually assumed to be an all-day event that includes a leisurely lunch break between the first nine holes and the return leg. Many of the top courses have their own on-site onsen in the clubhouse to relax in after a round.
Rules and etiquette
The etiquette of the game in Japan is similar to that of other countries. Everyone expected to wear appropriate attire while playing and later in the clubhouse, with some requiring a jacket. Anyone planning a round is advised to check in advance.
In addition, a yellow flag is often placed on the fairway at around 230 yards from the tees and players are expected to wait for the group ahead of them to pass that marker before teeing off. A local rule is the use of OB tees. These are additional markers placed further down the fairway. If a ball is played out of bounds or into a water hazard, OB tees mark the spot from where the next shot is taken. Urban golf
The popularity of golf has driven the construction of countless driving ranges that can be found in the suburbs of Japan's big cities and even on the tops of large buildings in the downtown districts. Resembling vast tents, many are illuminated late into the night to give frustrated players a chance to practice their swings after a hard day in the office. There are even izakaya for the truly golf-mad, where they can use remarkably lifelike simulators to recreate a round at the same time as eating and dining with friends.
Major tournaments
The Olympic Games are expected to raise the profile of Japan as a golfing destination, as is the announcement by the Florida-based PGA Tour in November that Japan will host its first official tournament in October 2019 as part of its annual swing through Asia.
The tournament will have a purse of US$9.75 million and will be played at the Accordia Golf Narashino Country Club in Chiba Prefecture


, east of Tokyo.
The tournament will be in addition to dozens of other events held across the country every year, such as the Panasonic Open, the Bridgestone Open, and the Fujisankei Classic, many of which attract some of the biggest names in the sport.
All information is correct as of March 2019.
Did this information help you?
out of found this information helpful.