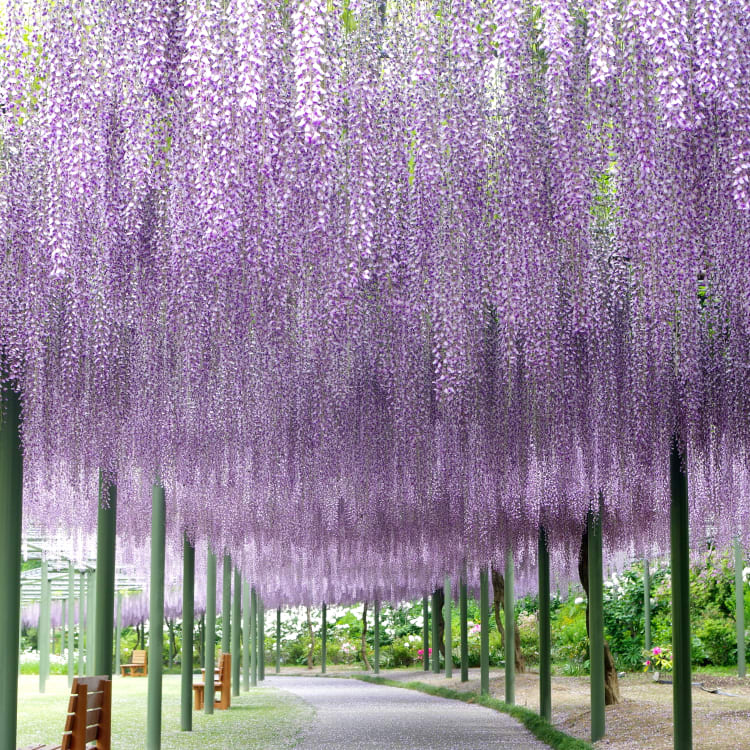 GUIDE
Hamamatsu: a bright and vibrant city of flowers
[Sponsored] Hamamatsu City is a center of garden tourism, outdoor activity, and original food culture—all within easy access from Tokyo, Kyoto, and Osaka
Hamamatsu City is best in bloom
Hamamatsu City


is centrally located on the coast of Shizuoka Prefecture


, under two hours from Tokyo


, Kyoto


and Osaka


on the shinkansen. It is one of Japan's garden-tourism hotspots due to the spectacular array of brightly colored flowers that brighten up the city's parks and botanical gardens throughout the year. The city has a unique food culture based around unagi (eel) and offers visitors a wide variety of family-friendly outdoor activities to enjoy. Choose from seasonal fruit-picking, relaxation at scenic hot springs, and beautiful sunsets from the expansive sand dunes. The heart of Japan's garden tourism
Garden tourists from around the world descend upon Hamamatsu Flower Park


to admire its beauty and diversity. The park—located next to Lake Hamana—features over 3,000 plant species spread over 30,000 square meters. The atmosphere subtly transforms throughout the year thanks to lively and ever-changing displays of color, while numerous seasonal events add an extra dimension of enjoyment.
Visit the park during the spring to stroll down avenues lined with pink cherry blossoms or walk among vibrant tulip fields. Summer, meanwhile, heralds a festival of nuanced color courtesy of the myriad hydrangeas and Japanese irises that line the garden's paths.
Flower displays are arguably at their most impressive in fall when Amethyst sage and roses animate the park with vivid purple and red hues, and members of the Hamamatsu Chrysanthemum Committee present their most elegant blooms. The committee also creates the Hyakushu Tsugiwakegiku display—a highly distinctive tree made by grafting over 100 varieties of chrysanthemum onto a single stalk plant. This unique floral arrangement dates back to the Edo period (1603–1868).
Christmas exhibitions light up the park and mark the beginning of winter. Over 1 million bulbs illuminate the garden, further enhanced by numerous handcrafted light displays. Rapeseed blossoms and daffodils usher in the new year, and pink blooms of plum flowers mark the end of the season. Hamamatsu's colorful flower festivals
Hamamatsu's well-tended gardens and scenic beauty provide the perfect backdrop for several notable flower festivals. One of the most popular celebrations is hanami (literally "flower viewing" in Japanese), during which people around Japan gather under cherry blossom trees to eat, drink, and mark the arrival of spring. Hamamatsu hosts hanami festivities at Hamamatsu Castle Park, Okuyama Kogen botanical garden and many other areas around the city.
The city's largest spring festival is the Lake Hamana Flower Festa, starting each year in late March at Hamamatsu Flower Park and other parks and temples around Lake Hamana. Visitors can enjoy a sweeping array of spring flowers, ranging from azaleas to weeping plums. Locals often state that spring in Japan begins at Lake Hamana


.
The Yuya no Nagafuji Festival is held across the Tenryu River from Hamamatsu and celebrates the blooming of an 800-year-old wisteria tree. During the festival, you can observe cultural ambassadors in traditional court kimono, enjoy Noh drama performances at an open-air theater, and take part in tea ceremonies. Things to do in Hamamatsu
The city offers many other attractions that complement and contrast with its vibrant flower culture. The Nakatajima Sand Dunes are among the largest in Japan, and during the Hamamatsu Festival


in early May, locals hold kite battles here. Alternatively, give yourself a vitamin-C boost in one of Hamamatsu's many orchards that open their doors to fruit pickers every year. At Hamamatsu Fruit Park Tokinosumika, you can pick over 15 types of fruit throughout the year. Gathering strawberries in winter and early spring is especially popular. Other options include picking blueberries at Aoitori from June to August, melons at Kashima Harvest from July to August, and mandarin oranges at multiple locations from October to December.
Finish off your day by relaxing at one of the hot springs around the Kanzanji sightseeing area. Hanasaki no Yu offers 25 baths across three facilities for indoor and outdoor bathing. Complement your trip to the hot spring with a massage and traditional post-bath bottle of ice-cold milk. Hamamatsu food culture
Eel (unagi) sits at the center of Hamamatsu's original food culture. Eel-raising is common around Lake Hamana, and dozens of restaurants in the area specialize in grilled eel. In some parts of the world, the fish's reputation isn't particularly glowing; however, in Hamamatsu, it has different preparation methods and is considered a delicacy.
There are two distinct styles of eel preparation: Kanto style (eastern Japan) and Kansai style (western Japan). Kanto-style grilling leaves the flesh moist and tender, while Kansai-style cooking results in a firm and slightly crispy texture. Since Hamamatsu lies between both regions, you can try both styles here. You can even take home a snack named after the eel—unagi pie. It is a sweet, cookie-like snack blended with eel extract.
The city's proximity to the ocean means fresh seafood is plentiful and popular. For example, pufferfish (fugu) is a local delicacy. It is served in a variety of ways—raw, grilled, deep-fried, or in hotpots. Lake Hamana oysters (kaki) are in season from January to March. Winter sees a rise in demand for oyster rice bowls, featuring boiled oysters grilled with unagi sauce and served over rice with slices of onions, seaweed and orange peel. Try a few of these local specialties during your trip. Staying in Hamamatsu
Visitors to Hamamatsu will find a wide variety of accommodation to suit all budgets. Traditional Japanese inns (ryokan) feature communal spas and rooms with tatami mats, and you can stroll around the inns in comfortable robes (yukata) and enjoy a seasonal multi-course (kaiseki) dinner. Meanwhile, budget travelers and backpackers will find reasonably priced accommodation around Hamamatsu Station.
Many of the hotels are within walking distance of the city's shrines, museums and parks, with some offering impressive views of local landmarks and Lake Hamana.
Travelers eager for a unique cultural experience should consider staying at Hokoji Temple and their "One Night Zen Experience." Through the guidance and wisdom of a Zen monk, guests will take part in seated meditation (zazen) and find peace of mind through the ancient practice of shakyo, the art of copying out a Buddhist sutra. You will also join a monk for evening prayers and a dinner of Japanese Buddhist cuisine (shojin ryori).
Getting to Hamamatsu
Hamamatsu is easily accessible from Tokyo, Kyoto, and Osaka on the Tokaido Shinkansen. Bullet trains from Tokyo or Shinagawa stations arrive at Hamamatsu Station in under 90 minutes. Departures from Shin-Osaka Station and Kyoto Station arrive in under two hours.
For Japan Rail Pass-holders, present your pass at any JR Ticket Office to book a seat on the bullet train to the city.
Willer Express offers economical buses to Hamamatsu Station from each city. Reservations can be made several months in advance.
Pick up a JR Mt. Fuji-Shizuoka Area Tourist Pass after you arrive in Hamamatsu. This three-day pass offers unlimited travel on JR local trains, buses, and ferries. Use the pass for all of Hamamatsu's main attractions and head further afield to Mt. Fuji and Shizuoka prefecture's hot spring hot spots.
Did this information help you?
out of found this information helpful.