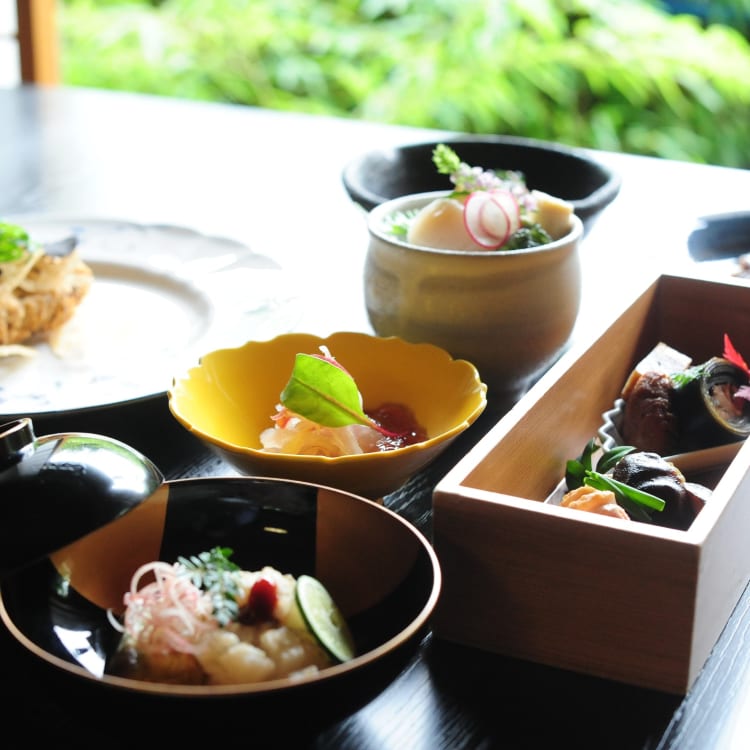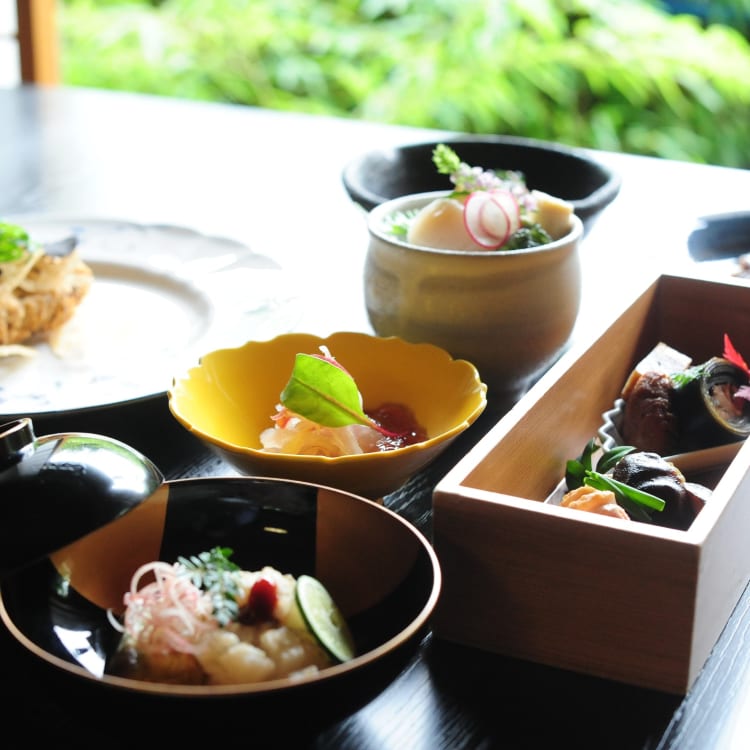 GUIDE
High-quality cuisine and down-home soul food in Echizen, Fukui
[Sponsored] Try the renowned "three delicacies of Echizen" and discover the area's rich history of traditional crafts
Tuck into Echizen's original food culture
For centuries, Echizen City in Fukui Prefecture has been associated with artisanal excellence, particularly in the realms of traditional washi papermaking, bladesmithing and tansu chest cabinetry. However, the region is also something of a culinary hot spot.
Head to this scenic part of western Japan to feast on a wide range of delicacies, ranging from palate-pleasing, high-class Japanese cuisine to delicious, down-home soul food—all made with locally sourced ingredients.
Indeed, many curious gourmands have traveled here to sample the famed "three delicacies of Echizen," while enjoying the area's myriad other charms. Getting to Echizen is easy; the city is only two to three hours by train from Japan's major travel hubs.
Akiyama Tokuzo—from Fukui to Paris and back again Echizen is the hometown of renowned chef Akiyama Tokuzo (1888–1974) who served as Master Chef of the Imperial Court of Japan under both Emperor Taisho (1879–1926) and Emperor Showa (1901–1989). Akiyama first encountered Western cuisine during a visit to an army base in nearby Sabae City, while still working at the family restaurant. Inspired by his visit (and cutlets, in particular), he decided to train to become a chef. Akiyama subsequently forged a name for himself as a pioneer of French cuisine, working at the Hôtel Ritz Paris in France under distinguished French chef Auguste Escoffier.
In 1915, Akiyama returned to Japan in response to an invitation from the Ministry of the Imperial Household, which tasked him with creating a meal for Emperor Taisho's coronation ceremony. He received his Master Chef designation that same year, at the age of 25. Akiyama is known for developing menus that utilized ingredients from his native prefecture. Mantani—combining local food and traditional crafts
Mantani, a restaurant with two locations in Fukui, carries on Akiyama's culinary traditions, with its "Akiyama Tokuzo Tribute Selection" dishes. These foods, inspired by the "Emperor's Chef," are carefully crafted year-round, using local, seasonal ingredients.
The restaurant serves these dishes with locally produced wares such as plates, sake cups, washi paper, lacquerware goods, and steak knives crafted by award-winning local cutlery-makers Ryusen Hamono. Mantani serves up other foods, too, including traditional kaiseki meals. Mantani's Echizen branch is a 10-minute walk from Takefu Station (reservations required). Sakenomise Hayashi—flying the flag for sake
Sakenomise Hayashi is a pioneering, Echizen-based sake shop. Domestically, Sakenomise Hayashi enjoys a close relationship with many well-known sushi outlets and Japanese-style eateries across the country, supplying them with special sakes. It also provides its products to Michelin-starred restaurants in Tokyo, Kyoto and Kanazawa, among other locations. Internationally, the shop supplies sake to the prestigious Marina Bay Sands resort in Singapore.
Inside Sakenomise Hayashi's stylish premises, you can find many kinds of sake, as well as shochu, wine and craft beers from across the country, though samples are not available. The shop is a 20-minute walk from Takefu Station and two minutes from Takefu Central Park.
To get a taste for a local sake favorite, pay a visit to Katayama Shuzo brewery, founded in the late 18th century. Their flagship product is Kansai Kasen, served in a traditional, transparent blue bottle. Experienced tipplers say it has a subtle sweetness and rich flavor, and a pleasant sharpness upon swallowing. The brewery's liquors can be purchased at a small selection of shops in town. Sample the "three delicacies of Echizen"
Weary travelers in search of satisfying soul food should track down the "three delicacies of Echizen"—oroshi soba, chuka soba and Volga rice.
Oroshi soba, or buckwheat noodles topped with grated Japanese radish, is a healthy and refreshing dish that is always served cold, even in winter. To learn how to create your own delicious noodle dishes, book a hands-on experience at Echizen Soba Village. The facility runs two 90-minute soba-making workshops each day (reservations required). After enjoying your self-made noodles, visit the factory to get a first-hand look at the soba-making production line, or stop by the restaurant for coffee and dessert. An on-site shop sells soba, other local foods and a selection of various snacks. Echizen Soba Village is a 15-minute bus or taxi ride from Takefu Station. A Japanese rice dish with European connections
Volga rice, meanwhile, comprises fried rice covered in an omelet, topped with fried pork cutlet and drizzled with sauce. Though the true origins of its name are unknown, the dish is said to resemble a boat ferrying packages down a river; as to why it is associated with the Volga River—Europe's longest waterway—nobody knows for sure.
Several local restaurants serve Volga rice, with each establishment varying the recipe slightly. Grab a seat at Yokogawa Bunten (less than 10 minutes on foot walk from Takefu Station) to sample their popular take on the dish. The eatery uses locally sourced eggs from chickens fed a mixture containing fine kelp powder that gives the eggs a slightly salty taste, and tops the food with a light, mild sauce made in-house. Cafe de Imari, about 20 minutes on foot from Kitago Station, is another option. Ivy adorns the attractive storefront, and the walls are decorated with hand-drawn pictures. Cafe de Imari's Volga rice contains a hearty mix of ham, peppers, onions, mushrooms and carrots, and is topped with a thick demi-glace sauce. Dig into a tasty ramen-like soba dish
Chuka soba, or Chinese-style soba, also features among Echizen's three most acclaimed foods. The name is slightly misleading, however, as this "soba" dish is actually closer to ramen than the buckwheat soba noodle dish mentioned above.
Echizen chuka soba is characterized by a clear, golden soup and a gentle taste, and is slightly lighter on the stomach than ramen. Long lines often form outside popular chuka soba restaurants, especially during peak hours such as weekday lunchtimes. To sample authentic chuka soba, head to Wakatake Shokudo, a 12-minute walk from Takefu Station.
Getting to Echizen
Limited express trains departing from Kanazawa or Kyoto will take you to Echizen in around 90 minutes. Express buses also run from Osaka and other areas. Though there are currently no direct trains from Tokyo, the Hokuriku Shinkansen line, which presently links Tokyo with Ishikawa Prefecture, is set to be extended to Fukui by 2023.
Did this information help you?
out of found this information helpful.