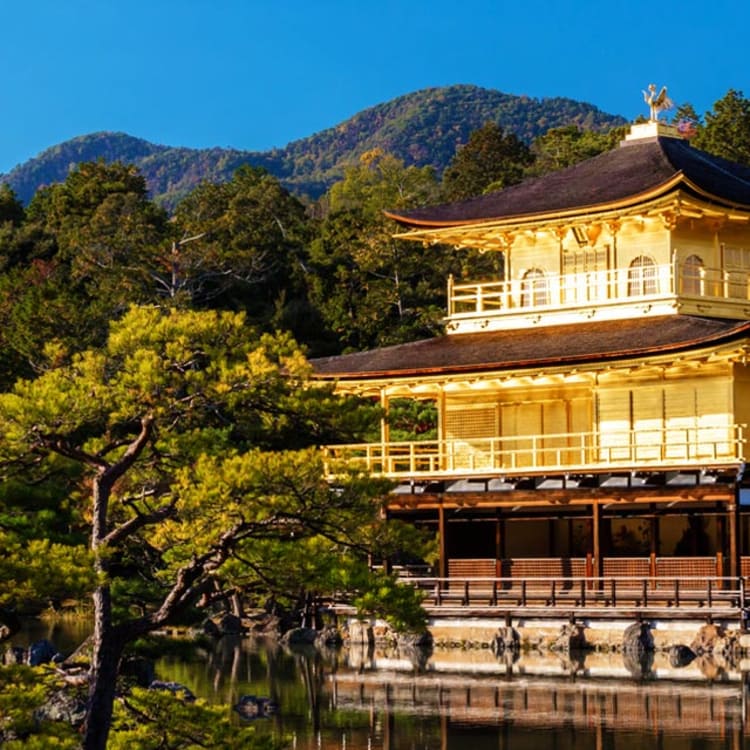 ITINERARIES
Kyoto for First-Timers
One of Japan's best-preserved historic cities, Kyoto is rich in culture, temples, and shrines
Recommended length: 1 day
Step back in time as you explore historic castles and temples in the ancient city, then taste the area's refined cuisine.
Visit Kyoto's bustling city center to shop for traditional handicrafts and hopefully spot a real geisha or maiko. Use the convenient bus system to explore the tranquil shrines that dot the surrounding mountains.
The gleaming gold of Kinkakuji Temple reflected on the water
Strolling the narrow streets dotted with shops and cafes around Higashiyama
Sampling local foods at the friendly Nishiki Market Start Your Journey








Kyoto
Where history comes alive
Just 30 minutes from Osaka by train, Kyoto has refined its culture over a thousand years. It has preserved its historic sites while remaining vibrant and livable. Japan's capital from 794 to 1868, Kyoto was Japan's center of art, poetry, and culture. Much of that history has been preserved in the castles, temples, and narrow streets of Machiya houses.


Nijo Castle
Unlike other Japanese castles
Tokugawa Ieyasu, the first shogun of the Edo Period, built the castle in 1603 as his family residence in the center of Kyoto. Inside, the Ninomaru Palace features beautiful wall paintings and original nightingale floors, which squeak to deter intruders.


Kinkakuji Temple
Brilliant gold reflecting off the water
Known as the Golden Pavilion for its gleaming, gilded facade, Kinkakuji Temple was originally built as a retirement villa for shogun Ashikaga Yoshimitsu. After his death in 1408, it became a Zen Buddhist temple. Kinkakuji looks magical in all seasons, particularly when reflected in the surrounding pond.


Yasaka-jinja Shrine
Spiritual center of Gion
With a commanding position above the geisha teahouses and restaurants of Gion, this vermilion shrine is known by locals as Gion-san. During the summer's Gion Festival, it becomes crowded with street food stalls and locals in colorful cotton yukata robes. At other times, you may be lucky to find a flea market with antiques and second-hand kimono for sale. Given its location, Yasaka-jinja can be an excellent place to spot beautifully dressed geisha.


Chionin Temple
Picturesque temple with a massive gate
Close to Yasaka-jinja Shrine and adjacent to Maruyama Park, Chionin Temple boasts one of the largest sanmon, a wooden temple gate, in the world. The impressive wooden structure was built in 1621. The complex includes gardens and halls of treasures, and has a calm, contemplative atmosphere.


Higashiyama
A photographer's paradise of pagodas and charming streets
A short walk from Yasaka-jinja Shrine and the Gion area in eastern Kyoto, Higashiyama is renowned for its picturesque views from the narrow streets that wind down the hillside. Use the Yasaka-no-to pagoda as your landmark as you stroll the narrow side streets and explore small craft shops and cafes. Wander up Ninenzaka and Sannenzaka slopes for beautiful views as you head toward Kiyomizudera Temple.


Kiyomizudera Temple
Panoramic views of Kyoto from this iconic temple
As the streets narrow and crowds of school children on field trips linger outside the souvenir shops, you know you're almost at this grand temple with commanding views over the city. Built 1,200 years ago, the Hondo, or main hall, has a large wooden stage that seems to float above the trees. On autumn nights, the red maple leaves are illuminated. Don't miss the sacred waterfall that is said to make wishes come true. Behind the main temple, a small Shinto shrine, Jishu-jinja, is said to bring luck in love.


Shopping in Kyoto
Explore Shijo Kawaramachi and Nishiki-koji Street
Above Hankyu Shijo Kawaramachi Station, this popular shopping and entertainment area has major department stores and restaurants. It's an excellent place to try Kyoto's matcha tea sweets and parfaits or pick up some stylish souvenirs. Also in the Kawaramachi district, there's a network of covered shopping arcades, making it ideal in bad weather. Head to Nishiki-koji Street for Nishiki Market


, known as Kyoto's kitchen. Many of the stores have been in the same family for generations, and offer local specialties from pickles and dried fish to green tea and sweets. You'll find the storekeepers very welcoming and generous with their samples.
More to Explore


Kyoto Cuisine
A delicious cultural heritage
The center of Japanese culture for centuries, Kyoto has built a rich food tradition, based on tea ceremony dishes and temple food. From the elegant multi-course meals of kaiseki cuisine, to the elevated vegetarian temple food known as shojin ryori and simple obanzai home cooking, Kyoto has something for all tastes. Kyoto is also known for its delicious vegetables, known as kyo yasai. Dining at one of the restaurants in Pontocho overlooking the river is an unforgettable experience, but there are excellent restaurants and relaxing cafes everywhere.