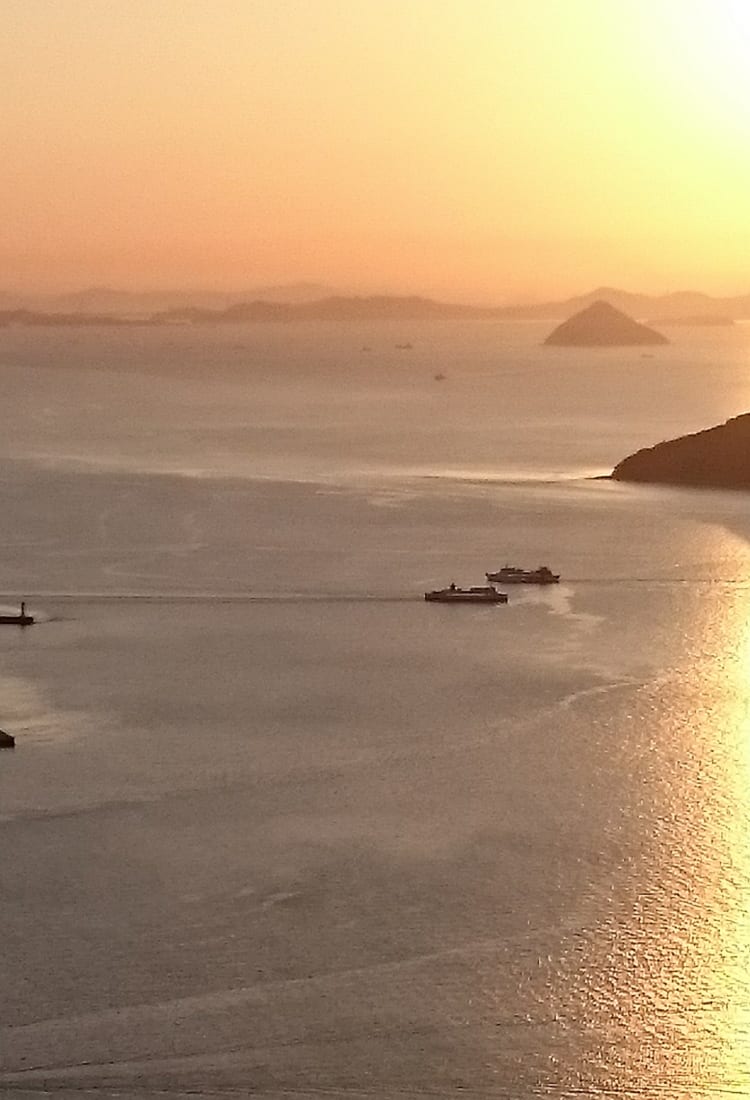 2021.02
The Seto Inland Sea: Heal Your Soul with a Tour of Enchantingly Unique Islands [PR]
Situated between Honshu and Shikoku, Japan's Seto Inland Sea extends over 400 kilometers from Osaka to Kyushu. Its islands are rich with character, presenting you with opportunities to encounter local cuisine, photogenic landscapes, and contemporary art at just about every turn. Art lovers visit the Seto Inland Sea specifically to attend the Setouchi Triennale, a contemporary art festival held just once every three years on twelve islands between Kagawa and Okayama Prefectures. 
Touring the islands by ferry from Takamatsu Port (Kagawa Prefecture) and exploring individual islands on foot or bicycle are a special travel experience. Embark on a relaxing journey of warm, sparkling seas and gentle breezes.
Red Pumpkin   Yayoi Kusama: Symbol of a "mecca for contemporary art" (Naoshima).
Red Pumpkin greets you at the port to "welcome you to an island of contemporary art." With its "pop" look, it will take amplify your sense of being on a "trip to the unusual." At night, its interior lights up in a polka dot pattern to create a strange ambience.
Naoshima Pavilion  Sou Fujimoto: A new island of stainless steel art (Naoshima)
Naoshima Town is made up of 27 islands, the largest of which is Naoshima island. Several of the islands, including Naoshima, Teshima, and Inuijima, have become places to visit for contemporary art. Naoshima Pavilion is a work of stainless steel mesh by Sou Fujimoto. He created it with the idea of adding a "28th floating island" to Naoshima. A good way to appreciate it is to go inside and enjoy the sea breeze blowing through. Naoshima Pavilion is lit up at night.
My Lodge Naoshima: An inn of picturesque views and relaxation (Naoshima)
Naoshima offers a variety of accommodations that incorporate views of the sea. One is My Lodge Naoshima, a hotel that opened in 2020. Every room looks out over the Seto Inland Sea and provides natural beauty that will refresh the heart and mind. The theme of its restaurant is "slow food, produced and consumed locally." It is the perfect place to enjoy meals prepared with the blessings of the local area and craft beer. 
Terraced rice fields: A beautiful and traditional Japanese landscape that soothes the soul (Teshima)
The best way to see Teshima is on a rented bicycle. Near the Teshima Art Museum you will find a beautifully photogenic rice terrace landscape. The contrast between the vivid green rice fields and blue sea will make a memorable photograph. Teshima is a place where time drifts by, letting you forget the hustle and bustle of daily life. Take a moment now and again during your stay to stop and breathe deeply.
Shima Kitchen: Where Teshima's art, community, and food intersect
Shima Kitchen is an open restaurant with a large roof that surrounds an open terrace containing a distinctive tree. It welcomes diners with a menu prepared with abundant fresh ingredients by local mothers with advice from a first-class hotel chef. Making an online reservation is recommended.
*Shima Kitchen takes steps to control COVID-19 (including making hand sanitizers available, ventilating the premises, requiring masks, and limiting seating).
Regent in Olives  Hisakazu Shimizu: Surrealism in an olive grove (Shodoshima)
Shodoshima is one of the participating islands of the Setouchi Triennale festival. A one-hour ferry ride from Takamatsu, Shodoshima is known for its striking artworks, romantic scenery, and olive groves. This eye-catching work of art with a pompadour hairstyle (called a "regent" in Japan) by Hisakazu Shimizu appears out of the blue in an olive grove. A small hole in the side is used to place fruits and vegetables. Visitors sometimes leave mementos behind, so you never know what you'll find there.
Shodoshima Olive Park: Step into a film-inspired world (Shodoshima)
Within Olive Park, you'll find a white Greek windmill standing on a small rise overlooking the sea and about 2,000 olive trees. The park is full of popular photo spots, including a film set that was used in the movie Kiki's Delivery Service and a three-meter-high wooden monument. Magical brooms can be borrowed free of charge.
Angel Road: A "lucky spot" for romance (Shodoshima)
Angel Road is a popular scenic location near Tonosho Port that is known as a "sacred place" for lovers. Twice a day, a sandbar emerges from the sea for just a few hours as the tides come in and out. This sand bar reaches 500 meters in length and connects Shodoshima with three small islands. According to the legend, if you walk across it while holding hands with your sweetheart, an angel will come down and grant your wishes. Be sure to climb the stone steps from the beach up to the Hill of Promises and ring the "Bell of Love" while enjoying a panoramic view of Angel Road.
Ogijima's Soul  Jaume Plensa: A stylish design that creates light and shadows (Ogijima)
Ogishima is an endearing little island with a hillside village. Visitors arriving at the port are welcomed by an information center with glass walls and a lace-like roof whose design incorporates letters and characters from eight languages. The building stands as an expression of international diversity. On sunny days, the building casts unique shadows on the nearby ground and water. At night, it gives off a beautifully calming light.
Liminal Air -core-  Shinji Ohmaki: The starting point on an artistic journey (Takamatsu)
This artwork consists of two colorful pillars that tower eight meters (26 feet) above Takamatsu Port, a convenient departure point for island hopping in the Seto Inland Sea. The pillars are partially covered with mirrors that give them a different look depending on the weather and time of day. They add a note of excitement to every ferry departure.
One more attraction: Local people whose lives are intertwined with the sea
Visiting the islands of the Seto Inland Sea, you'll find that time has an unhurried manner not found in the cities. So after soothing your soul in the rich natural environs and satisfying your artistic curiosity, you'll undoubtedly discover that interaction with the locals is one of the best parts of your trip. The easygoing nature of people whose lives are intertwined with the sea will surely charm your traveler's heart all the more.

The fifth Setouchi Triennale is scheduled to be held in 2022.
Dates for Setouchi Triennale 2022 【Spring】14 April (Thu) to 18 May (Wed), 2022 (35 days) 【Summer】5 August (Fri) to 4 September (Sun), 2022 (31 days) 【Autumn】29 September (Thu) to 6 November (Sun), 2022 (39 days)
Related Links
Kagawa Prefecture Tourism Association "Visit Kagawa"