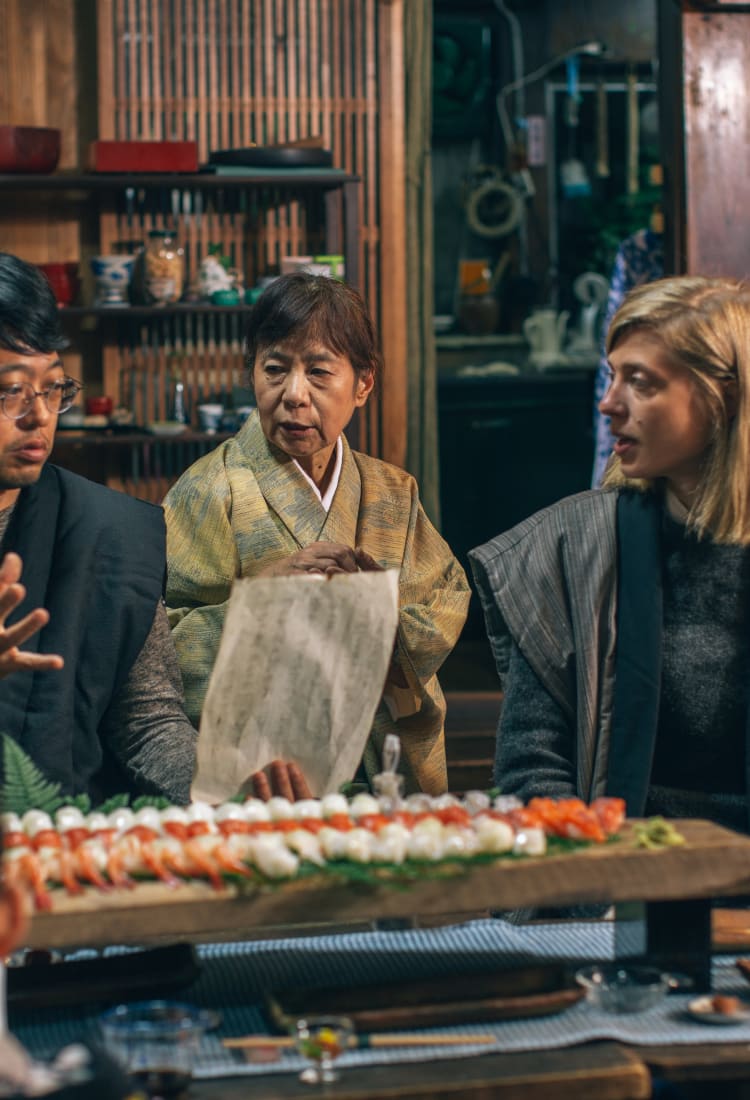 2021.03
A journey through traditional handicrafts and lifestyles [PR]
Echizen, in Fukui Prefecture, near the Sea of Japan, has a long history of craft and cuisine. The city has long been a center for traditional crafts and manufacturing, including knives, washi paper, and wooden furniture.

Echizen's skilled artisans are a source of great local pride, and the name "Echizen" denotes crafts of superior quality. That sense of care and craftsmanship also applies to the area's cuisine. The people of Echizen have a close relationship with the natural environment, and through the bounty of nature, Echizen has developed a reputation as a center for fine dining.
Echizen is less than two hours from Osaka and Kyoto by the Limited Express Thunderbird train, making a trip to Echizen very convenient. Explore a town where traditional culture and a natural lifestyle still thrive.
Ryusen Hamono: Carefully crafted knives with international renown 
Ryusen Hamono is a workshop and store offering knives and cutlery, prized by famous chefs in Japan and around the world. These traditionally crafted knives have an outstanding cutting edge, and are designed with beauty and ease of use in mind.
At the workshop, visitors can try their hand at making cutting knives and butter knives under an artisan's guidance.
The result is a one-of-a-kind knife that you will use and treasure for years to come.
* English available
* You can take what you make home with you
Mantani: Savor the flavors of the region through local cuisine with a nod to history
Located in the Kyomachi area, where much of the city's old streetscape still remains, the restaurant Mantani boasts traditional décor and has a private tearoom for dining, at the end of a stone-paved alleyway.
Meals are prepared with carefully selected local ingredients in a tasteful and elegant space. The restaurant conveys the appeal of the local area through food, including a selection of dishes created in honor of Tokuzo Akiyama (1888–1974), a chef from Echizen who served the imperial family, and who trained in Paris under the renowned French chef, Auguste Escoffier. 
Furnitureholic: Creating furniture that will be treasured for generations to come
The art of making Echizen tansu—beautifully crafted, portable wooden chests of drawers—has been passed down through the generations. While Furnitureholic still makes these traditional keepsakes, the company also produces simple, durable, and convenient furniture to suit modern lifestyles.
Producing a piece of furniture, which is mainly custom-made, involves careful consultation with the client, to develop something that will stand the test of time.
The workshop, to the west of Echizen's city center, also offers the opportunity to make your own chopsticks. The chopsticks are made from upcycled scraps of wood left over from furniture making. 
Yanase Ryozo Paper Mill: Handmade washi paper based on 1500 years of traditional techniques
This workshop, which produces traditional Echizen washi paper, is located in the Imadate Goka district, an area blessed with the clean water needed for paper production. It produces high-quality washi paper in a variety of styles, including thin sheets with a supple texture and delicate, lace-like patterns.
Echizen washi is said to have been used by world-famous artists such as Picasso and Rembrandt, who were captivated by its unique texture.
Paper-making workshops are held every weekend, where visitors can make their own washi paper, with a variety of designs.
Yamafutokoro Kobo: Experience country life and local cuisine at a rural guesthouse
At this activity-focused guest house run by artisans in a small mountain village near the city, you can experience a variety of Japanese traditional cultural activities.
Guests can try fabric dyeing, hand weaving, and miso making, as well as country cooking using local ingredients like Fukui Salmon (trout salmon raised in the prefecture's clean, cool waters), and squid from the Echizen 
Enjoy the leisurely time spent talking and experience time-honored ways of living with nature. Meals and activity programs are also available for day visitors.
Visiting Echizen gives you a chance to experience authentic Japanese lifestyles and explore timeless crafts. A trip to Echizen is a time to enjoy fine food provided by the bounties of the local environment and the seasons. Make time to experience this beautiful, lesser-known part of Japan. 
Related Links