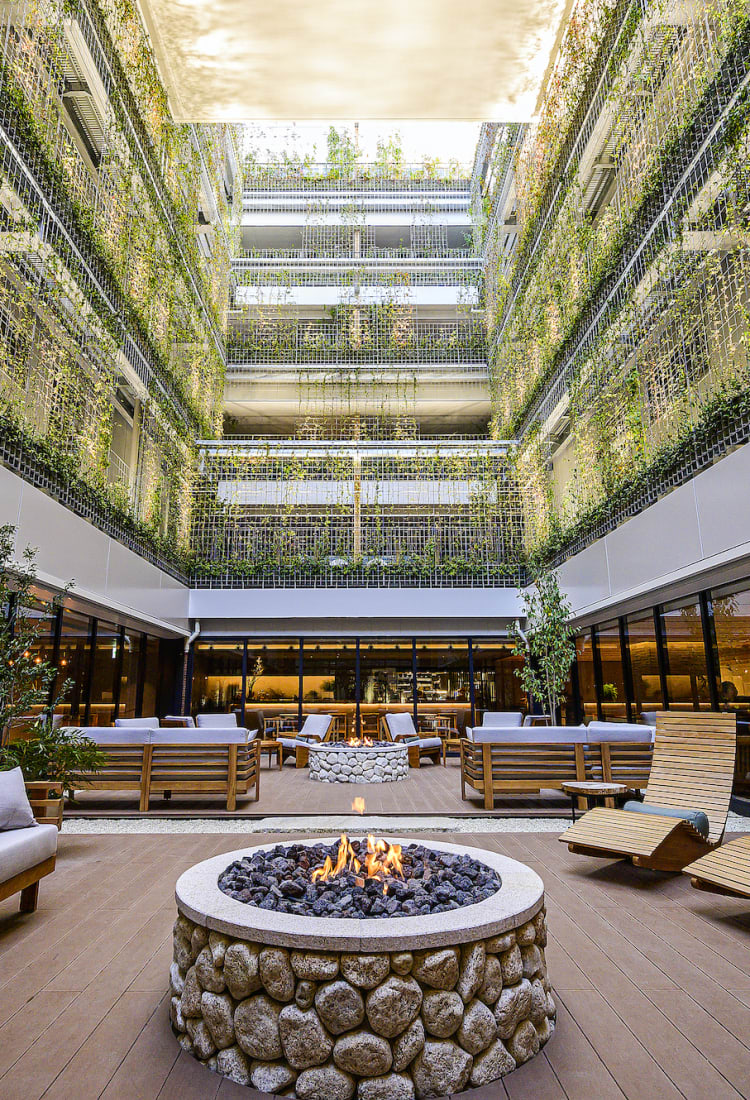 2021.03
Experience the natural environment of Kyoto through a sustainable downtown destination [PR]
An ancient capital championing sustainability
Kyoto was the seat of the emperor and the center of Japanese politics and culture for a millennium. It is a city imbued with natural beauty, fed by the Kamo River and flanked on three sides by mountains. Through its unique heritage and natural environment, Kyoto has developed a celebrated food culture. Today, the city is a leading sustainable destination, selected by the Global Sustainable Tourism Council (GSTC)* as one of the "Top 100 Sustainable Destinations" of 2020. Discover the latest stage of Kyoto's evolution, through an exciting new hotel and leisure development that is "good for people and nature.
*GSTC is an initiative that establishes international standards for sustainable tourism.
Good Nature Station—A new Kyoto landmark 
Good Nature Station is the latest new development in Shijo Kawaramachi, a vibrant neighborhood in downtown Kyoto, about 15 minutes by train from Kyoto Station. It features several floors of shops and restaurants and the award-winning hotel Good Nature Hotel Kyoto. The complex is a convenient base for exploring Kyoto, with the Kamo River, Yasaka-jinja Shrine and Kiyomizudera Temple within walking distance.
Good Nature Market, on the first floor of the complex, sells locally grown fruit and vegetables, fermented foods, and other food items from Kyoto and beyond. Visitors can buy meals and snacks to enjoy on the spot or take out, made using fresh ingredients from the market. 
RAU, a patisserie-cum-chocolate shop located in the market, sells "bean-to-bar" chocolate made using organically-grown cocoa beans from Costa Rica. The beans, selected personally by the chocolatier, are flavorsome and traded fairly, benefitting the cocoa farmers. They are roasted and made into chocolate on-site at Good Nature Station. No part of the bean is wasted. Even the husks are used; blended with green tea to make "cacao tea," offered as an amenity at the on-site hotel, or ground and mixed with spices to make "cacao curry" powder, for sale at the market. 
Visit Good Nature Market to discover a wide range of exciting food products, all made with an unwavering commitment to quality.
Several restaurants serving Japanese seasonal cuisine can be found on the second floor of Good Nature Station. On the third floor there are shops including Japanese craft shops and a Kyoto-born organic cosmetics brand store, NEMOHAMO. NEMOHAMO cosmetics are made exclusively using botanicals from the brand's own organic JAS (Japan Agricultural Standard)-certified farms and natural woodlands. NEMOHAMO is committed to waste-free manufacturing and environment-friendly production. The roots, flowers, seeds, and stalks of all its botanicals are used in the production process, which emits no wastewater or pollutants.
The fourth floor is designed with relaxation in mind and features a breezy atrium full of natural light, that evokes a typical Kyoto townhouse. The four walls of the atrium are adorned with Asiatic jasmine and other plants typically found in Kyoto.
The lobby of Good Nature Hotel Kyoto is on the fourth floor. The 141-room hotel operates on the philosophy of "good for people and nature." The design, with natural wood floors, walls papered with washi, and amenities with minimal explanations, encourages guests to enjoy the hotel through their five senses. The rooms are simple yet comfortable.
Good Nature Hotel Kyoto is the first hotel in the world to earn WELL Building Standard™ v1 certification (issued to buildings designed with consideration for health and the environment).
The hotel offers a range of activities for the heart and mind, from morning yoga sessions in the atrium to zazen meditation lessons at Kenninji Temple Tacchu Ryosokuin.
The Kamo River, just a short walk from the hotel, is a fun place to relax, enjoy scenic views of Kyoto, and mix with local people. Enjoy strolling the river in any season, looking out for seasonal blooms and local wildlife.
Experience being good to nature in Kyoto, through a stay at Good Nature Hotel Kyoto or a visit to Good Nature Station. From the lodging and the dining to the shopping and the activities—every aspect of a stay or visit contributes towards and supports local production for local consumption, fair trade, the reduction of food loss and waste, and the preservation of traditional culture.
Discover a little-known Kyoto destination
Head out of downtown Kyoto to experience the region's sustainable roots. Ohara, about an hour from Good Nature Station on public transportation, is a rural town with shrines, temples, rich woodlands, and beautiful natural settings.   
Sanzen-in Temple is famed for its grounds, which make skillful use of the natural topography. On the grounds, visit Yusei-en, a beautiful garden of Japanese cedar groves and moss, within which Ojo-Gokuraku-in Hall appears to float. The hall contains the Amitabha Trinity, a designated National Treasure of Japan. 
For over eight centuries, farming families in Ohara have made shibazuke pickles. The traditional method of making shibazuke involves salt-pickling summer vegetables such as fresh eggplant together with red perilla. Summer vegetables grow particularly well in Ohara because of the landscape and the day-night temperature difference typical of the local summer season. The shibazuke method enables plentiful summer vegetables to be preserved and eaten in winter.  
Whether visiting for the first time or making a return visit, discover Kyoto's ethical and sustainable side through destinations like Ohara, where local communities continue centuries-old traditions influenced by the natural environment.
* This information is current as of March 2021.
Related Links
Ride Keihan, discover Kyoto.
Facebook【Keihan Electric Railway Co., Ltd.】