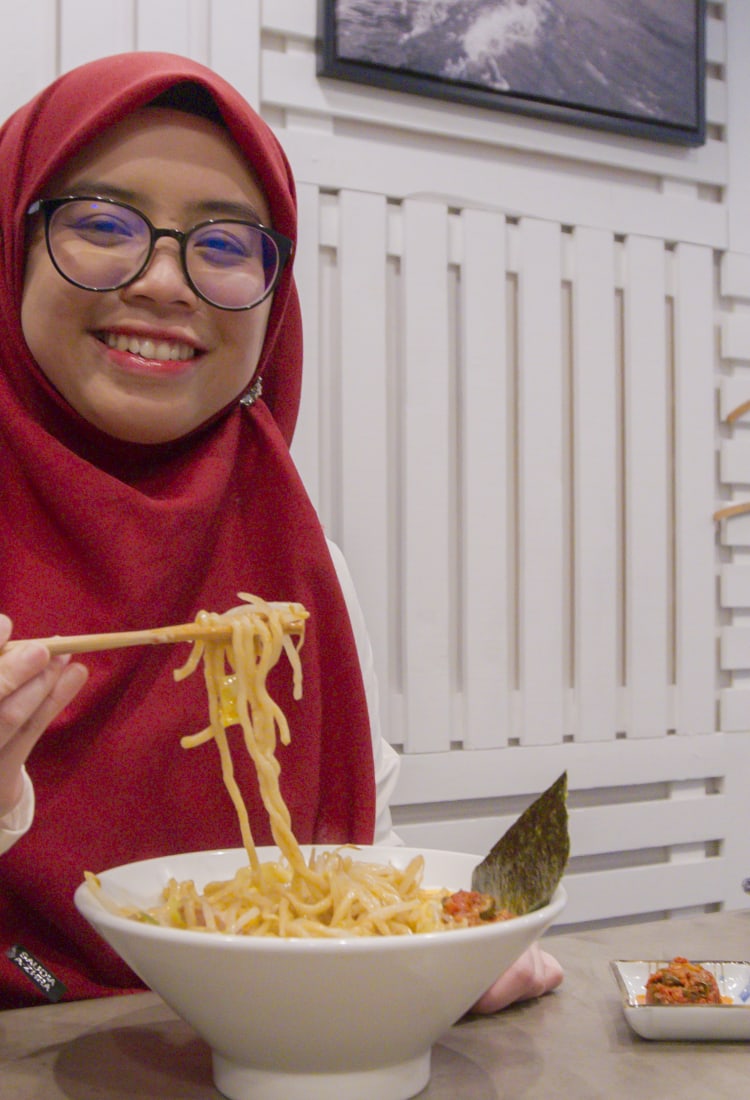 2021.03
Muslim-Friendly Miyagi: A Local Guide to the Region [PR]
Welcome to Miyagi, an inclusive destination catering to a broad range of travelers
Miyagi Prefecture is an increasingly popular destination, renowned for its scenic beauty and rich food culture. More and more of its restaurants and attractions are catering to the diverse needs of international visitors, including Muslim travelers. Yuni, born in Indonesia and living in Miyagi, introduces Muslim-friendly Miyagi, with tips and recommendations on where to eat, where to stay, and where to go.

The gateway to Miyagi is Sendai International Airport. It is served by international and domestic flights, including direct flights from Narita Airport (1 hour and 15 minutes). Getting from Sendai International Airport to downtown Sendai, the largest city in Miyagi, is easy, and takes as few as 17 minutes via the Sendai Airport Access Line.
Arriving at Sendai Airport
Sendai International Airport caters to Muslim visitors, with a prayer room in the international departures lobby (second floor). The room is fitted with a washbasin for performing wudu and has a sign indicating the qibla direction of prayer.
Staying in Sendai
Sendai is the largest city in Miyagi. It has many tree-lined avenues, ideal for leisurely strolls. The city makes an excellent base for exploring Miyagi Prefecture.
During a visit to Sendai, Yuni recommends trying Dashiro -NIBO-, a popular local ramen restaurant. The restaurant serves Muslim-friendly ramen made with locally-sourced ingredients, served with a broth of your choice: soy sauce, salt, or miso.
Alcohol is usually used to make Miso, but the miso Dashiro -NIBO- uses in its miso ramen is is entirely alcohol-free. It is made by Yamagataya Shoten of Ishinomaki City, Miyagi, designed especially for Muslim consumers. The mild flavor of the miso combined with an umami-rich seafood stock makes for a delightful taste sensation.
More and more hotels in Miyagi are accommodating the needs of Muslim travelers, offering amenities for prayer and halal dining options. Yuni mentions Hotel Metropolitan Sendai, at Sendai Station's West Exit. The hotel lends prayer rugs and compasses to guests free of charge and has two restaurants serving halal-certified dishes.
Guests have a choice of French cuisine at Serenity or Japanese cuisine at Hayase, a teppanyaki restaurant. Sukiyaki, a beef and vegetable hotpot-style dish, is one of the popular halal-certified dishes served at Hayase.
* Halal-certified meals need to be booked at least two days in advance. 
Visiting Kesennuma: A welcoming port town
Located about two hours by car from Sendai is Kesennuma, a major fishing town on the Sanriku Coast and a popular destination for participants in Japan's Technical Intern Training Program, a work training program offering employment opportunities for overseas nationals. The town has an Indonesian community and caters well to Muslim travelers. Yuni recommends sightseeing along the Sanriku Coast, introducing some of her favorite places in Kesennuma.
Anchor Coffee
This coffee shop in the inner port area is loved by the locals. It is an excellent spot to sit and gaze out across the port. One item on the menu is "Kesennuma Over Rice," a bowl of rice topped with swordfish and other seasonal seafood landed fresh at the port. No forbidden ingredients or seasonings using alcohol feature in the dish.
Koyama Patisserie
This popular confectionery store is known for its banana juice. Made by adding milk, fresh cream, and ice cream to bananas, it is deliciously creamy and quite addictive. Other items on the menu include a variety of puddings and cakes. There is a dining space on the second floor.
Warung Mahal
This Muslim-friendly Indonesian restaurant serves Indonesian cuisine cooked using halal-certified ingredients and seasonings. The dishes feature ingredients from Kesennuma, and the menu includes nasi goreng and bakso fish burgers. The owner strives to foster strengthened cultural exchange between Indonesia and Japan. Next door to the restaurant is a prayer space.
None of the items on the menu contain pork.
AR-RAUDHAH
Attached to the Indonesian restaurant Warung Mahal is a musalla (open prayer space). It provides a place for peaceful prayer
Enjoy a visit to Miyagi with family or friends, without having to worry about dining options, accommodation, or prayer facilities.
Related Links
・ ANCHOR COFFEE
Address: Mukaeru 2F, 1-14 Minamimachikaigan, Kesennuma, Miyagi Prefecture

・ Koyama Patisserie
Address: 1-31 Uoichibamae, Kesennuma, Miyagi Prefecture

・ Warung Mahal
Address: Mishione Yokocho, 4-5 Uoichibamae, Kesennuma, Miyagi Prefecture