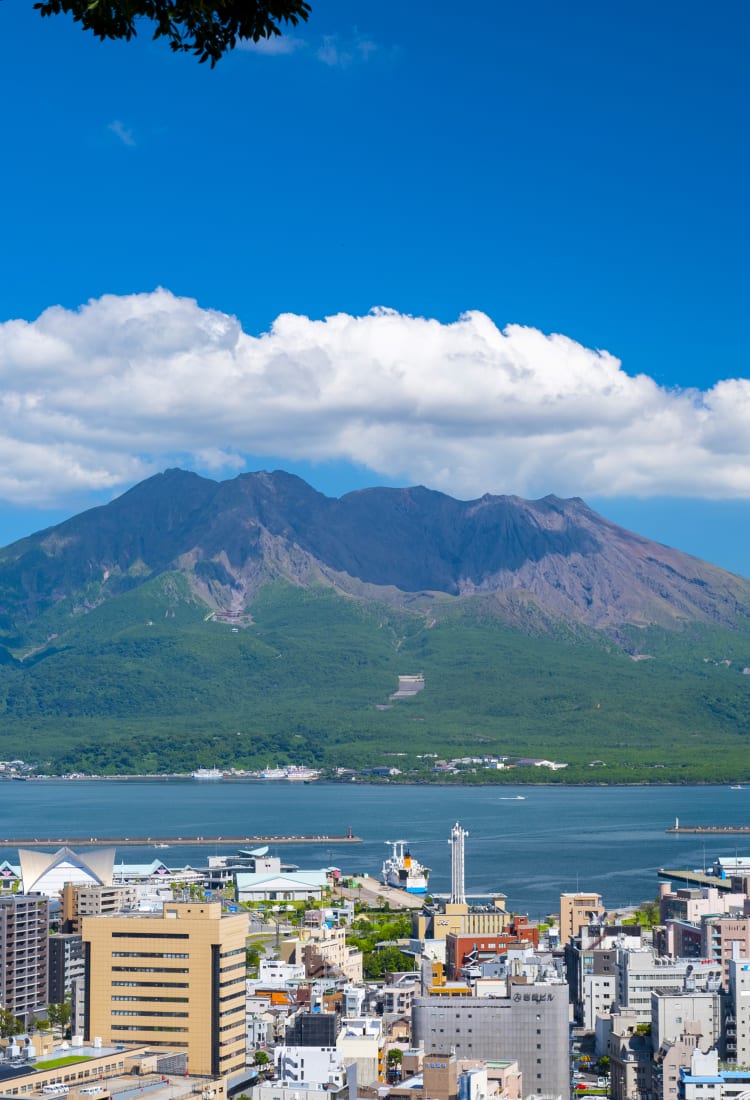 2022.02
Explore Sakurajima, an Ancient Active Volcano and a Symbol of Kagoshima [PR]
The scenery of Kagoshima City, located in southern Kyushu, is characterized by blue skies and the active volcano, Sakurajima, rising from the ocean. Sakurajima comprises two volcanic peaks, Mt. Kitadake (1,117 m; 3665 ft) and Mt. Minamidake (1,040 m; 3412 ft), and was formed roughly 26,000 years ago. Over the years it has experienced 17 major eruptions. Once an island, Sakurajima is now connected to the Osumi Peninsula by lava flows from an eruption in 1914. Mt. Minamidake continues to emit smoke while having minor eruptions; a reminder of the power of the Earth just below the surface. Visit Sakurajima (part of Sakurajima-Kinkowan Geo Park), to feel the pulse of the planet through its geological activity.
See a powerful volcano and feel the pulse of the earth
Sakurajima is an active volcano at the heart of Sakurajima-Kinkowan Geo Park. There are several viewing platforms where visitors can see this magnificent volcano up close.
The Yunohira Observatory is located at the fourth station on Mt. Kitadake, which is the highest point on Sakurajima open to the public. Mt. Kitadake was formed with the creation of Sakurajima roughly 26,000 years ago, and became dormant around 5,000 years ago. From the platform you have a panoramic view and can see lava flows that have been eroded with time, and the rugged surface of Mt. Kitadake. In clear weather, you may also be able to see beautiful Mt. Kaimondake, a peak shaped like Mt. Fuji, around 70 kilometers (43 mi.) away across the sea. You can also see Sakurajima cast in the red glow of the evening sun, or a night view of Kagoshima City across the bay.
Arimura Lava Observatory is located at the foot of Mt. Minamidake, which formed roughly 4,500 years ago and continues to experience small eruptions and emit smoke. You may see smoke or hear the explosions or rumbling of eruptions when you visit, depending on conditions. Viewed from the observatory, Sakurajima takes on a conical shape, a contrast to its usual table-like appearance.
The Sakurajima Visitor Center has a wealth of information about Sakurajima's volcanic peaks, serving as a mini museum on the history and geology of the area. There are also movies (you can choose subtitles in English, simplified Chinese, traditional Chinese, Korean or Japanese) that bring the volcanic eruptions to life with powerful images and sounds.
Relax at hot springs: a boon of magma and a gift from the Earth
Sakurajima has abundant springs heated by magma, including footbaths and open-air baths right next to the sea. Visit Sakurajima Yogan Nagisa Park Footbath to give your feet a relaxing soak. The 100-meter-long hot-spring footbath has views over the ocean. At the Sakurajima Hotel, day visitors can use the Arimura Hot Springs outdoor baths between 2pm and 4pm with a prior reservation. There are separate baths for men and women, and clothes or swimsuits are not permitted in the baths. The water is around 42 degrees Celsius (108 degrees Fahrenheit).
Explore a bay formed by magma
Sakurajima is located in Kinko Bay, which formed when sea water filled the Aira Caldera. The caldera was the result of a huge eruption roughly 29,000 years ago. One of the best ways to explore the bay is on a sea kayak tour. Paddle on the bay, past Sakurajima, as you aim for the hot volcanic springs that have formed within the ocean. There are also tours that take you to unpopulated islands in the bay. Reservations are required for these tours, which take around three hours. 
For a different perspective, try stand-up paddleboarding (SUP). Standing on the board, you may feel like you're standing on the ocean itself. Participants in the hour-long SUP tour need to be over 100 centimeters tall.
You can dig your own hot spring to release the geothermal water from under the ground at Arimura Beach on Sakurajima. The experience of digging your own hot-spring footbath, then soaking your feet as you enjoy the view, is memorable. Footbath making tours are suspended as of January 2022. If you want to dig a small hot spring on your own, check with the Sakurajima Visitor Center first, as the activity may be restricted by the tides and the weather. During rainy weather there may be a risk of mudslides, so avoid Arimura Beach at that time.
Volcanic and human activity: culture to experience and enjoy
Sakurajima has been inhabited since the Paleolithic and the Neolithic periods. It is a rare example of a location where people have lived alongside an active volcano.
You can see evidence of this long history of living with volcanic activity at Tsukiyomi Shrine. The shrine has a history dating back to the eighth century, and is just a one-minute walk from Sakurajima Port. People living in the shadow of the volcano have offered up prayers at the shrine for generations. 
Volcanic ash is a part of daily life on Sakurajima. It creates a dusty layer on surfaces, and can be considered a nuisance. However, people living here have found a constructive use, turning the ash into a material to create art similar to sand painting. Join a one-hour volcanic ash art activity workshop to create your own piece of volcanic ash art.   
The Sakurajima radish is a local specialty. These radishes are so large and heavy that they hold a Guinness World Record for the world's heaviest radishes. Sakurajima radishes are harvested in January and February, and you can try digging up your own. You'll need some strength and determination to dig up one of these amazing vegetables. You can also enjoy these tasty radishes as part of a lunch at Cafe Shirahama, made with ingredients grown in the nearby fields.
Getting to and around Sakurajima
Sakurajima is accessible from Kagoshima City. Kagoshima Airport is a 2-hour flight from Haneda Airport in Tokyo, or 1 hour and 15 minutes from Osaka International (Itami) Airport and Kansai International Airport in Osaka, plus a 50-minute transfer by Airport Limousine Bus service from Kagoshima Airport to the city. You can reach Kagoshima City directly in around 3 hours and 50 minutes from Osaka, or 1 hour and 20 minutes from Fukuoka (Hakata Station) on the Tokaido-Sanyo Shinkansen bullet train,
The Sakurajima Ferry takes about 15-minutes from Kagoshima Port Ferry Terminal, and runs 24 hours a day. For a more relaxing trip, take the an excursion cruise (50 minutes) to pass by various sightseeing spots before arriving at Sakurajima.
The Sakurajima Tourist Information Center right next to Sakurajima Ferry Terminal has useful information about Sakurajima, and staff who can recommend the best routes for exploring. The Sakurajima Island View bus is a convenient way to travel around the main sights of Sakurajima.You can also rent an electric bike, sports bicycle, or mini jeep (a Japanese or international driver's license is required) to travel across the peninsula from Kagoshima City to Sakurajima. Rentals can be arranged in Kagoshima City.
Related Links
VISIT KAGOSHIMA CITY
Kagoshima City Tourism Guide
SNS account (welcomekagoshima)