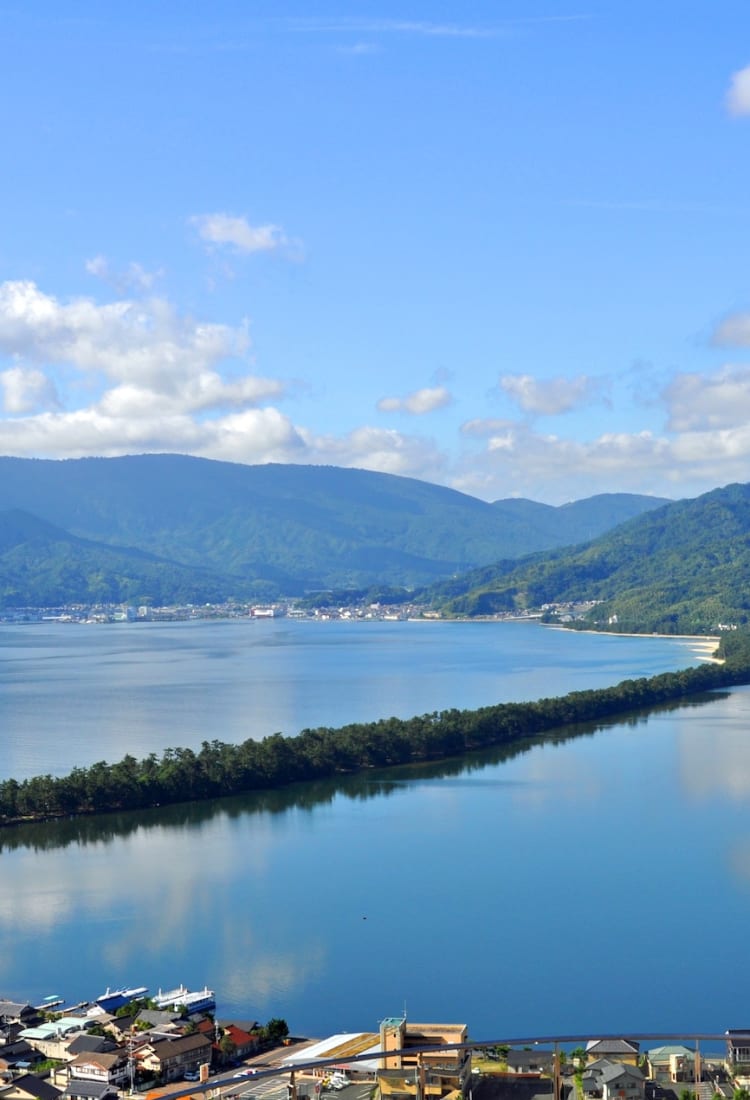 2023.03
Travel Beyond Kyoto City: Discover Landscapes Shaped by Deities, and Scenes from Storybooks [PR]
Explore legendary landscapes, quaint fishing towns, charming villages, and tea fields that have changed little since ancient times
Traditional Japanese culture has flourished in Kyoto for more than 1,300 years, since it became the capital in the Heian period (794–1185). People visit Kyoto City for its shrines and temples and traditional arts, from Japanese cuisine to tea ceremonies. However, there is another side to Kyoto that many visitors miss. Venture outside the city to experience charming small cities and towns like Miyazu, Ine, Miyama,and Wazuka. Explore landscapes with mythological connections, picturesque port towns, and hamlets of traditional thatched roof houses.
Amanohashidate in Miyazu 
Amanohashidate has been considered one of the three most famous views in Japan since the Edo period (17th to 19th centuries). Located in Miyazu Bay on the Sea of Japan coast, this striking sandbar that stretches almost across the bay is about two hours by train from Kyoto Station. Amanohashidate translates as "heavenly bridge". According to legend, it was actually a ladder used by deity Izanagi-no-Mikoto to visit his lover, which fell out of the sky and became an unusual landform. Amanohashidate is a sandbar that stretches 3.6 kilometers, forested with around 6,700 pine trees. The view of the landform from Amanohashidate View Land is called Hiryukan, or "flying dragon view" for its striking shape.
Meanwhile, the view of Amanohashidate from Shiizake Inari Shrine (known for its beautiful Mitsuba azaleas in spring) on the opposite side of Miyazu Port, looks like a single horizonal line. This view is known as the "the Sesshu view", since it resembles the famous painting "Amanohashidate-zu" (1501-1506) by Sesshu (1420–1506), a renowned ink painter and Zen priest. Amanohashidate looks very different according to the viewpoint, and many of these distinctive views have a special name. In summer, Amanohashidate sometimes resembles a bridge of flames, as bonfires and fireworks from festivals on and around the landform add a dramatic accent to the view.
The boathouses of Ine
An hour's bus ride north of Amanohashidate, the quaint fishing town of Ine sits on what is considered one of the world's most beautiful bays. The iconic boathouses (funaya) of Ine have served generations as accommodations with boat storage underneath. Built in the early 17th century, there are approximately 230 boathouses lining Ine Bay. Some have been converted into cafes and restaurants, as well as inns that welcome visitors. Enjoy the slower pace and beautiful scenery of Ine from one of these boathouses, as the sun slips below the horizon. 
One of the best ways to see the boathouses is from the water. Water taxis and sightseeing boats take about 30 minutes to circle Ine Bay. Enjoy the simple life of a traditional fishing port, from fishing with local fishermen, to cycling along the seashore, and sea kayaking in summer. Paddle out to Ao no Dokutsu,(the blue grotto) , which is famous for its beautiful, mysterious appearance.
 
The thatched-roof houses of Miyama 
Miyama is in the mountains about 2 hours north of Kyoto City, and is an ideal stop on the way to Amanohashidate or Ine on the coast. Miyama's Thatched Village (kayabuki-no-sato)is a charming area of traditional thatched roof houses (kayabuki) that retains the atmosphere of the late Edo period (mid-19th century). The authentic rural landscape with well-preserved thatched houses and ancient shrines such as Chii Hachiman Shrine, is like a Japanese folk tale come to life.
Each season in Miyama reveals a different facet of this charming area. The Cherry Blossom (Sakura) Festival in spring and Autumn Leaves (Momiji) Festival in fall, bring local people and visitors together to celebrate around Ono Dam. Enjoy shower climbing and rafting in summer, and see the magical snow lanterns spectacles in winter. Stay overnight in a thatched-roof house to experience living in a fairytale setting.
The verdant tea fields of Wazuka
The tea plantations of Wazuka, about an hour and a half of Kyoto City, are known as the traditional production center of Uji tea in Japan. Many of the tea fields have been cultivated continuously since the Kamakura period (1192–1333). Strolling the ancient landscape of rolling tea fields, and visiting the Kitayama cedar tree at nearby Yasaka Shrine (said to be over 1,300 years old), immerses visitors in the history of Uji tea and Japanese tea culture. 
Tea picking starts in spring at the plantations in Ishitera, where the tea fields that cover the hillsides appear to reach the sky. The contrast of pink cherry blossoms against vivid green tea fields creates a postcard-pretty view. In summer, visitors can enjoy cycling, walking, or trekking in Yubune Forest Park, or relax and barbecue by the Watsuka River. 
Explore beyond Kyoto City to discover traditional landscapes and ways of living that have changed little since ancient times. Visiting these charming rural villages such as Miyazu, Ine, Miyama and Wazuka, you ancient myths and folktales seem to come to life. Discover pastoral landscapes created by traditional practices, in harmony with nature.
Access
Access to Kyoto Station
From Kansai International Airport, it takes about 1 hour and 30 minutes to JR Kyoto Station by bus or Limited Express Haruka train. 
From Osaka International Airport (Itami Airport), it takes about 1 hour to JR Kyoto Station by bus, limited express train, or a bus to Shin-Osaka Station, then a Tokaido-Sanyo Shinkansen to Kyoto Station.
From Tokyo, it takes about 2 hours and 10 minutes to JR Kyoto Station by the Tokaido-Sanyo Shinkansen.
From Osaka, it takes about 30 minutes by the Tokaido-Sanyo Shinkansen or limited express train.
Access to Amanohashidate
From Kyoto Station, it takes a little over 2 hours to Amanohashidate Station by Limited Express train.
Access to Ine
From Kyoto Station, take a Limited Express train to Miyazu Station (about 2 hours) and then ride the bus to Ine (about 1 hour).
Access to Miyama
From Kyoto Station, take the train to Hiyoshi Station (about 1 hour) and then ride the bus (about 1 hour).
Access to Wazuka
From Kyoto Station, take the train to Kamo Station (about 1 hour) and then ride the bus (about 15 Minutes).
Related Links
discover_your_own_kyoto (Instagram)
Amanohashidate Travel Guide
Ine Tourist Information Ine by the sea
The Official Travel Guide Kyoto Miyama
IITOKO WAZUKA CHAGENKYO Produced by Wazuka-cho Revitalization Center