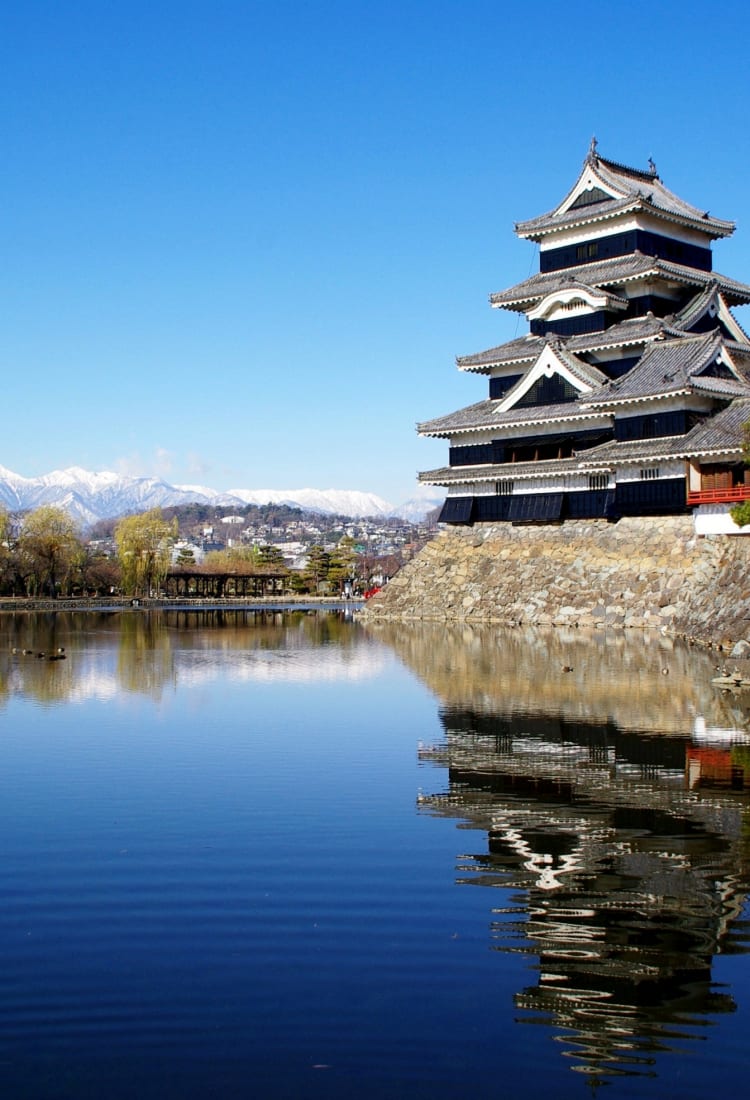 2022.01
Visit Matsumoto Castle and Enjoy Breathtaking Scenery in Nagano [PR]
Matsumoto has flourished since the sixteenth century as the town surrounding Matsumoto Castle. The striking black and white castle has Japan's oldest extant six-story tower, and is a National Treasure. Matsumoto City retains scenery and streetscapes going back to the Edo period (1603–1867). The city is surrounded by the magnificent Japan Alps, including the rugged beauty of Kamikochi and the Norikura Highlands. Immerse yourself in both the history and nature that Matsumoto has to offer with an overnight stay. Here are some ideas for making the most of two days in this fascinating area.
Day one
Stroll through Matsumoto, a castle town that is rich in contemporary art and traditional culture. Matsumoto City in Nagano Prefecture is located almost in the center of Honshu, about two and a half hours from Tokyo by express train or Shinkansen. If you leave Tokyo early in the morning, you can enjoy a full day exploring the city.
Contemporary art at the Matsumoto City Museum of Art (PARCO de Museum)
The museum is home to a permanent exhibition of the visually striking works of Yayoi Kusama, a world-renowned artist who was born in Matsumoto. Know as "the Queen of the Avant-Garde", Kusama's works including the polka-dot-covered "The Great Giant Pumpkin" (2017), create a magical world. The museum is currently undergoing renovations and will reopen from April 21, 2022.
* Until the end of February 2022, the exhibition can be viewed at PARCO de Museum (the sixth floor of Matsumoto PARCO ).
Stroll historical streets and try local soba noodles
Rows of old houses and shops in this area convey traces of Matsumoto's 400-year history. Nakamachi Street and Nawate Street are particularly fun to explore, with many restaurants and stores which have been remodeled from former merchant houses. Take a break from walking, at one of the nearby soba (buckwheat noodle) restaurants. Soba noodles are popular throughout Nagano Prefecture, and Matsumoto is renowned for producing high quality soba noodles thanks to its clean and delicious spring water.
Many stores in the area are closed on Wednesdays.
Sweet treats–make your own traditional Matsumoto candy
Matsumoto used to be one of the leading producers of candy in Japan. Yamaya Candy has been in business since 1672 and offers visitors the chance to experience the traditional candy making process. A mound of rice candy dough, made from rice and malt, will be prepared in advance for you. The atmosphere of the class is quite relaxed, and under the instruction and advice from the staff, you can stretch it out, shape it, and cut it. It is an opportunity to learn traditional Japanese candy techniques in a classic Japanese-style room. The finished candy is for you to take home. The candy making experience is available on Saturdays and Sundays. Please make reservations in advance. 
Light shows and illuminations at Matsumoto Castle
Matsumoto Castle was built in the early 16th century and is the oldest existing six-story castle tower in Japan. In the daytime, the contrast between black and white plastered walls is beautiful. The castle is lit up from 5 p.m. to 10 p.m. every night throughout the year, highlighting the beauty of its structure. There are also seasonal events in which the castle is illuminated with lasers and colorful lights. Seasonal illuminations are held from December to February, 6 p.m. to 9 p.m. daily.
Traditional accommodations with private hot spring baths
There are 16 hot springs (onsen) in Matsumoto City where you can soak away the fatigue from your trip with premium quality water. Some traditional inns have rooms with open-air baths, which are popular as a way to relax and enjoy the hot springs in comfort and privacy. Lodgings in Asama Hot Springs and Utsukushigahara Hot Springs are easily accessible from the city center. After enjoying the city at night, you can take a late-night soak while gazing up at the stars. Feast on dishes that are rich in local ingredients, such as Shinshu Premium Beef, Nagano's own brand of wagyu, which meets the prefecture's highest standards for taste and quality, along with vegetables from Shinshu (a traditional name for Nagano Prefecture).
Make a night of it at Matsumoto's celebrated bars
After dinner, finish with a nightcap or two and enjoy the city's nightlife. With no shortage of skilled bartenders, Matsumoto is known as "Bar City." The city has a variety of establishments, from authentic cocktail bars to casual pubs. Take your place at the bar counter and observe the careful work of Matsumoto's bartenders. Savor Matsumoto's unique flavors, such as cocktails made with ice from the delicious water from the 3,000-meter-high mountains of the Japanese Alps.
Day two
Explore the beautiful alpine scenery surrounding Matsumoto. Depending on the season, you can go hiking in Kamikochi, snowshoeing in Norikura or drive between walls of snow on the Norikura Skyline. 
Spring to fall: hiking in Kamikochi
Kamikochi is a mountainous, scenic area that was introduced to the world about 130 years ago by the English missionary Walter Weston. After a 90 minute bus ride from Matsumoto City, you can enjoy the fresh air with a view of 3,000-meter-high mountains and picturesque lakes and marshes. There are several walking routes with flat paths, so people of all fitness levels can enjoy the scenery. You can also deepen your understanding of the area with a nature guide. Kamikochi is not accessible in winter, from mid-November to mid-April every year, due to heavy snow and road closures.
Winter to early spring: snowshoeing in Norikura
Snowshoeing is an enjoyable way to explore the snowy landscape. You can rent snowshoes and explore by yourself, or take a guided snowshoe walk. Norikura Kogen has many attractive sites including birch and conifer forests, as well as frozen waterfalls and ponds. You can try snowshoeing around Norikura from late December to early April.
Spring to early summer: see the snow walls of Norikura Skyline
The Norikura Skyline between Nagano and Gifu prefectures is the highest road in Japan, reaching an elevation of 2,702 m (8,865 ft) at its highest point, Due to heavy winter snowfall, the road is impassable for part of the year. When the road is cleared and opened in mid-May, it is lined by walls of snow up to 10 m (33 ft) high. The highest section of the road is closed to private cars, but you can travel between the snow walls by bus.
It takes about two and a half hours from Tokyo to Matsumoto by Shinkansen or express train. At least two days are recommended to experience the majestic nature and historic charm of the area.
Related Links