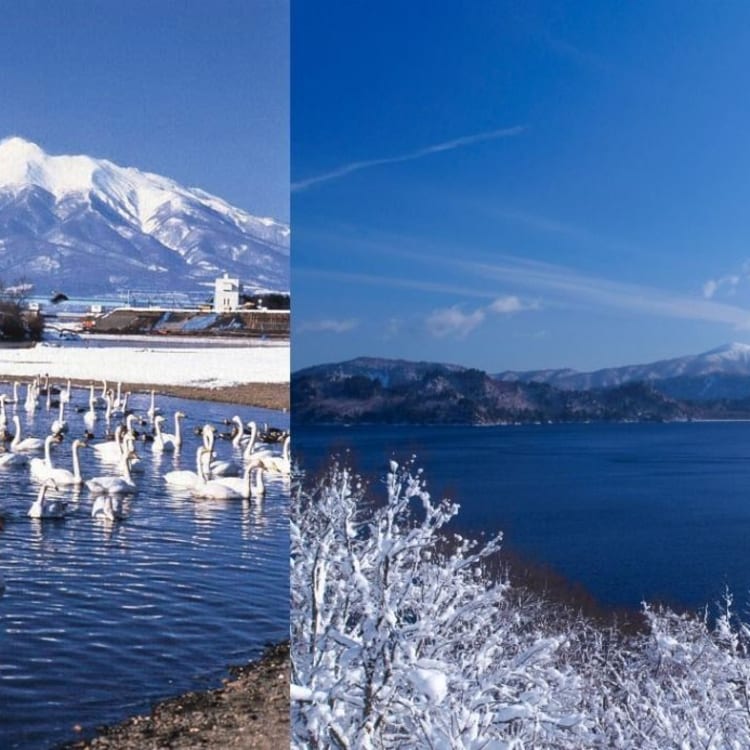 STORY
​Heading to Aomori? Guide to Must-see Attractions and Flavourful Local Delicacies in Autumn & Winter
by JNTO on 28 October 2019
As cooler temperatures herald the arrival of autumn and winter, tourists flock to Japan to admire the colourful autumn foliage, savour the abundant harvest of in-season delicacies, bask in the beauty of snow-covered scenery and engage in exciting winter sports. So, how about going on the path less trodden by exploring Aomori, the northern-most prefecture on Honshu (the main island of Japan), to find out for yourself what it has to offer?
Oirase Gorge
Located in Towada City, this 14-kilometre-long gorge running all the way from Lake Towada to Yakeyama is widely renowned for its ever-changing seasonal beauty, attributing to the unique landscape created by lush greenery, numerous rocks of varying shapes and sizes, as well as more than 10 waterfalls along its course. Do not miss the autumn foliage, which is said to be at its best.
To explore Oirase Gorge, you can stroll or ride a bicycle. There are two main trails along the course where the longer route of 14 kilometres between Nenokuchi and Yakeyama will take about 4 hours on foot and 1.5 to 2 hours by bicycle. Comparatively, the shorter trail of 8.9 kilometres between Ishigedo and Nenokuchi will take about 2 hours and 40 minutes on foot. Of course, if you feel that these trails are a bit too time consuming especially when you have a tighter schedule, there are also shorter routes recommended on the sightseeing guide website by Aomori Prefectural Government, such as a 50-minute course where you can see nine of the waterfalls in Oirase or a 30-minute course for a glimpse on some key spots including the iconic symbol of the gorge Ashura no Nagare.
Come in winter, be treated to an amazing harmony of ice and snow in this nature paradise especially the icicles and icefalls are not to be missed.
To enjoy a hassle-free and safe tour during this season, check out theOirase Gorge Icefall Tours which are usually held by Towada Oirase Tourism Organization between January and March. You can choose from a daytime nature tour to see the gorge in a snowy-white setting, or be wowed by the spectacular illumination creating a different atmosphere at night without worrying about transport arrangements since there are designated buses for tour participants.
Oirase Keiryu (Oirase Gorge)
Address: Okuse, Towada-shi, Aomori
Access: From JR Shin-Aomori Station, about 2 hours by JR bus
 
Mount Osore

Located in the centre of remote Shimokita Peninsula, Mount Osore is one of the peaks of the Osore-zan mountain range and is regarded as one of the top three sacred mountains of Japan. Due to its unique charred landscape with bubbling pits and emission of steam and volcanic gases created by the active volcanoes, it is believed to be one of the gates to the underworld. Despite its location, you can still access the mountain easily by taking the Shimokita Bus from Mutsu City for just about 40 minutes. Please do take note that the roads leading to the mountain would usually be closed between mid-November and mid-April.
While you are here, do visit Bodaiji, a Buddhist temple located at the caldera of an active volcano on this mountain. Unlike other temples, there are mediums here known as Itako who are said to be able to summon souls of the dead and deliver messages in their voices. However, the Itakos no longer reside on Mount Osore for most of the year so the only times when you can get to see them in action will be during the two major festivals i.e.Osorezan Taisai between 20 July and 24 July and Osorezan Akimairi in early October.
Osore Zan (Mount Osore)
Address: Usoriyama, Tanabe, Mutsu, Aomori
Access:From JR Ominato Line Shimokita Station, about 40 minutes by bus
 
Oma Tuna
Savoring local delicacies is a must-do when travelling so you should definitely try the famous Oma Tuna while in Aomori. Oma is also located on the Shimokita Peninsula and faces the Tsugaru Strait where three currents converge and high-quality plankton resides. The plankton attracts Pacific sauries which in turn lures the tuna to this area. As such, due to Oma's ideal geographical conditions and unique line-fishing method which limits injuries to the tuna, the fishermen here can then catch top-quality Pacific Bluefin Tuna, which is considered to be prestigious in the ranks of tuna and nicknamed as "Black Diamonds". It is said that the best seasons to eat Oma tuna are autumn and winter when the fishes are packed with high-quality fat throughout their bodies.
The tuna fishing season typically begins in summer but events featuring the tuna is held on September and October Sundays in the Kyurei warehouse along the shore. Not only can you see how the experts cut up the enormous fish, you may also purchase the freshest pieces straight from the source. This local specialty's versatility can be seen at many restaurants in various forms such as sashimi, sushi, tuna burgers, ramen, and seafood rice bowls. There is bound to be something which suits your palate!
Shirakami Sanchi
The Shirakami Sanchi is a mountainous region measuring 130,000 hectares of beech forests and stretches across both Aomori and Akita Prefectures. It has the honour of being one of the first sites on the World Heritage List along with Yakushima Island in Kagoshima Prefecture back in December 1993. Due to its far-flung location and rugged terrain, the region is left largely untouched by civilization and boasts a wide variety of plant and animal life. As such, this is indeed a paradise on earth for the wildlife and a great place to explore for those who are nature lovers. If you happen to be a fan of Studio Ghibli's feature film "Princess Mononoke", you will be delighted to see some of the reference locations from the movie appear right before you here!
During summer and autumn (around June to October), you can join hiking tours averagely costing several thousand Japanese yen whereby the guides will show you the Takakura Woods, the giant Mother Tree which overlooks the World Heritage designated site or explain interesting facts about the wildlife and plants out there depending on the tour contents.
Even during winter, you can see the snow-covered forest in a different light while enjoying guided activities such as snow-hiking in Juniko (Twelve Lakes). Please note that some hiking courses and roads may be closed during winter for safety reasons, so it is best to check the access status before embarking on your trip. You may make a reservation via tourism association on-site or travel agencies for the above tours.
 
Shirakami Sanchi (Shirakami Mountain Range)
Address: 61-1 Tashirokanda, Nishimeya-mura, Nakatsugaru-gun, Aomori
Access: From JR Hirosaki station Hirosaki Bus Terminal, about 55 minutes by Konan bus
Now that you have read so much about these exciting places and things to check out in Aomori, plan your trip, experience these and indulge in these attractions!
'highly regarded' is usually used to describe people.