Imamiya-jinja Shrine
今宮神社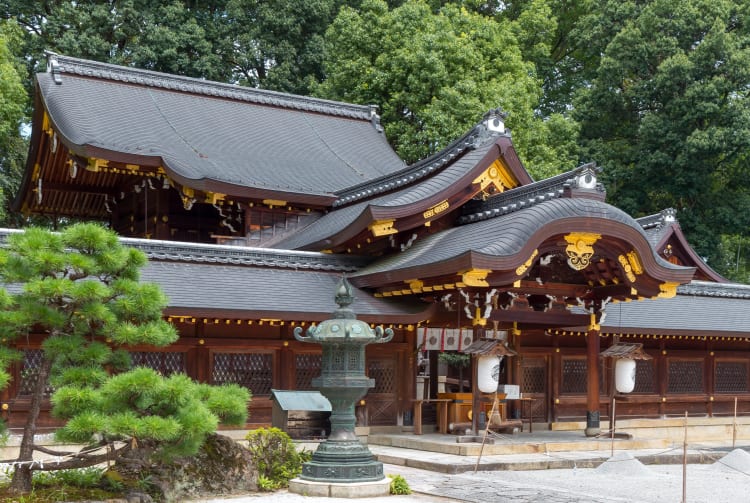 A shrine that has protected Kyoto against disease for over a thousand years
Imamiya-jinja Shrine is located in the northwestern part of Kyoto, adjacent to the grounds of Daitokuji Temple


. The shrine's history begins in the Heian period when in 994 a festival was held to worship a local deity of health as protection against epidemics.
Quick Facts
The gingko trees that lead to the shrine's tall gate turn a magnificent yellow in autumn
Aburi mochi, roasted rice cakes dusted with kinako powder, are a local favorite
In April the shrine hosts one of Kyoto's most eccentric festival events
How to Get There
You can reach Imamiya-jinja Shrine by train and bus.
The nearest subway stop is Kitaoji Station, a 20-minute walk from the grounds. From Kyoto Station


, you can take the Karasuma Line heading to Kokusaikaikan and get off at Kitaoji Station. Alternately, bus number 46 stops at the Imamiya Jinja-mae bus stop just in front of the shrine. The home of health and love
In addition to the gods of good health, other kami here include the deities of long life and matchmaking. While most of the buildings date from the Edo period, a few are reconstructions built after a devastating fire in the early 20th century. Attend some of Kyoto's most eccentric festivals
The Yasurai Matsuri, one of the three most eccentric festivals in Kyoto, is held here on the second Sunday of April. According to legend, people who are able to duck beneath the flower umbrella during the festival's parade will be safe from illness.
It's also said that if that day has good weather it will be fine on all festival days in Kyoto throughout the year.
The highlights of the Imamiya Festival, held over 10 days in May, include processions of mikoshi, or portable shrines, and young girls dressed in traditional costumes.
Near Imamiya-jinja Shrine History
Imamiya-Jinja Shrine
Kyoto-shi,
Kyoto-fu Attraction
Daisenin Shoin Garden
Kyoto-shi,
Kyoto-fu History
Daitokuji Temple
Kyoto-shi,
Kyoto-fu Art & Design
Koryo Museum Of Art
Kyoto-shi,
Kyoto-fu History
Genkoan Temple
Kyoto-shi,
Kyoto-fu Culture
Orinasukan
Kyoto-shi,
Kyoto-fu