Laguna Ten Bosch
ラグーナテンボス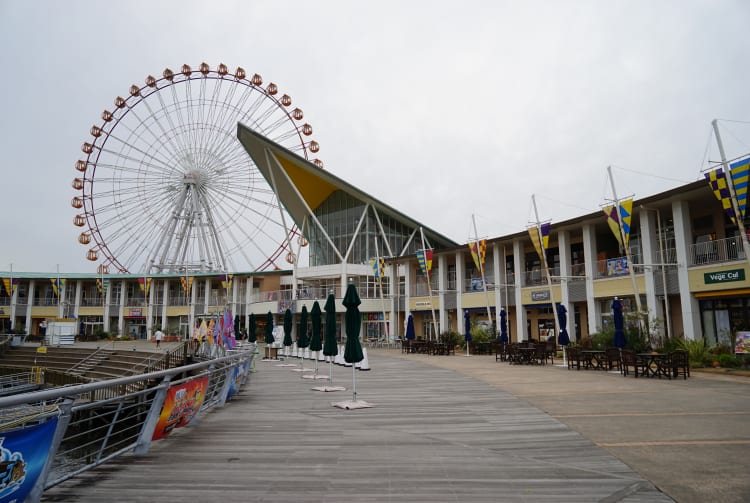 Aichi's premier amusement park and shopping complex
With thrilling rides, soothing hot springs and extensive shopping opportunities, Laguna Ten Bosch has something for everyone.
How to Get There
A free shuttle bus connects Laguna Ten Bosch from Gamagori Station bus stop #7 in around 20 minutes.
The closest station to Laguna Ten Bosch is Gamagori Station on the JR Tokaido Line. JR Rail Pass holders and those traveling via the JR Tokaido Shinkansen should transfer at Toyohashi or Nagoya Stations


for the JR Tokaido Line.
Quick Facts
Foreign tourists get a 10 percent discount at Lagunasia
Lagunasia's Flower Valley has beautiful seasonal displays all year round
There are 23 different exciting rides and attractions Wild rides and sea views
As your carriage winds you to the top of Aqua Wind's ascent, take a moment to breathe in the sea breeze coming in from Mikawa Bay. At Lagunasia, part of the Laguna Gamagori complex, enjoy all manner of exciting rides and attractions, with VR rollercoasters, boat rides, and a 65-meter-high Ferris wheel.
Swim in the pool, soak in the spa, shop 'til you drop
In summer swim in one of its six child-friendly outdoor pools, and in the evenings float among the illuminations as fireworks burst overhead. Once your day of excitement has come to an end, take time to relax at the Laguna onsen hot spring and spa complex as you watch the sunset or shop 'til you drop at the Festival Market shopping complex. Attraction
Laguna Ten Bosch
Gamagori-shi,
Aichi-ken Nature
Takeshima
Gamagori-shi,
Aichi-ken History
Toyokawa Inari (Myogonji Temple)
Toyokawa-shi,
Aichi-ken Festivals & Events
Toyohashi Gion Festival
Toyohashi-shi,
Aichi-ken History
Yoshida Castle
Toyohashi-shi,
Aichi-ken Festivals & Events
Hono No Saiten Festival
Toyohashi-shi,
Aichi-ken