Taketsuru Sake Brewery
竹鶴酒造㈱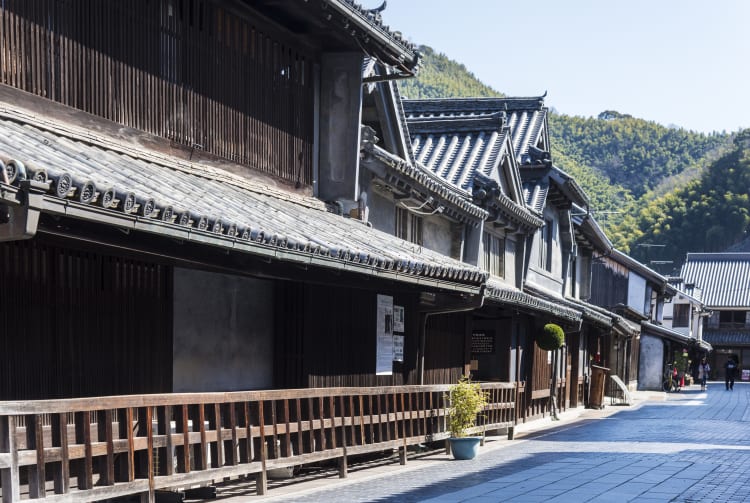 Visit one of Japan's oldest traditional sake breweries
Centuries-old Taketsuru Brewery continues to use traditional methods to produce their signature sake, making for a purer and more delicious product.
Quick Facts
The brewery first opened in 1733
Their signature sake is made using traditional methods rarely used today
Taketsuru heir Masataka Taketsuru went on to found Nikka Whiskey
How to Get There
Taketsuru Brewery is located in the traditional Honmachi area of Takehara


, 90 minutes from Hiroshima


by train.
From Hiroshima, take the JR San-yo Line to Hiro Station and transfer to the Kure Line. Get off at Takehara Station and walk 10 minutes to the brewery. Alternatively, take the shinkansen from Hiroshima and transfer to a bus at Higashi-Hiroshima Station. The journey is covered by the Japan Rail Pass.
Taketsuru's traditional methods
Taketsuru's signature shuzo sake is made through a process known as kimoto-zukuri, a time-consuming process no longer widely used in Japan. The process begins by creating a yeast starter mash that eats away at the carbohydrates in the ingredients and ultimately produces alcohol. The majority of sake brewers in Japan use commercial yeast instead, which halves the production time. A smooth taste
The advantage of this traditional approach is that the yeast is heartier. With this method, the yeast does not die and thus add imperfections to the sake, even if the alcohol content is as high as 20 percent. This results in a smoother, cleaner sake, untainted by impurities that may be found in more commercially produced sake.
A famous heir
Masataka Taketsuru was born into the Taketsuru family, whose business inspired his interest in spirits. He went on to find great success by moving away from sake and into whisky. After travelling around Scotland to learn first-hand how to produce whisky, he returned to establish the distillery that eventually became Suntory. He founded Nikka Whisky in 1934 in Hokkaido


, which reminded him of Scotland. It is now one of the most successful whisky producers in Japan. Okunoshima
Located about an hour away from Takehara


by train and ferry is Okunoshima, part of the Seto Inland Sea National Park, which makes for a pleasant excursion. The island is known for its large population of cute bunnies, which you can feed and pet. Near Taketsuru Sake Brewery Attraction
Taketsuru Sake Brewery
Takehara-shi,
Hiroshima-ken History
Takehara
Takehara-shi,
Hiroshima-ken Nature
Rabbit Island (Okunoshima)
Takehara-shi,
Hiroshima-ken Art & Design
Hirayama Ikuo Museum Of Art
Onomichi-shi,
Hiroshima-ken History
Kosanji Temple
Onomichi-shi,
Hiroshima-ken Attraction
Shimanami Kaido (Hiroshima)
Hiroshima-ken