Gojozaka Pottery Fair
五条坂の陶器まつり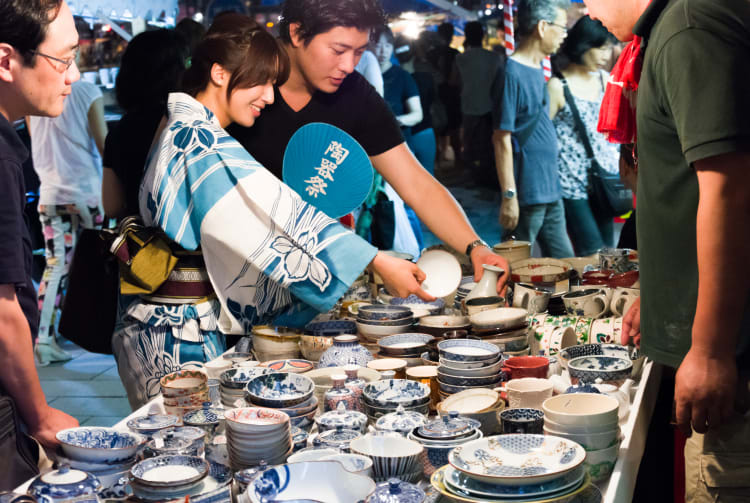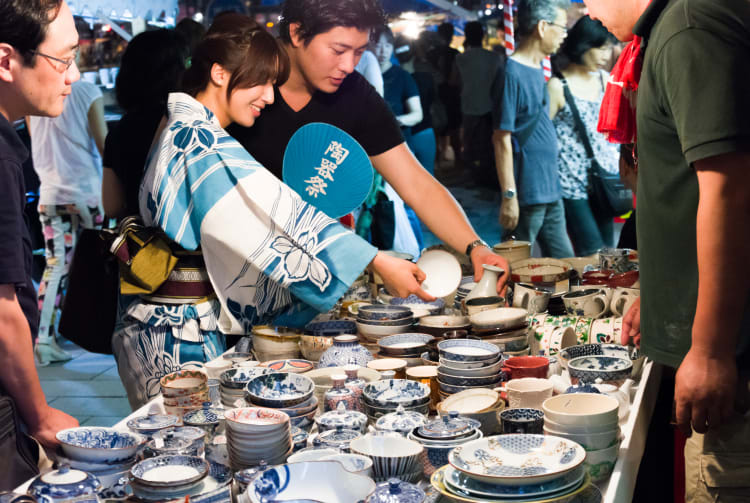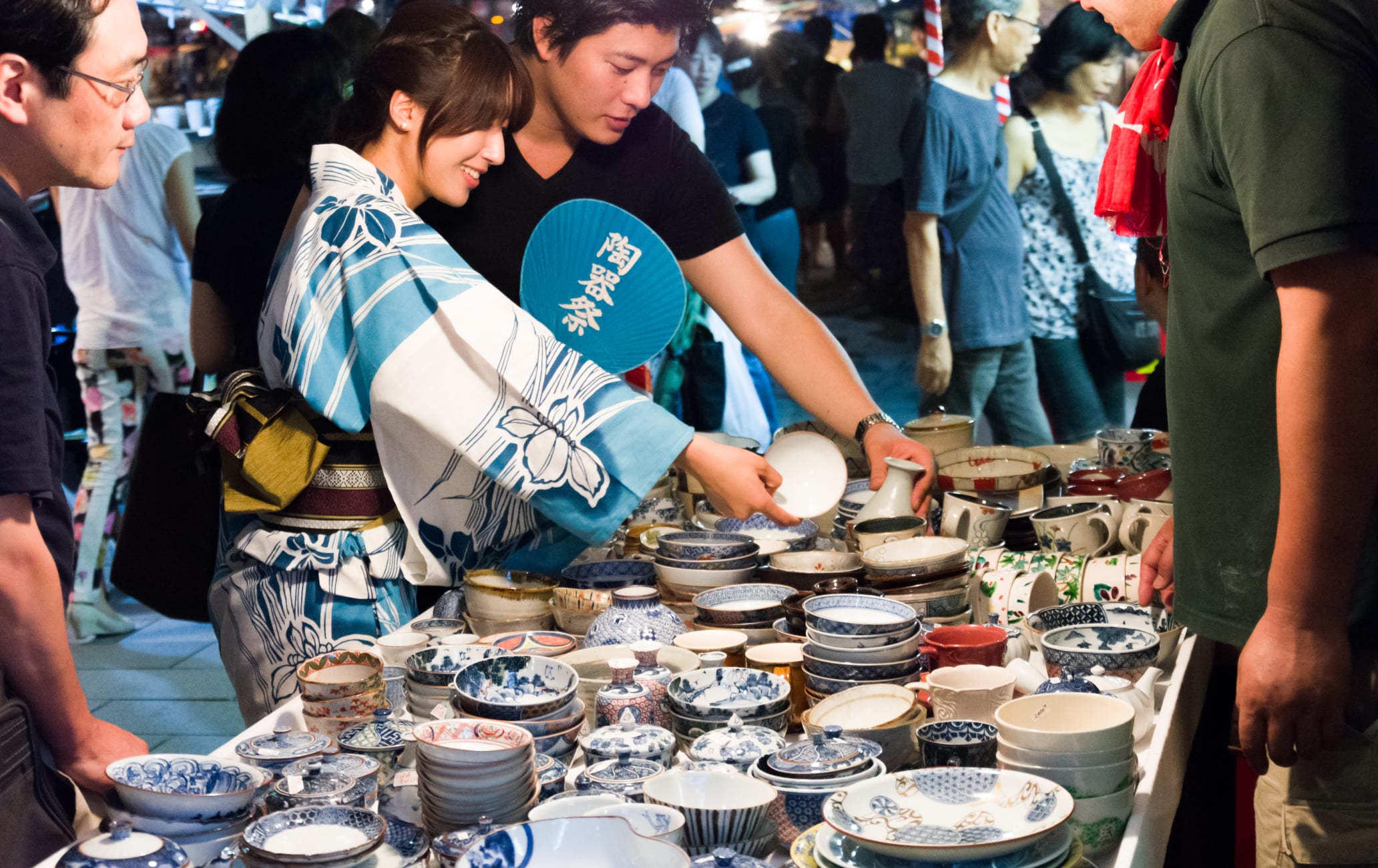 Get great bargains on artful ceramics and practical tableware at Japan's biggest pottery market
Whether you're a serious collector or just appreciate the beauty of Japanese ceramics, you don't want to miss the Gojozaka Pottery Fair. Japan's largest pottery market, it happens annually over four days from August 7 to 10, in the Yamashina


area of southeastern Kyoto.
Don't Miss
Bargaining during the last two days of the fair for fantastic deals
Buying everything from practical tableware to works of art
How to Get There
The Gojozaka Pottery Fair is accessible by train from central Kyoto.
Take the Keihan Line from Sanjo Station to Kiyomizu-Gojo Station.
Quick Facts
Wakamiyahachimangusha Shrine on Gojo-dori Street is commonly known as "Toki-jinja," the shrine of pottery
The Gojozaka Pottery Fair prominently features the local Kyo ware, but the vendors regularly sell other ceramics as well, including Shiga, Tamba, Hagi, and the popular Bizen Japan's largest pottery market
The market features about 400 vendors and spans the five blocks of Gojo Street. Stalls open at 9 a.m. and stay open until late at night.
All the kinds of pottery and porcelain you can imagine are on offer, from specialized goods such as sake ware, tea ceremony bowls and green tea mugs, to plates and bowls for daily use. Pottery at low prices
The Gojo district has been a pottery neighborhood for centuries. In the 1980s, environmental regulations demanded that all wood-burning kilns be moved outside of Kyoto. Despite this, the artisans kept their shops running, and the area remains one of the best places to find Japanese ceramics in the country.
The first market was held in 1920 during Obon, Japan's annual summer holiday. The local pottery merchants decided to capitalize on the large crowds passing by their shops by offering steep discounts on their goods.
The tradition continues today, as the pottery sold at the annual market is often heavily discounted. This is a chance for local shops to dispose of their unsold inventory, and the price of the goods reflects this.
The market features the works of known artists and kilns, both antiques and contemporary, as well as young artists who use the venue to introduce their work to a broader audience.
This tremendous variety, with highly prized works of art and everyday tableware displayed side by side, makes the market a strange and wonderful treat for bargain hunters, tourists, the curious, and serious collectors.
Bargaining is allowed
For items of greatest value, it's best to come on the first day of the fair, as nearly 50,000 visitors come each year.
There are advantages to be had in coming later, however. On the last two days of the festival, you're encouraged to bargain. This practice is rare in Japan and will score you some great deals. Near Gojozaka Pottery Fair Festivals & Events
Gojozaka Pottery Fair
Kyoto-shi,
Kyoto-fu Attraction
Kyoto National Museum
Kyoto-shi,
Kyoto-fu History
Kenninji Temple
Kyoto-shi,
Kyoto-fu Luxury Stay Luxury Stay Festivals & Events
Sanjusangendo Archery Contest
Kyoto-shi,
Kyoto-fu