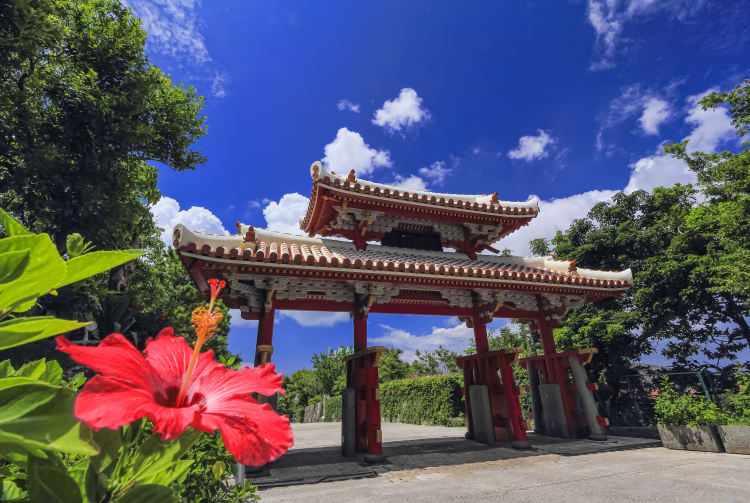 Retrace the footsteps of the King of Okinawa
King Sho Sei built Shurei-mon in the early 16th century for ceremonial entrances to Shuri Castle. It was destroyed in the Battle of Okinawa in 1945. The gate you see today is an exact replica of the original.
The word "shurei" has often been confused with "Shuri", but it is actually derived from a Chinese word meaning "eternal courtesy".
In 2000, a ¥2000 bank note was issued to commemorate the 26th G8 summit, which was held in Okinawa. A picture of Shurei-mon Gate is featured on one side of the note, a scene from The Tale of Genji on the other. If you don't come across one, just ask in a bank.
Don't Miss
Be sure to check out the many other stunning historic sites
Look out for ¥2000 note with a picture of Shurei-mon Gate
Quick Facts
Shurei-mon Gate has been destroyed and rebuilt many times
Locals campaigned to have the gate rebuilt in the 1950s
The present-day gate was built in 1958
How to Get There
Shurei-mon Gate is a few minutes' walk from Shuri Castle Attraction
Shureimon Gate
Naha-shi,
Okinawa-ken History
Shuri Castle
Naha-shi,
Okinawa-ken Shopping
T Galleria
Naha-shi,
Okinawa-ken Art & Design
Okinawa Prefectural Museum And Art Museum
Naha-shi,
Okinawa-ken Shopping
Kokusai-Dori Street
Naha-shi,
Okinawa-ken History
Nakagusuku Castle
Nakagami-gun,
Okinawa-ken