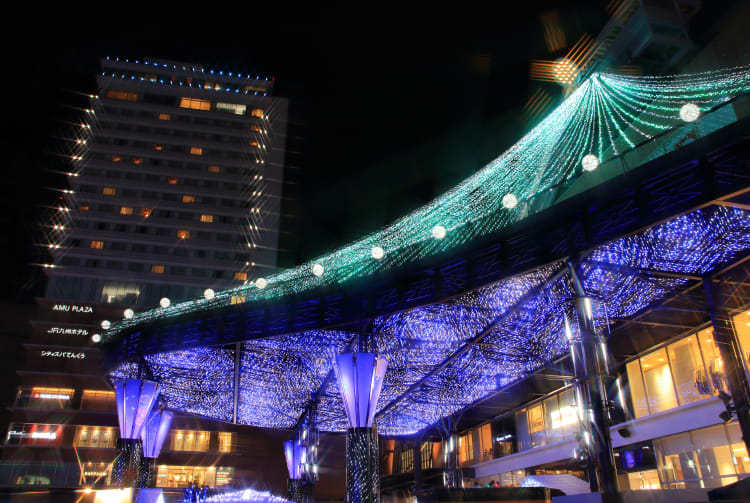 A transport hub for the area, with easy access and plentiful amenities
The main station in Oita Prefecture, Oita Station is well connected to destinations both within and outside the prefecture by three JR Kyushu lines. How to Get There
Oita Station is on the Kyudai Main Line (to Yufuin, Kurume, Tosu, Hakata etc.), the Hohi Main Line (to Bungotaketa, Aso, Kumamoto etc.) and the Nippo Main Line (to Hakata, Kokura, Nakatsu, Usa Kitsuki, Oita, Usuki Miyazaki etc.)
Oita Airport is also accessible, by bus in Dplaza Shinkawa Bus Center
Buses arrive and depart from Oita Airport, Osaka, Kobe, Kyoto, Nagoya, Fukuoka, Nagasaki, Kagoshima, Hiroshima, Tokuyama and Beppu.
Top amenities
Coin-operated lockers, toilets and a convenience store
Taxi station and rent-a-car store beside the station
Bank and post office within a 10-minute walk Other
Oita Station
Oita-shi,
Oita-ken Attraction
Jr Kyushu Hotel Blossom Oita
Oita-shi,
Oita-ken Art & Design
Oita Prefectural Art Museum
Oita-shi,
Oita-ken Art & Design
Oita Art Museum
Oita-shi,
Oita-ken Attraction
Oita Bank Dome
Oita-shi,
Oita-ken Nature
Oita Christian Martyrs Memorial Park
Oita-shi,
Oita-ken