Hyatt Regency Hakone Resort & Spa
ハイアットリージェンシー箱根リゾート&スパ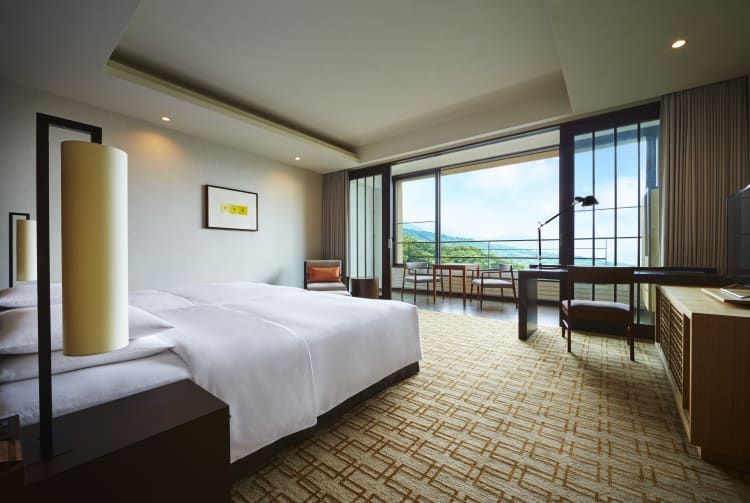 A majestic mountain retreat with modern comforts
Nestled in the scenic mountains of Hakone


, the Hyatt Regency Hakone Resort & Spa combines the rustic charm of a mountain retreat with the Hyatt brand's signature sophistication. Each room is meticulously designed and offers sunny terraces and spectacular mountain views. Surrounded by the beautiful Fuji-Hakone-Izu National Park, take in the natural beauty before relaxing at the hotel's spa, offering original facial and full-body treatments and natural hot spring baths.
Hakone, a traditional stop between Tokyo and Kyoto, is home to Owakudani


, a crater on Mt. Hakone with active volcanic vents. Known for its hot sulfurous steam, the eggs cooked in the waters here are said to boost one's lifespan by seven years. The Hyatt Regency Hakone is also in close proximity to the Hakone Open-Air Museum


, which showcases art pieces and installations amidst nature.
Near Hyatt Regency Hakone Resort & Spa Luxury Stay
Hyatt Regency Hakone Resort & Spa Festivals & Events
Hakone Autumn Leaves
Ashigarashimo-gun,
Kanagawa-ken Nature
Hakone Gora Park
Ashigarashimo-gun,
Kanagawa-ken Relaxation
Gora
Ashigarashimo-gun,
Kanagawa-ken Luxury Stay Relaxation
Hakone Kowakien Yunessun
Ashigarashimo-gun,
Kanagawa-ken