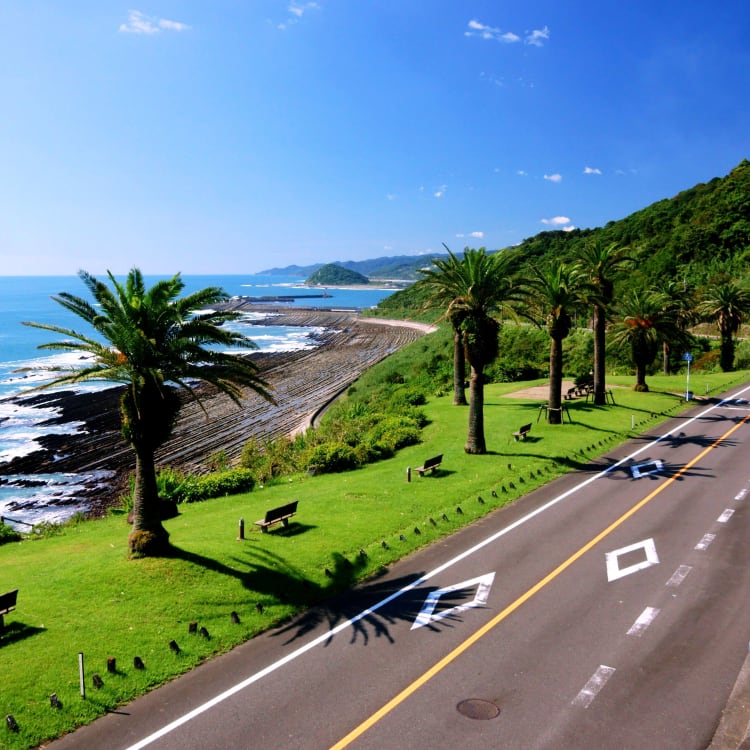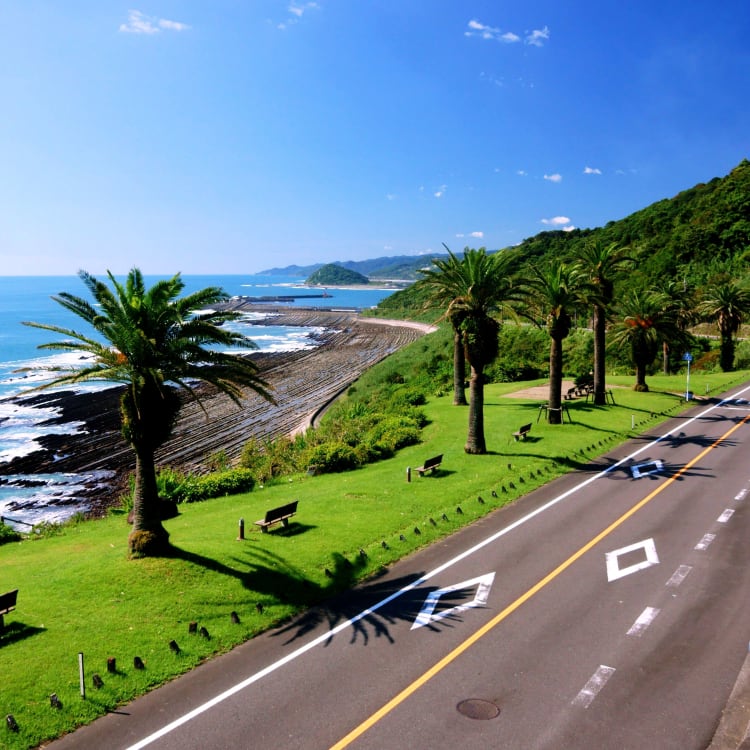 STORY
Drive Miyazaki—history, culture and coastal scenery
[Sponsored] Driving is one of the best ways to explore the beautiful coastal city of Miyazaki—and beyond
Explore Kyushu's eastern coast by car
Miyazaki Prefecture sits in the southeast of Kyushu—Japan's third-largest main island. The area features exquisite nature, enthralling historical sites and beautiful beaches, making it the perfect road-trip destination. Drive along quiet coastline roads, stop off at the elegant, cliff-hugging Udo-jingu Shrine, or ride the waves at prime surfing spots such as Okuragahama. Miyazaki's sunny, balmy climate is a two-hour plane ride from Tokyo. Drive the spectacular Nichinan coastline; visit Takachiho Gorge
Miyazaki City is an excellent starting point for a driving adventure. Head east of the city for 30 minutes to reach Aoshima, a popular island just off the coast. This island of white beaches and a verdant jungle is connected to the main island of Kyushu by a bridge. Next, head south on Route 220, following the spectacular Nichinan coastline, which resembles a washboard, due to the ridged formation of its rocks. Finish your journey at the spectacular Cape Toi.
The dramatic Takachiho Gorge in the north of Miyazaki (close to Kumamoto and Oita) can be reached by driving north from Miyazaki City along the coast on Route 10 before peeling west after the port town of Hyuga. The gorge can be viewed from an elevated walking trail or by hiring a boat and rowing through the turquoise waters for a close-up view of the 17-meter-high Manai Waterfall. Winding roads lead to Miyazaki mountain towns
Hiring a car is the best (and often only) way to reach some of Miyazaki's more-remote locations, especially in areas where public transportation is significantly limited or nonexistent. The village of Nishimera—roughly a two-hour drive north of Miyazaki City—is accessed by steep, winding, narrow mountain roads. Nishimera is an excellent spot for hiking, fishing and spending time outdoors. With a relatively small population of around 1,000 people, this secluded village is an ideal place to relax and enjoy the mountainous scenery. Shiiba, in the northwest of Miyazaki Prefecture, and close to neighboring Kumamoto, is another small mountain town, around three or four hours' drive from Miyazaki City. The town sits at high altitude and is best accessed by car. The town's microclimate is generally cooler than other parts of the prefecture, making it a refreshing destination at the height of summer. Winter temperatures are frigid, often below zero; frozen waterfalls and ice-climbing have become popular draws in the area. Must-see spots in Miyazaki
Aoshima Island has beautiful beaches, blue waters and an eponymous shrine. To reach the shrine, visitors walk under a large red torii gate on the beach and "join the realm of the gods." Praying at the shrine is said to bring good fortune in matchmaking, marriage and childbirth, as well as safety at sea.
Udo-jingu Shrine on the Nichinan coast is another driving-tour must-see. The shrine, which is tucked away inside a cave, is dedicated to Ugayafukiaezu no mikoto (father of Jimmu, Japan's mythical first emperor). The shrine offers dramatic views of the Pacific Ocean.
The town of Obi, meanwhile, sits slightly inland and is sometimes referred to as the "Kyoto of Kyushu," due to its castle, old buildings and quaint streets. This small town is an ideal spot to stroll around for a couple of hours. Eat on the go, or grab a bite to eat at one of the many local restaurants.
Cape Toi lies further south, about 40 minutes by car from the town of Kushima. The cape is home to about 100 Misaki-uma wild horses—a native Japanese breed. Visitors can walk around and take pictures of the horses from a safe distance. While in the area, make the trip up to Cape Toi Lighthouse for excellent coastal views. Super-fresh food produced with passion
Fresh, seasonal ingredients are integral to Miyazaki's lip-smacking rural fare. Local cooking know-how and presentation skills make the food even more special.
Popular choices include delicious dishes such as Ise Ebi lobster, which is tastiest when eaten raw. Each September, the Ise Ebi Festival celebrates these delicious crustaceans. In spring, visit the Katsuo Festival in Miyazaki City to take part in a tuna-related jamboree.
Meat lovers can opt for Miyazaki's most famous edible offerings—delicious deep-fried chicken Nanban or top-quality Miyazaki beef. Try washing it all down with shochu, a strong liquor brewed from sweet potatoes that is one of Kyushu's most notable exports. Hiring a car; navigating around Miyazaki
Kyushu has myriad charms and is best enjoyed from the comfort of a car with plenty of scope for flexibility. Car rental is available at Miyazaki Airport, while overseas visitors flying into Fukuoka Airport can hire a car and drive down to Miyazaki. Kyushu is one of Japan's most drivable islands—the roads are generally quiet, and the expressways are easy to use. Flexible car-hire plans are another option. For example, you can rent a car in Kagoshima and drop it off in Fukuoka.
Detailed English-language information about sightseeing spots is available on the official Miyazaki Prefecture Guide website. Navigating unfamiliar territory is a snap, thanks to websites such as Drive Japan, which help you plan various courses, right down to sending precise coordinates for the nearest parking spots.
The following websites are easy-to-use and informative:
https://drivejapan.co.jp/media/route/prefectures/45/routes?utm_source=localgv&utm_medium=referral&utm_campaign=kyushu_miyazaki


Getting to Miyazaki
Flights to Miyazaki from Tokyo's Haneda Airport and Narita Airport take approximately two hours.
There is no direct shinkansen service to Miyazaki. From Fukuoka (often referred to as Hakata), take the Kyushu Shinkansen (Mizuho or Sakura services) and alight at Kagoshima Chuo Station (80 mins). Change to the Limited Express Kirishima Service (2 hrs) or the JR Nippo service (2.5 hrs) and get off in Miyazaki. Shinkansen services run between Tokyo and Hakata, but JR Rail Pass holders cannot use the Nozomi service, so they need to change at Shin-Osaka station.
A once-a-day car-ferry service runs from Kobe Port to Miyazaki.
Did this information help you?
out of found this information helpful.