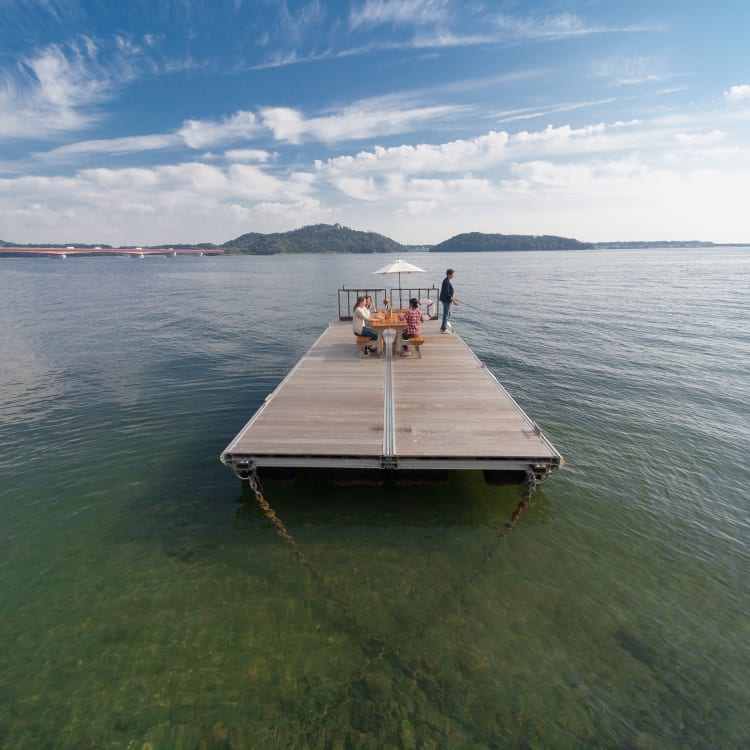 STORY
Lake Hamana—outdoor adventure meets slow-life travel
[Sponsored] Adventure on the water, local food and a scenic train ride less than two hours from Tokyo
A hub of adventure, activity and relaxation
Lake Hamana in Shizuoka Prefecture—less than two hours from Tokyo—offers an ideal combination of outdoor fun and relaxation. Spend a day cycling along the lakeshore, board a retro train, go fruit-picking, or choose from a wide variety of marine sports. For foodies, there is no better place to sample local Japanese fare, including top-class eel—the lake is the birthplace of modern eel-farming. Complete your day with a relaxing soak at one of the many hot springs in the area. Lake Hamana: Gateway to the Pacific
Lake Hamana is in the western part of Hamamatsu City. It was a freshwater lake until the late 1400s when an earthquake opened it up to the Pacific Ocean. Because of its unusual combination of saltwater and freshwater, the lake attracts a wide variety of marine life and the area has a long tradition of fishing.
Visitors to the lake can explore the lakeshore on two wheels, as a cycling trail encircles the perimeter. Bikers can pedal past such attractions as the vermillion shrine gate that looms over Bentenjima, the mandarin orange orchards in Mikkabi and the tranquil hot spring resorts of Kanzanji Onsen. Explore the lakeshore by bicycle
Laka Hamana's 65-kilometer-long cycling trail is open year-round. It runs close to the lakeside offering cyclists refreshing salty breezes and beautiful views along the course. Look out for flocks of migratory birds at the Ime Wild Bird Coast and stop by Seto Port for far-reaching views of the lake.
Renting bicycles at Lake Hamana
There are seven spots along the waterside where you can rent bicycles—all located near major train stations such as Araimachi and Bentenjima stations. If you only want to ride part of the entire route, drop off your bicycle at any terminal along the way. To extend your journey, take your bike aboard the Hamanako Excursion Ship and travel from Kanzanji Onsen to the Oku-Hamana area in the north. Try your hand at water sports; take a stab at spearfishing
Thrill-seekers can choose from a variety of exciting marine sports, including parasailing, windsurfing and wakeboarding. For a genuinely pulse-racing experience, try a ride on a Flyboard, which uses water pressure to boost riders high into the air. Alternatively, water-sport beginners can try out kayaking or stand-up paddleboarding (SUP)—all with peace of mind as the lake is relatively tranquil.
Keen fisherfolk can try out spearfishing on the lake—a tradition that stretches back over a century. Takiya Base, located at the south of the lake, offers sunset cruises and guided spearfishing tours in the evenings from May to September. Take your catch home or have it prepared on the dedicated dining raft.
Package tours are available (starting from 36,000 yen), or you can simply opt for dinner (3,000 yen per adult). If spearfishing fails to float your boat, you can bring your own food and drinks. Tours depart from Bentenjima Station. Hot springs and delicious local fare
After a day of lake activity, recharge your batteries in an open-air hot spring. Lake Hamana's shores are dotted with hot spring resorts, including Mikkabi Onsen, Bentenjima Onsen and the Kanzanji Onsen area. Many open their doors to day visitors as well as overnight guests. There are plenty of local delicacies for foodies to sink their teeth into. Be sure to sample the local specialty—Hamana eel. Lake Hamana is known as the birthplace of eel-farming, and several restaurants in the area serve eel prepared both Kanto-style (tender) and Kansai-style (crispy). Alternatively, choose from delicacies such as whitebait piled high on rice, mangrove crab, soft-shelled turtle, or pufferfish prepared raw, grilled, or in a hot pot.
For those with a sweet tooth, try unagi pie—a type of cookie made with essence of eel. Other notable dishes include sardines stewed with ginger soy sauce or grilled oysters served with onions and orange peel. Book a trip on a retro train
The Tenhama Line runs along the north coast of Lake Hamana and stretches to the picturesque Kakegawa area in the east. The retro train passes through stations that have hardly changed since the line first opened in 1940. Enjoy splendid views of Lake Hamana, verdant tea fields, and pretty rural landscapes.
It takes about two hours to travel the entire length of the line, though passengers can enjoy traveling at their own pace. Hop off at one of the many orchards along the way to pick mandarin oranges and other locally grown fruits before getting back on board.
How to get to Lake Hamana
Lake Hamana is easily accessible from Tokyo. From Tokyo or Shinagawa Station, take the JR Tokaido Shinkansen to Hamamatsu Station (80 mins). Note that the Nozomi train does not stop at Hamamatsu Station.
From Hamamatsu, take the local JR Tokaido Line to Bentenjima (12 mins) or Araimachi (15 mins). Japan Rail Pass Holders can access these lines. Kanzanji Onsen is a 40-minute bus ride from Hamamatsu Station. You can also ride a highway bus to Hamamatsu Station from Shinjuku or Shibuya.
Did this information help you?
out of found this information helpful.