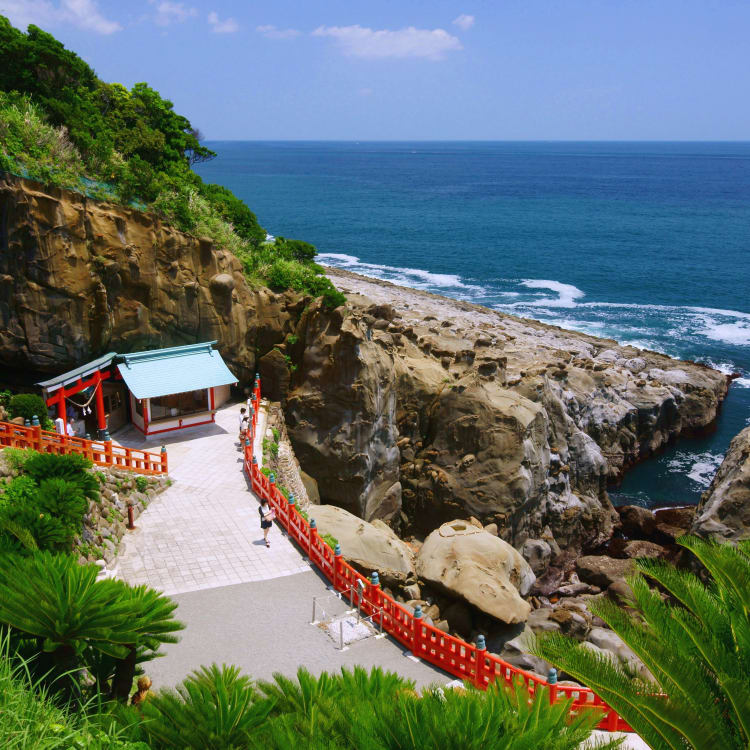 STORY
Miyazaki—outdoor adventure and ecotourism
[Sponsored] Get active in Miyazaki's abundant nature and explore UNESCO Biosphere Reserves
Miyazaki's natural, feel-good environment
Miyazaki Prefecture sits on the eastern coast of Japan's southern island, Kyushu. The prefecture's rich natural environment is made up of beautiful coastline and dense forest, and areas of particular rarity and interest have been designated as UNESCO Biosphere Reserves. These reserves play a variety of roles, including biodiversity preservation, academic research support, and sustainable economic and social development. Visit the reserves, national park, and hot spring areas to trek, hike, and relax amongst beautiful natural scenery. Biosphere reserves offer a range of activities
Aya Biosphere Reserve near the town of Aya attracts ecotourists from both Japan and overseas for its beautiful forests and traditional recycling practices. Popular activities include trekking through verdant forests to visit a 680-year-old oak tree with the largest trunk in the prefecture, exploring Aya Castle and visiting Kawanaka Shrine. Alternatively, rent a bicycle from the Aya Tourist Information Center or the Aya Fureai Building to see the area under your own steam.
The Sobo, Katamuki and Okue Biosphere Reserve is part of the Sobo-Katamuki-Okue mountain range. The reserve straddles Miyazaki and neighboring Oita Prefecture and is noted for its steep terrain and sharp ridgelines. The mountains are a treasure trove of endemic and rare species such as the Japanese serow and Sobo salamander. The area is a well-known rock-climbing spot, though its complex and undulating topography makes for tough ascents; enlisting help from a guide or experienced climber is strongly recommended. Visitors can also trek the area's many trails or try canyoning in Fujikawachi Valley. Kirishima-Kinkowan National Park
Kirishima-Kinkowan National Park


, meanwhile, stretches between Kagoshima and Miyazaki prefectures. Kirishima has over 20 volcanoes, and volcanic activity has shaped much of the area's landscape, which includes crater lakes, marshlands and multiple hot springs at the base of the mountains.
Ebino Plateau is rich in natural delights and ideal for outdoor activities such as trekking, camping, fishing, cycling, and stand-up paddleboarding (SUP) among the mountains and crater lakes. Various flowers and plant species can be seen year-round, including Kyushu azaleas, panicled hydrangeas and Malus spontanea, a wild rose unique to Ebino.
Other park highlights include Onami-ike Crater Lake, Mt. Takachiho-no-mine and Kirishima Shrine, dedicated to Ninigi no Mikoto, the grandson of the sun goddess Amaterasu, who, according to legend, played a crucial role in the founding of Japan. Inohae Valley, located among the mountains of Kitago, is one of only three spots in the prefecture to be certified as a "forest therapy base" by the Japanese Society of Forest Medicine. A 3-kilometer stroll along the valley's main road passes by a number of spectacular waterfalls, and over 300 species of moss thrive in the valley's humid atmosphere. Nichinan City
To enjoy the charms of the warm Japanese coast, head toward tourist-friendly Nichinan City in southern Miyazaki. Along the way, there are several coastline attractions, including Aoshima Island, which connects to the mainland by a bridge. The island—designated a Special Natural Monument for its subtropical plants—sports pristine white beaches and is home to Aoshima Shrine, which is said to bring luck to married couples. At low tide, look out for the straight rows of basalt rocks that run along the coast (referred to by locals as the "devil's washboard").
Travel further down the coast to reach Udo-jingu Shrine, a brightly painted structure nestled in a seaside cave and dedicated to the father of Japan's legendary first emperor, Jimmu. Standing on the terrace overlooking the ocean, you will see a rock with a circle of rope around a depression in its center rising above the waves. Successfully throwing small ceramic balls (sold at the shrine) so they land within the rope reportedly brings good fortune.
A bus from Miyazaki Station stops at both the basalt rocks and the shrine. Relaxation and rejuvenation
Miyazaki's temperate south is an ideal location to enjoy the prefecture's bounteous environment, from rugged peaks and crater lakes to lush forests and white beaches. Those looking to recharge their batteries can enjoy a rejuvenating walk through verdant woodlands or soak in one of the area's natural hot springs. More active travelers can indulge in beach yoga, surfing, canoeing, kayaking and diving.
The local cuisine will please the most discerning of palates. Miyazaki beef—named for locally raised cows that meet strict quality standards—has won several honors, including the Prime Minister's Award at The National Competitive Exhibition of Wagyu, dubbed the "Wagyu Olympics." Charcoal-grilled chicken, lettuce-maki sushi rolls, chicken nanban and cheese manju dumplings number among the region's other specialties. Accommodation
Miyazaki offers a wide range of accommodations from traditional Japanese inns to luxury hotels. The Sheraton Grande Ocean Resort (part of the Phoenix Seagaia Resort) is a luxurious hotel with ocean views offering both Japanese- and Western-style rooms. Amenities include a spa, hot spring, pool and restaurant. The ANA Holiday Inn Resort offers similar amenities and is a mere 20-minute walk from Aoshima.
For a traditional Japanese-style experience, head to Takachiho Shinsen ryokan inn in Takachiho (some rooms have private open-air baths). Nemu no Hana inn in Kitago is another popular ryokan inn. Guest suites have access to a private terrace, and there is a bar and an on-site library. Training camps for sports teams
Miyazaki's mild climate is ideal for outdoor sports, and the prefecture is currently promoting the merits of its various training camps in the run-up to the 2020 Summer Olympics. For example, Miyazaki Prefectural Comprehensive Sports and Leisure Park, just seven minutes from Miyazaki Airport, features 19 separate sports facilities and can host up to 32 different sports-based training camps. Facilities across the prefecture have played host to multiple sports teams, including the German athletics squad; triathletes from the UK and Canada; British, Australian and Japanese World Cup Rugby teams; and international surfers. Getting to Miyazaki
Miyazaki Airport is easily accessed by air from Tokyo (around 90 minutes) and Osaka (around one hour). There are several flights every day from both cities.
To reach Miyazaki by train from Tokyo, take the Tokaido-Sanyo Shinkansen to Kagoshima, then the JR Kirishima limited express to Miyazaki Station. The journey takes around eight and a half hours.
Kyushu-based visitors can reach Miyazaki by bus from Kagoshima, Kumamoto, or Fukuoka. Journey times vary depending on the departure point.
Did this information help you?
out of found this information helpful.