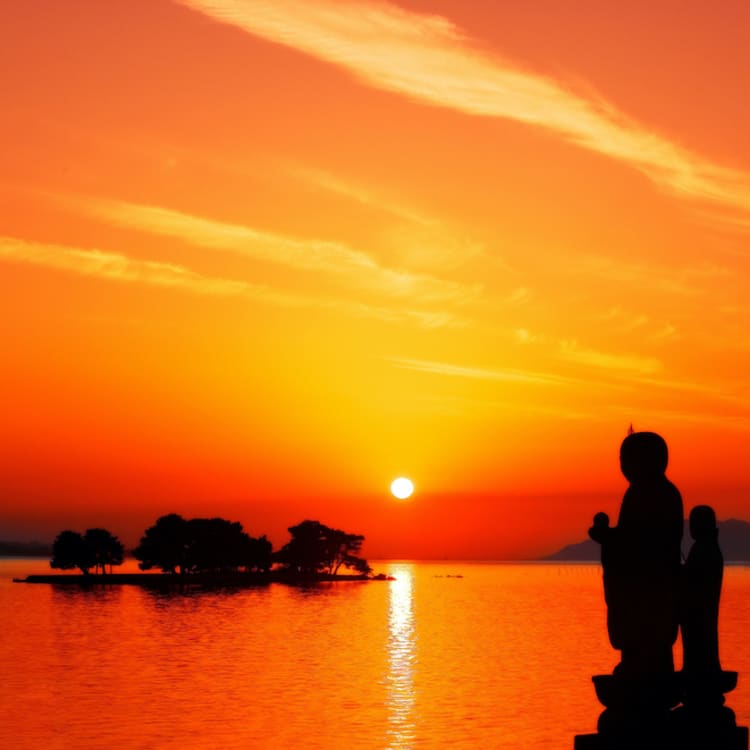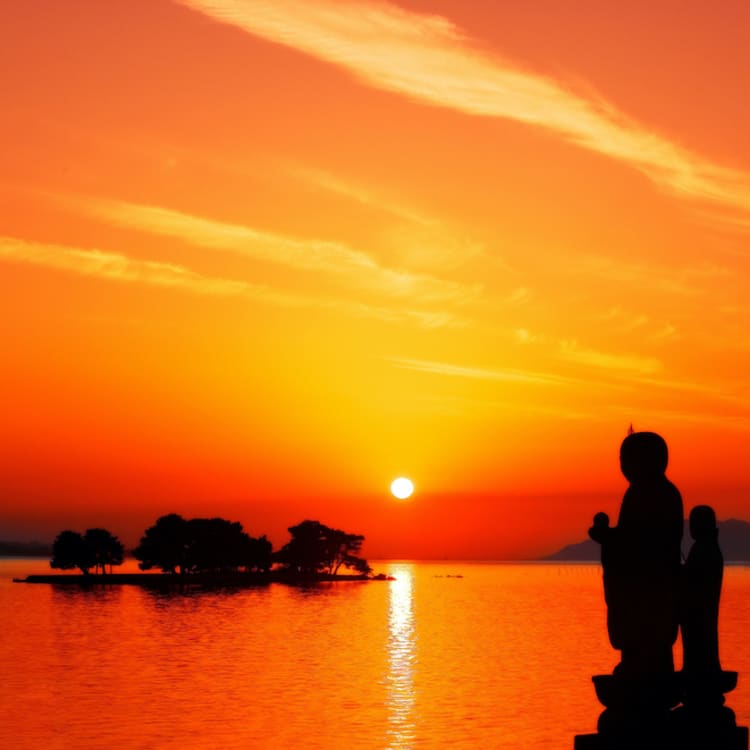 STORY
Shimane and Tottori—Japan's lesser-known center of history, culture and nature
[Sponsored] Enjoy spectacular sunsets, coastal vistas, historic castles and color-rich gardens in Shimane—and beyond
Splendid scenery and sumptuous seafood set to a beautiful natural backdrop
Journey to the Shimane Peninsula in southwest Japan to visit sites from Japan's ancient and recent past—all set to a backdrop of beautiful views. The area has connections to the very beginning of Japan and is steeped in spiritual and cultural history. Edo-period (1603–1868) gardens and castles, hot springs, a bustling fish market and a towering lighthouse, are just some of the area's portfolio of attractions.
The peninsula is surrounded by two lakes just a few kilometers from the Sea of Japan in Shimane Prefecture and is most easily reached by plane—flights from Tokyo's Haneda Airport take just 80 minutes. Once on the ground, a convenient network of trains and buses makes for convenient access to the area's sightseeing hotspots in both Shimane and Tottori prefectures. Izumo—the ideal launchpad for your travels
Izumo is a great place to begin your journey because the city center is only a 30-minute drive from the Izumo Enmusubi Airport. Take the airport shuttle bus to nearby Izumo Taisha-mae Station, and from there, many central attractions are within easy reach. Discover the charming traditional stores along Shinmon Street, the famous Izumo Taisha Grand Shrine—officially known as Izumo Oyashiro—and the Shimane Museum of Ancient Izumo.
After exploring the center, take a 30-minute bus trip up the coast to see the famous Izumo Hinomisaki Lighthouse. Izumo Hinomisaki is over 63 meters high and has been keeping an eye on the waves since 1903. If you're feeling energetic, climb the 163 steps to enjoy expansive views across the Sea of Japan. Journey east across the lake to neighboring Matsue City
Hop aboard the historic Ichibata Electric Railway, a 42-kilometer-long train line that connects the towns of Izumo and Matsue. The railway was built some 80 years ago, and the charming train cars offer a glimpse into mid-20th-century Japan, while also offering rare services such as a railcar pub, bicycle racks, and attractive exterior designs.
Much of the line runs along Lake Shinji, considered one of the most beautiful sights in Shimane. The vast lake is known for its sunsets, traditional clam-fishing boats, and diverse mix of fresh and saltwater seafood. The Ichibata Electric Railway runs to Matsue, which is home to Edo-period attractions such as Matsue Castle, the traditional Yushien Garden, and early modern sites, including Mihonoseki Lighthouse. Step back in time at Matsue Castle
Castles are relatively common across Japan, but Matsue Castle stands out among them. It is one of five "original" castles in the country. It was built in 1611 yet has never succumbed to fire or other natural disasters (though it has undergone some renovations). Inside, you can view exhibits documenting the castle's history.
For a change of pace, take a cruise around the moat on the Horikawa Pleasure Boat and enjoying the verdant views along the waterside. The vessel stops at three locations around the castle, taking visitors to sites such as the former residence of renowned Japan writer Lafcadio Hearn (1850–1904) and the Kyomise shopping area. Yushien Garden—a feast for the eyes
Lake Shinji borders Matsue to the west. Meanwhile, the town is joined by another body of water to its east, Lake Nakaumi, a salt-and-freshwater lake just a few meters from the open ocean. A slender bridge stretches over the water to Daikonshima Island, which is home to the traditional Yushien Garden, a must-see destination known for its peony flowers.
Buses from Matsue Station take around 25 minutes to reach the garden and its celebrated displays of flowers, which bloom throughout the year. In springtime (late April to the end of May), the garden hosts a flower festival, with over 250 species on display. Likewise, in November and December, visitors are treated to dazzling illuminations, with thousands of LED lights arranged throughout the grounds. Brighten your day with a visit to Mihonoseki Lighthouse
Take a bus from Matsue Station to reach the easternmost point of the Shimane Peninsula. This scenic stretch of coastline is home to ocean views, hiking trails through Gohonmatsu Park, shrines and onsen hot springs. For excellent vistas, head to Mihonoseki Lighthouse. The Western-style lighthouse was built in the late 1800s and still operates today, featuring a restaurant and a gift shop. On bright days, you can see all the way to the Oki Islands—around 100 kilometers off the coast. Cusine and history in Yonago
From Matsue, take a train further east to Tottori Prefecture and the city of Yonago. The city is on the edge of Lake Nakaumi and the Sea of Japan and has a reputation for crab cuisine, peaceful canals, and panoramic views. Yonago Castle Ruins is another spot of historical interest. While the castle itself no longer stands, the stone foundation serves as a suitable observation point across the entire region, looking out over Lake Nakaumi to the west, the ocean to the north, and Mt. Daisen to the east.
Hiking enthusiasts can take an hour-long bus journey (or drive) to reach the foot of Mt. Daisen, which offers splendid views and particularly attractive foliage during autumn. Once back in town, consider a visit to Kaike Onsen, an oceanside hot spring known for the unique salt makeup of its water. Cast your net wider with a visit to Sakaiminato
From Yonago, take the Sakai Line a few stops up the peninsula to reach Sakaiminato—home to a bustling fish market. The market hosts over a dozen wholesalers specializing in the freshest seafood, including the region's much sought-after red queen crab. The market is open from 8:00 a.m. to 4:00 p.m. For a delicious selection of fresh sashimi, head to Kaiyotei restaurant. Their kaisendon (seafood on rice) allows you to savor a wide range of daily cuts. Yasugi—small but scenic
Travel in the opposite direction of Sakaiminato to find the relatively small city of Yasugi, which sits on the southern banks of Lake Nakaumi. Yasugi is known for its hot springs resort, Sagino-yu Onsen, traditional pottery and crafts, and the beautiful Adachi Museum of Art. Nearby Gassantoda Castle offers pleasant views overlooking the city and lake. Though only its stone walls remain, the site is notable for its Sengoku-era history (c.1467 - c. 1615), a time when Japan's various samurai clans battled fiercely with one another.
If you have access to a vehicle, you can journey further into the nearby mountains, which stretch to Hiroshima Prefecture on the opposite side of Honshu.
Getting to Shimane and Tottori prefectures
Despite its relatively remote location along the Sea of Japan, convenient airport access (Izumo Airport) and trains and buses make the Shimane Peninsula region surprisingly accessible from Tokyo and other major travel hubs. A well-maintained network of train lines connects the cities of Izumo, Matsue, Yonago, Sakaiminato and Yasugi. Shinkansen and express trains also link the prefecture to major cities. Overnight highway buses are a popular way to reach Shimane on a budget. Travelers with an international driver's license can rent a car for further exploration and hiking.
Tottori can be reached directly from Tokyo's Haneda Airport in about 80 minutes, while Shinkansen and other trains connect major centers like Osaka and Kyoto. Overnight highway buses arrive at and depart from Yonago.
A regular bus service connects Hiroshima and Izumo in Shimane. If you are a JR Rail Pass holder, the three-and-a-half-hour journey is free. If traveling from Fukuoka, a one-hour flight will link you with Shimane; highway buses also connect these two locations. Additionally, highway buses run between Hiroshima and Matsue, including a service that costs just 500 yen.
Upon arrival in Shimane or Tottori, car rental is perhaps the most convenient option for traveling around and between the two prefectures. Discover more here


Did this information help you?
out of found this information helpful.