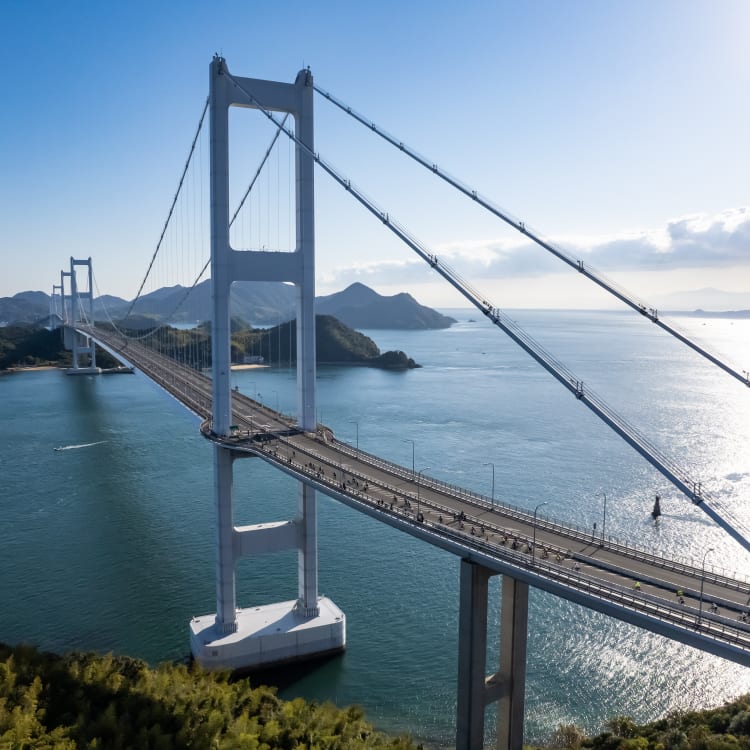 故事
A Cycling Adventure Along the Shimanami Kaido
Take in the fresh air and spectacular scenery as you cycle from Imabari to Onomichi
The Shimanami Kaido is Japan's best-known cycling route, connecting Imabari in Ehime on the island of Shikoku with Onomichi in Hiroshima, on the main island of Honshu. Much of the course follows the Honshu-Shikoku Bridge Expressway over the sea. The entire route is approximately 70 kilometers long. Along the way, there are over 150 cycle-friendly rest stops, and transport options to the Shimanami Kaido, including buses, trains, and ferries that can accommodate bicycles. The Shimanami Kaido is ideal for all levels of fitness: there are few hill climbs, and E-bikes are available to rent. Make Ehime your base for exploring the route and enjoying outdoor adventures and beautiful natural scenery. Exploring the route
The cycle route covers Imabari in Ehime to Onomichi in Hiroshima. Part of the route uses the Kurushima Kaikyo Bridge, a series of suspension bridges spanning just over 4 kilometers. The appearance of the white bridges against the dark blue water and green islands below makes this a long-distance cycle route like no other. While it takes approximately 8 hours to complete the ride, most people break up the journey to allow time for exploring the islands along the way. Since 2014, the Cycling Shimanami event has been held every two years (in October), drawing riders from all over Japan and the world. Participants can cycle the return route (around 140 kilometers) or shorter sections. The experience of riding along the expressways during the event offers the ultimate sense of freedom. Island hopping
The largest islands along the route, Oshima, Hakatajima, and Omishima are part of Imabari City. Ikuchijima, Innoshima, and Mukaijima are part of Onomichi. Each season reveals a different face of these beautiful islands. In spring, Hirakiyama Park on Hakatajima turns pink when around a thousand cherry trees bloom across Mt. Hiraki. Enjoy the sea views framed by blossoms from the lookout on the mountain. After the cherry blossoms finish, you can see vivid azalea flowers in the park.
Another popular spot for cherry blossoms is Takamiyama Observation Deck on Mukaijima.
Visit Oyamazumi Shrine on Omishima in any season to see samurai armor and an ancient grove of camphor trees here at Ehime's oldest shrine. The shrine's treasure hall has samurai swords and armor dedicated by military generals through the ages. Summer means sea breezes and beautiful beaches around the Setouchi area. Hakata Beach on the island of Hakatajima, Shimanami Beach on Innoshima, and Setoda Sunset Beach on Ikuchijima are popular spots to enjoy marine activities and watch the sunset. Beaches are usually open for swimming between early July and late August. Spectacular scenery and cultural treasures
The whole route offers breathtaking scenery, but a little optional hill-climbing to explore observatories and vantage points on the islands rewards riders with panoramic scenes. The steep 3.5-kilometer climb to the top of Mt. Kiro on the southern tip of Oshima Island will test the stamina of the strongest cyclist, but the panoramic views of the Kurushima Kaikyo Bridge and the Kurushima Strait from Kirosan Observatory Park, are worth it. There are restrooms and a shop selling refreshing gelato near the top of the mountain. Takamiyama Observation Deck at the top of Mt. Takami on Mukaijima offers an easier climb and beautiful cherry blossoms in spring. There's a parking lot with restrooms about halfway up the mountain, and a series of stones carved with Japanese poems along the way. For views and culture, consider a stop at the Toyo Ito Museum of Architecture on Omishima Island. World-renowned architect Toyo Ito designed the buildings of the architecture museum that almost appear to float, like the islands below. Just a short walk away, visitors can see artworks by international and Japanese contemporary artists at the Tokoro Museum. Don't miss the view of the islands below from the museum terrace. On the island of Ikuchijima, a side trip to Kosanji Temple offers beautiful views, ancient Buddhist artworks, and contemporary sculpture. After visiting the temple and museum, head up to The Hill of Hope, which offers sea views from a marble sculpture garden, and has a cafe. Add some adventure
Turn your cycling trip into an adventure as you experience Ehime and the Setouchi area through fun activities. Kamijima Town is composed of 25 small islands off the main Shimanami Kaido. Join a half or whole-day tour with Setouchi Paddlers Club on the island of Sashima (one of the islands which comprise Kamijima Town) to explore the area from the water. In summer, you can swim and relax at a secluded beach that is only reachable by kayak. Overnight camping trips can also be organized. Make Imabari your base for the Shimanami Kaido and consider a few days exploring Nibukawa Valley. The valley has clear rivers, mossy forests, and easy hiking trails, and is considered one of the most beautiful places in Shikoku. Nibukawa Onsen is the ideal place to relax after an active day, and there are several accommodations in the area. Sustainable stays and experiences
Cycling is an ideal way to travel sustainably and to connect with the local community in a way that is difficult by car or public transport. Along the Shimanami Kaido, you will find sustainable accommodations, and community initiatives to support local culture and industry. I-LINK HOSTEL & CAFE SHIMANAMI on Omishima Island is a convenient base for exploring the area. Enjoy meals made with local ingredients including lemon liqueur made from organic, pesticide-free lemons grown in the area. If you are ending your trip in Onomichi, HOTEL CYCLE is an ideal place to relax and reflect on your journey. The renovated waterfront warehouse has accommodations, restaurants, and cafes that focus on locally sourced ingredients, a lifestyle store selling local crafts and other items, and a bicycle pro shop with rental bikes and equipment. Guest rooms are designed with natural materials and locally made amenities. SOIL Setoda in Onomichi is a multi-use space in an old salt warehouse that includes accommodations, a coffee shop, and a casual restaurant that also serves as a "living room" for the community. Explore further
Whether you start or end your Shimanami Kaido trip in Ehime, the prefecture has many fascinating places to explore. Visitors arriving from Tokyo, Osaka, and other major cities can choose to fly to Matsuyama Airport, in the city of Matsuyama. Dogo Onsen in Matsuyama is the oldest hot spring in Japan at over 300 years old and is a must-visit. Just over 30 minutes away by limited express train, Ozu is a beautiful castle town on the Hiji River, with historical houses, an elegant castle, and rural landscapes. If you prefer to get your adrenaline pumping, try canyoning in the Nametoko Valley. Experienced guides will lead you through rivers, waterfalls, and natural water slides for an unforgettable day of fun. Enthusiastic hikers and climbers should visit Mt. Ishizuchi. The tallest mountain in western Japan, Mt. Ishizuchi (1,982 m) has been used as a training ground by mountain ascetics for centuries. The climb to Ishizuchi Shrine Sancho-sha at the summit involves a ropeway, trails surrounded by rare alpine plants, and a few tough sections with chains (there are bypass trails if the chain sections are too difficult to climb). Advanced cyclists can try the Ishizuchi "superb view"course, which loops around the Ishizuchi mountain range. Part of the course follows the Ishizuchi Skyline, offering spectacular views as a reward for the tough climb. Getting to and around the area
​​Matsuyama Airport is the main hub for air transport in Ehime. There are direct flights from Haneda Airport in Tokyo (around 1 hour and 20 minutes), Narita Airport (around 1 hour and 40 minutes), or Itami Airport in Kansai (around 50 minutes). By land, take the JR Tokaido Shinkansen from Tokyo or Osaka to Okayama Station, then the JR Shiokaze limited express train to Matsuyama Station. It takes about 6 hours from Tokyo Station or around 3 hours and 25 minutes from Shin-Osaka Station.
Imabari is the starting point of the Shimanami Kaido cycling route. From Matsuyama Station, it takes about 35 minutes to Imabari Station by the JR Shiokaze limited express train. There are five rental cycle shops along the Shimanami Kaido where you can rent or return bicycles, and 109 "Cycle Oases" in the area, with facilities for cyclists. Some buses, trains, and ferries in the area can accommodate bicycles, and it is common for cyclists to use ferries for easy island-hopping. Many accommodations will send your luggage to your next destination on the same day (for a fee) so that you can enjoy luggage-free travel. Did this information help you?
out of found this information helpful.