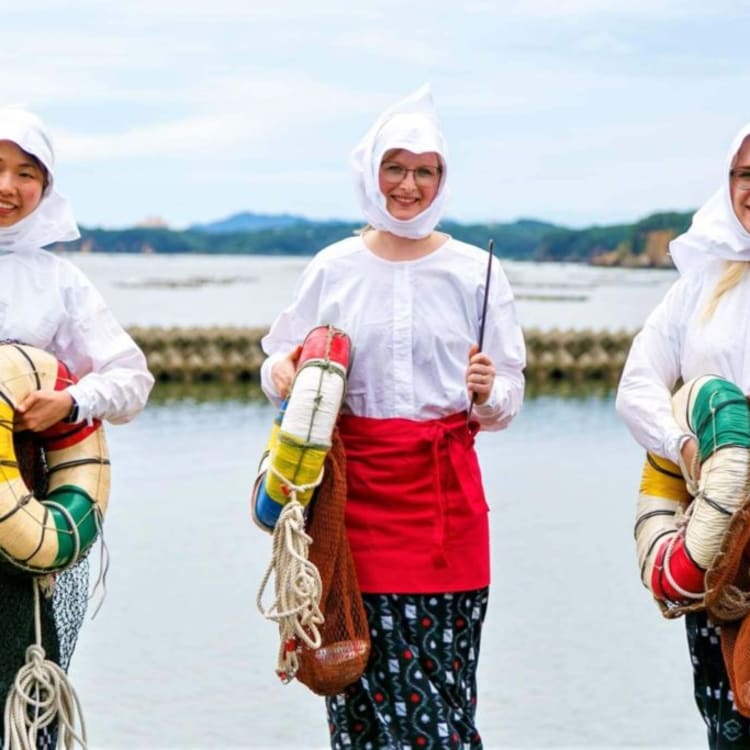 故事
Encounter Mie: Learn about Mie's History and Culture through Hands on Experiences while Getting to Know Locals
In addition to introducing the charm of local and sustainable tourism experiences that allow you to experience a life rooted in the history and traditions of Japan, you'll enjoy encounters with local people to learn about the unique experiences of traveling throughout this region.
A spiritual visit to the Akame 48 Falls and learning about Iga-ryu ninjutsu
To really get to know Mie's history and culture, you'll want to venture to the training grounds of the Iga-ryu ninja at Akame 48 Falls. Along a 3.3 km stretch of valley where many waterfalls can be found, is the location where ninja training happened before. No matter which season you visit, you'll be in awe with the rich beauty of the area, Spring cherry blossoms, lush summer leaves, vibrant autumn foliage and even frozen waterfalls in winter make this a great spot for hiking and nature walks. Though the name suggests you can find 48 waterfalls here, there are not actually 48. ("48" is just a Japanese term for "many"!) One of the highlights of Akame 48 falls is its clear and pristine water. The tranquil sounds of the rivers and streams will leave you at peace. There are several viewing spots along the way, and each water fall with its own unique charm. Some are tall and others narrow, some are wide and cascading with pure white froth. There is also the "ECO Tour to Strike Yourself by the Waterfall" at Dainichi fall that is said to be a phantom waterfall because people rarely visit there. Visitors close their eyes and are struck by the waterfall like silken threads, which is a fantastic experience. Iga with its small towns and farmland nestled in the mountains is also historically home to Japan's famous ninja. It was here that the Iga-ryu school developed its mysterious tactics. The ninjas used to venture across the country to act as spies and mercenaries for samurai warlords. Ninjutsu's stealthy arts are still alive. You can explore the remote forests in western Mie they called home. Iga City makes a good starting point for learning about the shadow warriors and their history. The Ninja Museum of Iga-ryu has a ninja trick house open for exploration. You can also see ninjutsu masters demonstrate their techniques and try to throw some razor-sharp ninja weapons. Experiencing the Japanese culture through a farm stay
Beside the mystic life of ninjas, get to know how Mie locals live by a enjoying a health-inspiring farm stay experience provided by the Taiki Town Councill for Regional Development. Taiki town is a small town with a population of 8,000 located in the south-central part of Mie Prefecture. It has a mild climate, rich and beautiful natural environment, and is known for its agriculture and fishing industry. The Non-Profit Organization "Taiki Town, Japan's No. 1 Hometown Village" is offering a well-thought program for people who want to experience rural life in Japan. Here are some examples of what you can experience in this program: You will stay at an accommodation facility converted from an old private house, where only one group per day can stay. First, you will try your harvesting vegetables by yourself. Depending on the season, you can enjoy peanuts, cucumbers, and other seasonal vegetables grown in the clean air of Taiki town. The taste of vegetables harvested by yourself will surely be exceptional.
Also you can try making sukiyaki with Matsusaka beef. First, you will chop the firewood with the help of your host. The firewood is soft and easy to chop even for women. Next, you will cook rice in a traditional kamado. You put the wood in the kamado and start a fire. You will adjust the heat by blowing air into the fire from time to time with the assistance by your host. Cooking rice the traditional Japanese way is an exciting experience. While the rice is cooking, you will make sukiyaki with Matsusaka beef.
It is considered a top-tier beef and one of the three best beef in Japan and in fact Taiki is one of the places where Matsusaka beef is produced. The fine marbling of fat in the red meat has a low melting point, creating a soft tender texture. In this sukiyaki making experience, you can also choose Nanaho beef, which is known as one of the most premium Matsusaka beef.
As a dessert how about trying to make 'Nabemochi', which is a local sweet of Mie Prefecture. First you make soybean flour by grounding soybeans with a stone mortar. Next you put yomogi (mugwort) in rice cake, wrap sweet bean paste with the rice cake and cover it with soybean flour. You can experience to blend into the Japanese countryside and feel the traditional lifestyle of the Japanese people at the farm. Learn from the locals about the various thriving businesses engrained in Ise-Shima's history
The essence of a place cannot be separated from the people whose everyday lives are a part of the history and tradition. In "Oharai-machi", which is the historical gateway approach to Ise Jingu(the inner shrine Naiku), you can meet the people that have preserved the feeling of tradition and spirituality in the area. While exploring this lively area, you might want to stop and taste some of the local treats, which include "akafuku" (a red bean paste and mochi rice sweet) and "Ise Udon" (fat wheat noodles in a hefty soup broth). About halfway down the Oharai-machi, you will find yourself at "Okage-yokocho", which features many souvenir shops, restaurants and merchants. You can enjoy shopping while chatting with the friendly locals. Since the Edo period (1603 to 1867) people from all over Japan made pilgrimages to Ise Jingu. Even to this day, is known to be the most important of all the shrines, dedicated to the sun deity Amaterasu, and most Japanese aspire to visit it. The name "Okage-yokocho" itself conveys this feeling, as the word Okage means thankfulness. The origin of Okage-yokocho came about from the deep sense of gratitude for nature and resources that surrounds Oharai-machi.
An invaluable asset to Mie are their ama divers. Ama means "sea women" and their skills are the stuff of legends. Free-diving techniques that virtually have not changed for the past 2,000 years have been passed down around the Toba and Shima area in Mie. They gather seafood like Abalone, sea cucumber, octopus, sea urchin. Ama divers have fished while protecting the environment by assessing their catch one by one and catching only what they need, thereby avoiding the exhaustion of the ocean's resources. This is the very embodiment of sustainability. Also the seafood gathered by ama divers continue to be dedicated to the Ise Shrine as offerings to the deities. The ama culture is still very much alive today. To keep their hair out of their faces, some wear a head covering with symbols stitched on them. One is usually a "seiman" star, that can be drawn without lifting the pen, in a single unbroken line, the other one is a "doman" which is a lattice shape and is meant to ward off evil and to pray for safe fishing. At Hachiman Kamado and Satoumi-an Ama hut, you can not only enjoy fresh seafood such as oysters and Ise-ebi (spiny lobsters) grilled by the divers just before your eyes, but you can also get to know an ama diver. You can also try on a traditional ama outfit and have your picture taken with the ama. Admire the samurai sword making process and the wonder of nature along the Choshi river
Along with a pilgrimage to the ancient and deeply spiritual Kumano Kodo Iseji hiking path, a World Heritage Site, you can also visit a nearby swordsmith's forge.
Hearing about the detailed process of making Japanese swords, including "folding and forging," in which tama-hagane (tama-hagane made from iron sand) is heated, beaten and stretched many times, and quenched from a master is an unforgettable and precious experience. To become a swordsmith in Japan is exceptionally difficult, requiring official approval from the Agency of Cultural Affairs. Kenichiro Sumiya, who has been pursuing and studying the art since he graduated from high school, is one of the rare swordsmith un Japan and the first man in 14 years to achieve the Agency's approval in Mie.
In Eastern Kishu, there's a charming river called Choshi River. At only 17km long, it is only a fraction of the largest river in Japan, however its beauty is within the natural scenery around it and also the quality of the river. It's said to be one of Japan's clearest rivers with visibility up to three meters depth. Stay at a cottage along the Choshi River at Camp Inn Umiyami or camp at the vehicle-friendly campsite—either way you're sure to enjoy the lush nature of the Choshi River to the fullest. Access to Mie Prefecture
Mie is accessible via 2 airports: Chubu Centrair International Airport and Kansai International Airport. You can also take limited express trains from Osaka, Kyoto, and Nagoya. Travel with Shinkansen via Nagoya or overnight highway buses is also possible.
Did this information help you?
out of found this information helpful.