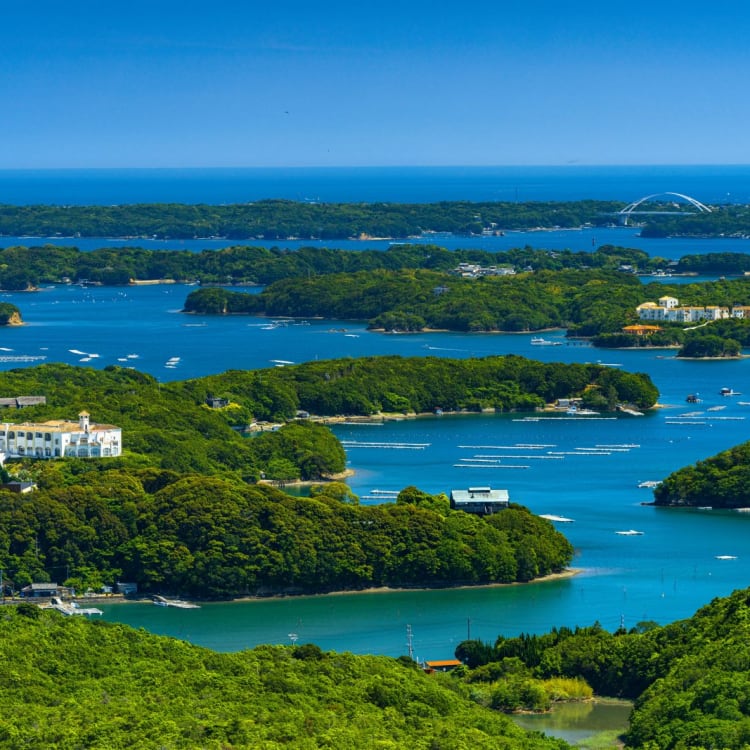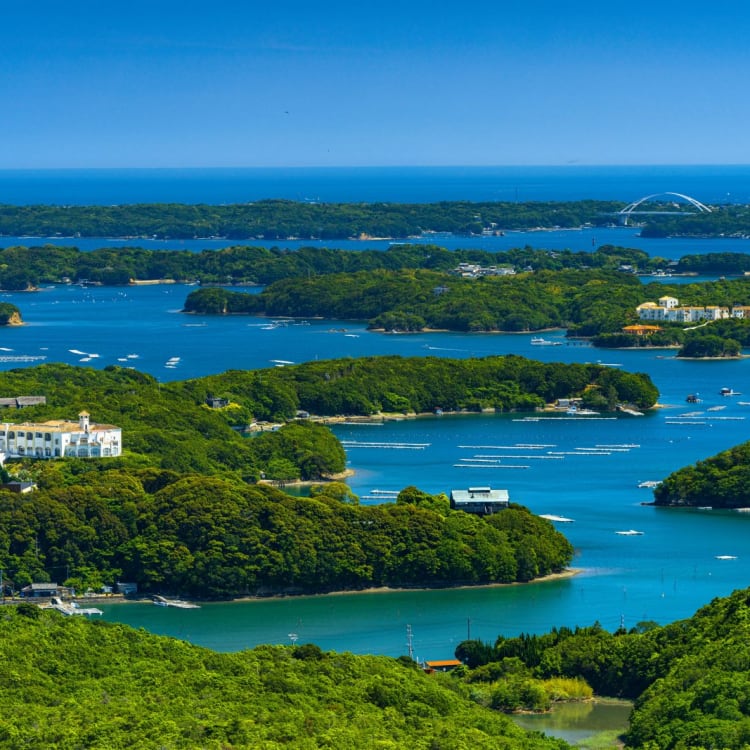 故事
Recharging in Mie Prefecture: heal in natural hot springs and enjoy a luxurious taste of both land and sea
Mie Prefecture is located at the nexus of the Kansai and Chubu regions and it has an abundance of stunning natural scenery from mountains to coastlines facing the Pacific Ocean. It's most known for being the base of Japan's most sacred Shinto Shrine, Ise Jingu. There are many ways you can relax in the calming presence of Mie. From onsen hot springs, bathing in lush forests, to enjoying luxury beef and fresh seafood, you can engage all your senses in the precious offerings from Mie. Away from the bustling city, into Mie's bountiful nature is where you can find places to recharge your soul.
Excitement and relaxation with historical atmosphere
Mt. Gozaisho is located in the center of the Suzuka Mountain range in Mie Prefecture, a 40-minute drive from Nagoya. It attracts vacationers, hikers, and photographers.
The summit is easily accessible by a ropeway, and offers a spectacular view of Ise Bay and, weather permitting, Mt. Gozaisho is a place of seasonal beauty that can be enjoyed throughout the year. In particular, the autumn foliage in fall and the tree ice in winter are not to be missed.
The frost-covered trees are a natural phenomenon that occurs only when three weather conditions are met: humidity, strong winds, and temperatures at or below 0ºC. With the help of strong winds, water vapor attaches to the tree, where it freezes. As this process is repeated, the grains of ice become larger and larger and extend in the wind direction. In the summit area of Mt. Gozaisho, there are several walking paths where you can admire this natural spectacle up close.
Taking the Gozaisho Ropeway from the foot of the mountain to explore the wonders of Mt. Gozaisho, at 400m high, is to the Summit Park Station at 1,180m high. The changing views from the gondola will take your breath away. How about spending a relaxing time in a hot spring bath after enjoying the changing views from the gondola? Yunoyama Onsen, at the base of the mountain, is a renowned hot spring area with 1300 years of history. Stay at one of its several ryokan (Japanese-style inns) and enjoy an authentic hot spring experience surrounded by lush nature.
This onsen dates back to the Nara period (710-794) and is still a popular destination for travellers from all around Kansai region. One of the Onsen Hotels is called Shikanoyu, and it has an interesting origin where injured deer healed in the waters of these springs. Nowadays you can relax in one of the many baths from open-air to private bathes while enjoying the beautiful nature scenery surrounding the hotel. On top of that, the hotel has many types of rooms that will cater to different types of needs, whether its traditional Japanese style ryokan rooms that have tatami floors and futons, or rooms with western style beds. If you prefer to have privacy for your holiday, there's also a special room with an open-air bath you can bathe privately in and also a dining room facing the beautiful mountain view. At the roof of the hotel is the "Tsukimidai" terrace, which directly translates to "Moon viewing platform". It is an open terrace where you can spend some quiet time in your yukata after a bathe in the onsen to soak in the forest surrounding you. The hotel provides meals full of ingredients native to Mie. Staying in Yunoyama Onsen is a sure bet for recharging your soul. Forest relaxation at Misugi Resort and grape picking at Shorenji Lake Tourism Village
Enjoy hot springs and exciting ninja encounters with an energy recharge at Misugi Resort. More than 90% of Misugi village is covered in forest, making forest therapy the perfect way to relax in nature. There are 6 forest therapy bases with 12 different routes taking you along the woodland paths of the various mountains in the area. Not only can you "bathe" your soul in the serene forests, you can also bathe at Hinotani hot springs under the starry night sky. Misugi Resort caters to visitors of all types, too. You can stay in traditional Japanese style rooms with tatami floors and spectacular mountain views. If you prefer to bathe in private, consider using a special room equipped with either a Hinoki cypress bath or a granite bath—available anytime you like for as long as you like—with a panoramic view of the mountains. Try glamping in the Fire Valley Cottage area, where cottages dot the forest landscape. We also offer pet-friendly cottages, so you can enjoy a relaxing vacation with them. Try on a ninja outfit and go on secret missions at your hotel, on the Iga Railway, or to the Iga-ryu Ninja Museum. During the hot summer months, enjoy the outdoors with swimming at the water park for a cool splash.
At Shorenji Lake about 45min. drive from Misugi Resort, you'll find the tourism village where you can pick grapes from late July to end of October. They have 9 types of red grapes, 11 types of black grapes, and 6 types of green grapes. With all-you-can-eat grapes and unlimited time to pick them, it's an ideal spot for families to enjoy time in nature. One of the three famous types of Japanese beef, Matsusaka Beef
Matsusaka beef is a luxury specialty of Matsusaka region of Mie prefecture. It is a type of wagyu beef that is known for its exceptional tenderness, marbling and rich flavor. It is one of the most expensive types of beef in the world, and considered as one of the three famous types of Japanese beef, along with Kobe and Omi beef.
Matsusaka beef is characterized by the way it is raised, which produces flavorful meat. They are raised over a long period of time and are raised in a low-stress environment without being forced to fatten them up. Special grade Matsusaka beef needs to be raised for more than 900 days. All are raised with the utmost care. The farmers change the feed mix according to the cows' physical condition, brush the cows daily to improve blood flow, and keep the barns clean. The Matsusaka cattle have the best marbling ration for sukiyaki with nearly the same amount of marbling as lean meat because of special diet and care. It tastes light and sweet. The tastes and views from the sacred Ise-Shima
Ise-Shima is not only home to the most sacred Shinto Shrine in Japan, Ise Jingu, it is also home to many precious delicacies such as spiny lobsters and oysters as it is in the Ise-Shima national park, and surrounded by the nutrient-dense pacific ocean waters. The Japanese spiny lobster, also called the "Ise Ebi", is the king of seafood typically found in Ise-Shima region and can grow up to 30cm long. It is a popular delicacy during the winter months and is highly prized for its sweet and tender tasting meat which has a firm and juicy flavor. The meat is a creamy white color and is often enjoyed in raw sashimi form, baked, grilled, boiled, fried, or even inside a hotpot. Ise Ebi is considered one of the most expensive seafoods in Japan. Generally it's served at high-end restaurants. The Ise Ebi is also a cultural significance as it can be seen featured in traditional Japanese cuisine with association of celebrations and good fortune. In Ise-Shima, you can even see it used in local festivals and events.
To enjoy the freshest of oysters, head over to Matoyakaki Terrace. Here you can enjoy Oysters from Matoya Bay in all seasons no matter what time of year it is. It not only has a beautiful terrace view of the ocean, it also serves fresh oysters farmed right there at Sato Farm. While watching the farming rafts and ships coming and going on the sea, you can enjoy a seafood BBQ with your family and friends. The oysters can be served in raw form or baked and fried, so anyone can enjoy a delicious meal here. What makes the oysters from Matoya Bay so special is that they don't have the harsh seafood smell that oysters typically have, so it is an excellent option for those who do not enjoy the fishy seafood smell but still want to eat fresh oysters. Here at Matoyakaki Terrace, they are not only proud of directly managing the oyster farm, they also serve and match the oysters to original sauces depending on the season. If you really love oysters and you want to eat as much as possible, then Maruzen Oyster Farm in Onoura bay in the Uramura area is the place to go. There you can enjoy all-you-can-eat oysters from Ishi-Shima for just ¥3,300 per person. A grill is provided for you to grill your own oysters, and the set also comes with a fried oyster meal set plus miso soup.
To get the most spectacular view of Ise-Shima's Ago Bay from Yokoyama Observatory. Head over to the Tenku Café Terrace for a drink and take a break while you enjoy the sea breeze and view right in front of you. Access to Mie Prefecture
Mie is accessible via 2 airports: Chubu Centrair International Airport and Kansai International Airport. You can also take limited express trains from Osaka, Kyoto, and Nagoya. Travel with Shinkansen via Nagoya or overnight highway buses is also possible.
Did this information help you?
out of found this information helpful.