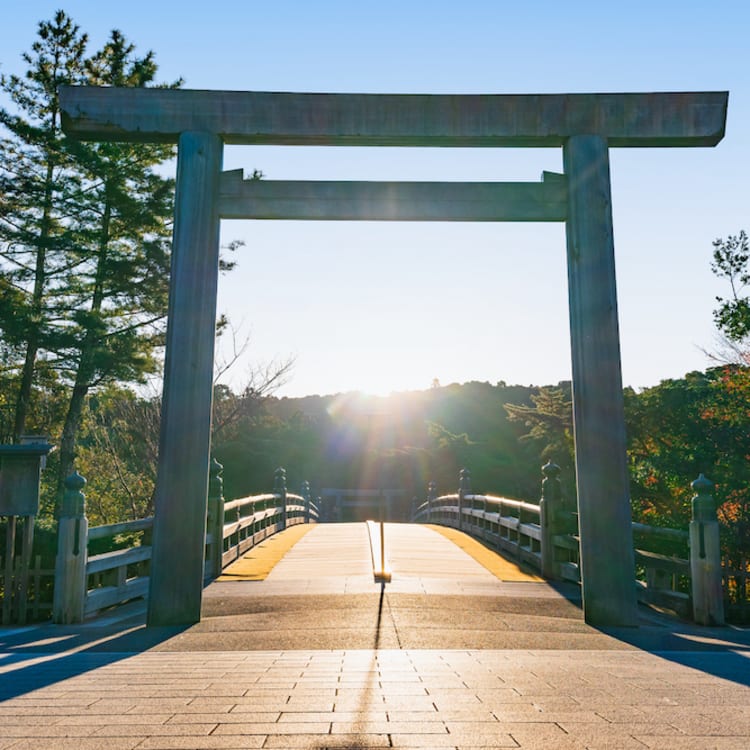 故事
A Spiritual Retreat in Mie Prefecture: From Sacred Shrines to historical towns and world heritage pilgrimages
Home to Japan's most sacred place, Ise Jingu, there is no doubt that Mie is one of the most spiritual places you can visit in Japan. The shrines, temples, and traditional culture of Mie boasts mythical scenery that conveys the charm of the four seasons. Within the tranquil mountains and by the sea, you'll also find plenty of accommodation for you to take a rest from the hustle and bustle of life, and relax in Mie's serene atmosphere.
The Most Sacred Shrine in Japan and the precious tradition of Ama diving at Mikimoto Pearl Island
If you want to truly understand the spiritualism of Shinto, a pilgrimage to Ise Jingu is a must. There are 125 Shinto shrines centered around Ise Jingu, the name given to the inner and outer shrines Naiku (Kotaijingu) and Geku (Toyo'uke-daijingu). It is reachable from Iseshi station to the outer shrine on foot and is easily reachable to the inner shrine by bus. In the heart of it is Amaterasu-Omikami, who is worshipped in the Imperial Palace by until the 10th Emperor Sujin. She was enshrined in Naiku about 2,000 years ago and is revered as a guardian of the nation. The well-preserved rituals are conducted yearly based on the cycle of rice cultivation. The ceremonies pray for bountiful harvests, peace to the world, and prosperity of the imperial family. On the 17th of October each year, the largest and most significant harvest festival takes place, the Kannamesai. The shrine priest offers the first rice harvested for the year and dedicate a prayer of gratitude to Amaterasu-Omikami.
On this small island in 1893, Kokichi Mikimoto (1858-1954) became the first person in the world to succeed in cultivating pearls.
Learn about how pearls form in nature and how Kokichi revolutionized the pearl industry with his techniques on the Pearl Museum's first floor. The second floor of the museum houses a world-class collection of antique pearl jewelry and several large-scale pearl sculptures created by Mikimoto over the years.
Guests can also witness daily performances by Japanese female free divers, the Ama, demonstrating how they were instrumental in maintaining Kokichi's pearl oysters in the early days of pearl culturing.
For those with some free time, enjoy a relaxing drink or a meal at the island's restaurant Awako. Here you can enjoy set menus and specialty meals that use Akoya pearl oyster muscles. The restaurant name is in honour of Kokichi's parents' udon noodle shop that once stood in Toba.
Details of Kokichi's personal upbringing and life story, like the previously mentioned Awako udon shop, can be found in the Kokichi Mikimoto Memorial Hall.
And guests looking to purchase some pearl jewelry can find what they are looking for in the Pearl Plaza. Official Mikimoto jewelry and Mikimoto Pearl Island jewelry is for sale at prices that suit a range of budgets.
Mikimoto Pearl Island is easily accessible by bridge from the mainland.
※Open 9:00-17:00 (Depending on the season) ※About 5 minutes walk from Toba station. Rest at Luxury Stays in the Nature-filled Ise-Shima
To truly appreciate the beautiful coastline of Ago Bay located in the Ise-Shima National Park, consider a luxurious stay at Shima Kanko Hotel and Amanemu. Shima Kanko Hotel is a resort that is surrounded by both the mountain and the tranquil waters of Ago Bay. At Shima Kanko Hotel you can enjoy a variety of fresh seafood caught locally, such as Ise lobster, at its five star restaurant. At Japanese Restaurant Hamayu, traditional kaiseki cuisine is served using seasonal Ise-Shima ingredients and paired with Mie's local sake. You can experience unique gastronomy with seafood French cuisine at the French restaurant "La Mer '' which means The Sea. Aptly named as the floor to ceiling windows offer a spectacular view of Ago Bay. There are two facilities, The Classic and The Bay Suite, and all rooms in The Bay Suite are suites, where you can spend a relaxing time in a luxurious space that has been carefully selected down to the furnishings.
At Amanemu, you are high above, embraced by the forest. It is a luxury retreat, with ryokan style villas and secluded setting and some of them are equipped with indoor and outdoor baths. You can dine at Amanemu and feast on Matsusaka beef, lobster and abalone while overlooking at a gorgeous view of Ago Bay. The spa also features Thermal Spring, an outdoor bathing facility using natural hot spring water that can be entered in a bathing suit to refresh both body and mind. Pilgrimage the world heritage Kumano Kodo Iseji
During the ancient times, many people from emperors to ordinary people visited Kumano. It is known as a place visited by Shugendo and an important pilgrimage. Mie Prefecture is home to the Kumano Kodo Iseji Route, one of the Kumano Kodo routes.
There are several Kumano Kodo pilgrimage routes that pass through Mie prefecture as part of the larger Kumano Kodo network. Iseji, which starts in Ise City, leads pilgrims to the Kumano Sanzan, Three Grand Shrines of Kumano in Wakayama Prefecture. It is one of the oldest and most significant pilgrimage routes in Japan, used for over a thousand years to travel between Ise Jingu to Kumano region. On the way you'll pass by the Magose-toge pass. From the Magose-toge pass, you can also enjoy a one-hour round-trip climb to Mt. Tengurasan which is one of the most well-known mountains in southern Mie.
Also, Iseji is known for its natural beauty, with stunning views of the Pacific Ocean and surrounding mountains. On Matsumoto-toge Pass, life-size Jizo statues greet you as you enter the pass surrounded by bamboo. You can enjoy a spectacular view of the mountains and the coast from the pass after about 10 minutes' walk from Azumaya.You'll get to gaze upon Shishiiwa, a world heritage site of a 25m high rock towering the beach. It is a strange rock that looks like a giant lion roaring toward the sea.
A little further on, you can see a beautiful scenery of Hana-no-Iwaya Shrine. The rock has been shaped over time by wind and waves and is believed to be Japan's oldest shrine, recorded in the "Nihon Shoki (Chronicles of Japan)" in 720 AD. It is said to be the tomb where the mother of gods "Izanami-no-Mikoto" was buried. In February and October, the shrines host a festival for a rope hanging ritual where shrine goers hang a long rope from the top of the sacred rock to a tree. This is called "Otsunakake Shinji", or rope changing ritual. In July 2004, "Sacred Sites and Pilgrimage Routes in the Kii Mountain Range" including Hana-no-Iwaya Shrine was registered as a World Heritage site. Pelerinage and thermal bath in the nature in eastern Kishu and Yunokuchi
Mie is full of other beautiful natural features as well. You can take a pleasure cruise from Tategasaki and catch glimpses of stunning natural formations along the Nigishima Bay in Kumano. This region was covered with lava 140 million years ago that cooled to form the unique Kumano Acid Rock pillars which can be up to 80 meters tall. Nearby, you can find the mysterious "Blue Cave of Kumano." There is a small hole at the base of the rock pillar made from lava, and the inside of the cave has vast blue waters that contrast with the gray cave walls.
You can also see Onigajo from the ocean. Onigajo, a World Heritage Site in Higashi Kishu, is a natural work of art that was formed from tectonic upheaval, and erosion from wind and waves. There is a legend that in the Heian period, a warrior named Sakanoue no Tamuramaro defeated pirates who ravaged the area and were feared as demons. The silhouette of Onigajo against a starry sky is a spectacular sight to be seen and is worth the trip at night.
Right next to the border of Mie, Nara, and Wakayama prefecture is Yunokuchi Onsen. Visitors can ride a retro mine cart through ancient mine shafts of the pre-war era all the way to the onsen. Refresh yourself while healing the fatigue of your trip with a dip in the hot springs, which are known to relieve muscle and joint pain. Travel back in time in Tsu City's Misugi Town with zen experiences and local crafts
The Ise Honkaido Road became popular during the Edo period (1603-1867) as a roadway for many people to come and go, as pilgrimages to the Ise Jingu were popular. Back in the time, going to Ise and Iseji was something everyone wanted to do at least once in their lifetime. From Kansai, they started off their journey from Tamatsukuri in Osaka all the way to Ise Jingu where Amaterasu Omikami is enshrined. This 129km road connects Yamato and Ise, running through Misugi village which was a post town for travelers to rest and recharge before continuing onto Ise. Along the highway are signs and old houses that take you on a trip to the past. In Misugi-cho (Tsu City), you can experience Zen and make straw crafts unique to this region's rich heritage. Travel back in time as you make your way through this town, learning about the region's feudal history. A spiritual visit to the historical Tsubaki Grand Shrine
Though lesser known, Tsubaki Grand Shrine has historical significance and shouldn't be overlooked. It has over 2,000 years of history and is one of the oldest shrines in Japan. It's the head shrine of Sarutahiko no Okami, the god of guidance, courage, strength and righteousness. Towering the path of visit are large trees of a thick forest, giving it an unearthly atmosphere. In spring, Cherry Blossoms can be seen along the river by the shrine grounds. There's also a tea room where you can calmly enjoying a bowl of green tea and a small wagashi cake here for just 800 yen. Access to Mie Prefecture
Mie is accessible via 2 airports: Chubu Centrair International Airport and Kansai International Airport. You can also take limited express trains from Osaka, Kyoto, and Nagoya. Travel with Shinkansen via Nagoya or overnight highway buses is also possible.
Did this information help you?
out of found this information helpful.