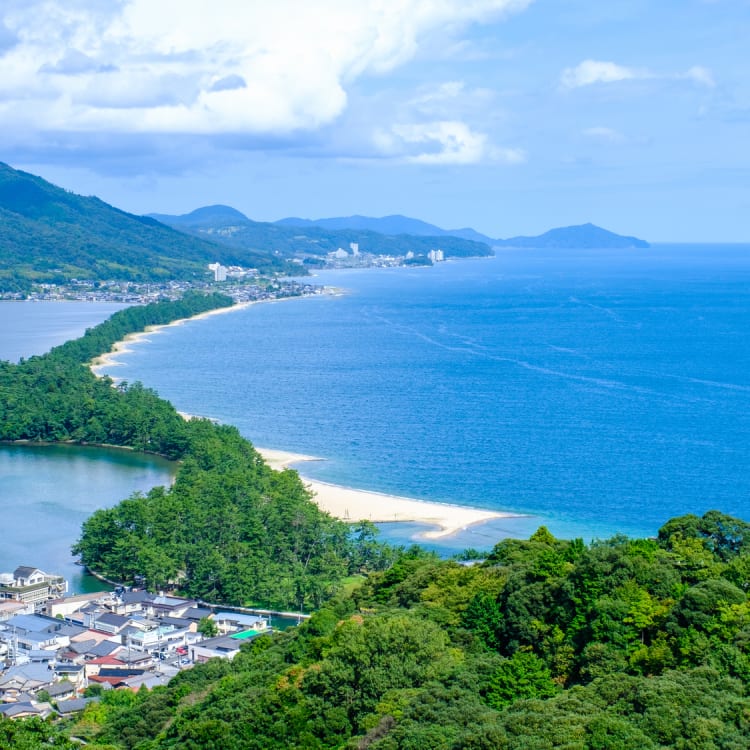 故事
Sea Change: Spiritual Renewal and Cultural Insights on the Coast of Kyoto, Hyogo and Tottori
[Sponsored]
Relax, recharge and explore the charming towns and villages along the Sea of Japan
Kyoto


draws visitors to its famous temples and shrines and to its traditional streets around Gion and Higashiyama. It would be a shame to leave without exploring the other side of Kyoto, along the Sea of Japan. The unspoiled towns and fishing villages of northern Kyoto, Hyogo and Tottori prefectures that dot the rugged coastline are part of San'in Kaigan Geopark, a designated UNESCO Global Geopark. Slow down and enjoy the region's relaxed pace of life and authentic Japanese experiences. Renew the mind and senses at a Buddhist temple lodging, bathe in refreshing onsen waters, and create your own keepsake with local artisans.
Coastal Kyoto
The northern part of Kyoto facing the Sea of Japan, is often called "Kyoto by the Sea." It is easy to access by train or expressway bus from Kyoto Station, in around 2 hours. Start your exploration in the Tango region, which has a 1,300-year history of producing chirimen pure silk crepe, used in high-grade kimono and international fashion collections. Make a reservation through the Yosano Tourist Association to wear kimono made from pure silk fabric of Tango and stroll the Chirimen Kaido—a street of well-preserved merchant houses dating back to the nineteenth century. The dressing experience starts at the Former Bito Family Residence— the house of a local raw silk chirimen merchant — built in 1863. Visitors have the option to learn to weave silk coasters, take a tea ceremony lesson, or visit local chirimen factories nearby.
Continue by bus (around 40 minutes) to Ine


, a traditional fishing town twinned with Mont-Saint-Michel in France. This quiet coastal town is regarded as one of Japan's most beautiful. The focal point is the bay with traditional funaya boat houses. The first floor is a facility for building and repairing fishing boats, and the second floor is a living space. Around 200 of these wooden waterfront properties are stacked along Ine Bay, facing the Sea of Japan. Some of these charming funaya serve as one-of-a-kind accommodation for visitors. Life moves slower in this fishing town, so take time to unwind. Linger in its cafes and restaurants, wander its quaint back alleys and see the town like a local. Hire a bike to explore or take a cruise of the bay, for a different perspective.
Visit the Kinoshita Sake Brewery, a family-run brewery dating back to 1842. The current master brewer, Phillip Harper, is one of the first foreign brewers to work in the industry. The brewery produces popular sakes including "Ice Breaker" and "Time Machine".
A 50-minute bus ride away is Amanohashidate


, a three-kilometer sandbar across Miyazu Bay. Amanohashidate, means "bridge in heaven," aptly conveying the beauty of this narrow, forested strip that connects the mountainous landscapes on either side. On the south side, a cable car whisks you up the mountainside to an observatory where you can enjoy views of the sandbar and bay below. On returning to sea level, visit Chionji Temple, best known for its delicate fan-shaped omikuji, fortunes, which people hang from pine branches around the temple grounds. Cross the sandbar to its northern side, where Motoise Kono Shrine is located. This shrine is affiliated with the famous Ise Grand Shrine in Mie prefecture.
Before leaving, don't miss bathing in the picturesque Amanohashidate Onsen "Chie-no-yu," an experience thought to beautify the skin. The onsen is conveniently located next to Amanohashidate Station. If you are short on time, try a quick, soothing dip in the free footbath (ashiyu) in front of the onsen facility. As you travel west towards Hyogo by train or bus, consider making a stop at Kumihama Station to visit Gosho Inabe Honke. This well-preserved merchant house belonged to the Inaba family who earned their fortune producing malted rice in the Edo period (1603–1867). The home now hosts workshops for pottery, china painting and incense making. There is a restaurant onsite, Ginshou-Tei, that serves local sushi and sweets.
The simple life in Hyogo
The picturesque hot spring town of Kinosaki Onsen


is a popular destination in northern Hyogo Prefecture, with easy access from the cities of Kyoto, Osaka, Kobe and Himeji. The pretty alleyways make a beautiful backdrop for strolling the town in a traditional yukata, hopping between its seven public baths and relaxing in a ryokan inn at night. Kinosaki Onsen has convenient bus and train connections, making it an ideal base for exploring the area. Kinosaki has over 1300 years of history as an onsen town, but there is more to do here than soak in the soothing waters. The Kinosaki International Arts Center is a performing arts venue with an artist-in-residence program. Guests may participate in workshops hosted by resident artists, or even watch work-in-progress performances. For a quieter experience focused on spiritual renewal, visit Gokurakuji Temple on the outskirts of Kinosaki. Visitors can take part in zazen meditation and a Buddhist sermon while gazing at the temple's rock garden.
Journey further west along the coast to Hamasaka Station and head inland on a local bus to Terugi, a pretty rural area, known as the home of Tajima


beef cattle, the source of many famous brands of wagyu. At Tajima Pasture Park, you can see the area's free-roaming cattle graze on the lush, green pastures. The park offers various experiences including Tajima beef cooking workshops, sheep shearing demonstrations in summer and ski classes in winter. Alternatively, dine at Kaede, a restaurant near Yumura Onsen, that specializes in Tajima beef, cooked to perfection. After a hearty meal, relax at Yumura Onsen, a charming hot spring area. The waters of Arayu Spring in the village reach 98 degrees Celsius (208 degrees Fahrenheit), and are traditionally used to boil foods such as vegetables and eggs. Enjoy a night of Japanese hospitality at one of the many ryokan inns around the town, where you can bathe in the hot onsen waters with skin-beautifying properties, said to have been discovered about 1200 years ago. Traditional and modern charm in Tottori
A scenic train ride along the coast from Hamasaka brings you to Tottori


. The Tottori Sand Dunes near the city are Tottori's best-known attraction, but the area's rich heritage of culture and craft deserves exploration. Near Tottori Station, the Tottori Folk Crafts Museum is the passion project of a folk crafts activist who was determined to preserve Japan's heritage. There are more than 5,000 pieces of folk crafts from across the country, including Tottori's Ushinoto-yaki pottery and local textiles. Next to the museum, there is a store selling folk crafts, and a restaurant serving food on hand-crafted dishes.
Seek luck in love at Hakuto Shrine. This charming shrine with beach views is dedicated to the White Hare of Inaba. There are several legends connecting the hare with bravery and love, and there are statues of hares around the shrine. Settle in for the evening at a ryokan, a traditional Japanese inn, in Misasa Onsen


. Let this picturesque rural town ignite your creativity for a Hakuro-yaki pottery class at Furusato Kenkomura. A local artisan will teach you to work with clay from the surrounding area so you can craft your own souvenir. On the far west side of Tottori's coastline, Yonago is an ideal base to explore a different side of Tottori. The Shoji Ueda Museum of Photography


features contemporary photography and striking modern architecture that makes use of the location's views of Mt. Daisen. This beautiful mountain has been both an inspiration to artists and a center of spiritual importance for centuries. Immerse yourself in Japanese Buddhism during a stay at a comfortable shukubo (temple lodging) at Sanrakuso. Eat vegetarian shojin ryori (temple cuisine), try zazen meditation, and copy sutras, all with English support and guidance. For a different type of spiritual insight, visit nearby Sakaiminato


. This seaside town is a must-visit for anime enthusiasts, as the hometown of famed manga artist Mizuki Shigeru, whose popular Gegege no Kitaro manga and anime focused on yokai, supernatural monsters from Japanese folklore. There are several spots around town dedicated to these characters. Sakaiminato is famous for its catches of snow crab and tuna. The port area has restaurants serving up the freshest local fish. Try kaisendon, a colorful dish of fresh sashimi on rice, to enjoy a variety of Sakaiminato's seafood.
Traveling around
This coastal area is well-connected to major cities. There are daily flights from Tokyo, Osaka and Fukuoka. Convenient rail connections, highway buses and overnight buses service the area from Kyoto, Osaka, Kobe and Okayama, making it easy to get to explore the area. Smaller towns within the prefectures are accessible via a comprehensive network of trains and buses. The Sanyo-San'in Pass and Kansai Wide Pass, which includes local buses, make travel easy and affordable. Japan's buses and trains are clean, comfortable and safe.
Business hours
Due to the threat of coronavirus, business hours may be subject to change; please check with the venues before visiting.
Many hot springs in Japan do not allow guests with tattoos. Please check with the facility before you go.
Did this information help you?
out of found this information helpful.