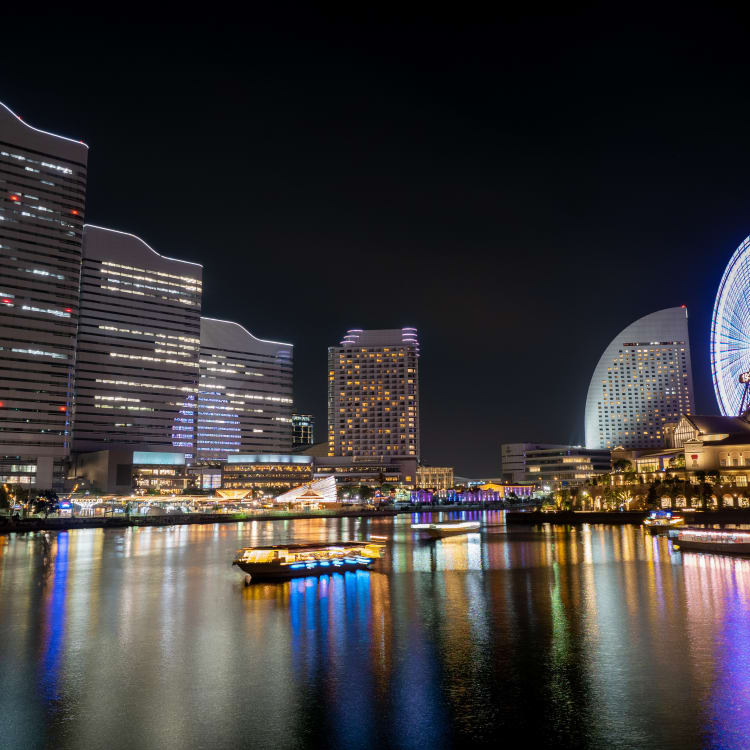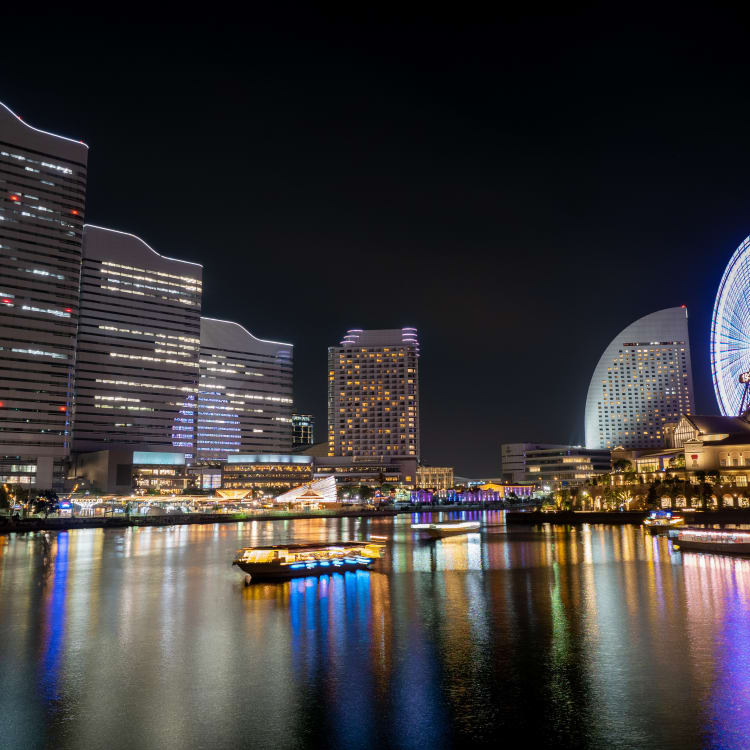 故事
Yokohama by Night
[Sponsored]
Photo credit:Yokohama Visitors Guide
Explore the port city after dark and make the most of its vibrant culture and beautiful night views
Yokohama is a beautiful city by day, but by night, it is dazzling. Lights sparkle along the bay from Yokohama Bay Bridge to the giant Ferris wheel at Yokohama Cosmoworld


. Less than 30 minutes by train from Tokyo, Yokohama has been a bustling port city since it opened to foreign trade in the mid-nineteenth century. In the 1920s, Yokohama was a major port of call for cruise ships, which brought jazz music to the bars and nightclubs in the entertainment districts of Kannai, Noge and Sakuragicho. Japan's legendary cocktail culture was born in the 1890's at Yokohama's Grand Hotel, with a sherry-based cocktail called a Bamboo. The vibrant night scene continues across the city, through innovative versions of the Bamboo and the city's namesake cocktail, the sake-based Yokohama.
Stay in Yokohama
Stay up late to enjoy the night views and sample the city's sophisticated restaurant and bar scene. Yokohama has a range of luxurious hotels with views over the city and bay, and easy access to the main sites. The city is an ideal place to start or finish a cruise, offering a seamless blend of Japanese hospitality and international comforts. Among the 5-star accommodations by the bay, the Yokohama Royal Park


in Landmark Tower, Yokohama Bay Hotel Tokyu


and the Intercontinental Yokohama Grand


are close to the Minato Mirai shopping district. The Hyatt Regency Yokohama


opened in 2020, and is ideally located between Yamashita Park and Yokohama Chinatown. A feast for the senses
With its beginnings as an international port, Yokohama has an exciting food scene. It has a long heritage of European-style restaurants and cafes, and Japan's largest Chinatown. The city has elegant kaiseki restaurants, sleek sushi bars, trendy cafes and delicious street food within a compact, walkable area. Weekends see an influx of Tokyoites searching out Yokohama's classic dishes including gyu nabe, a Japanese take on beef stew, spaghetti Napolitan, a pasta dish developed at the end of World War II, Cantonese-influenced shumai and nikuman dumplings, and ramen. Ramen aficionados should visit the Shin-Yokohama Raumen Museum


for a selection of the nation's best ramen restaurants.
Yokohama Chinatown


, or Motomachi Chukagai, is a short walk from the cruise ship terminal near Yamashita Park. Along the lantern-lit streets, you can find a wide array of dining choices, from street-side carts selling steamed pork buns, to palatial restaurants serving full-course banquets. Exploring the port city
As the sun sets, Yokohama glows with lights and lanterns. Sleek boats ply the bay, offering sunset and dinner cruises. Revelers toast the sunset as they glide under the Yokohama Bay Bridge. There are a number of companies offering dinner cruises


departing from Yamashita Park, Osanbashi Pier and Pier Akarenga. Choose from modern cruisers offering international fare, or charming yakatabune


, traditional pleasure boats, offering Japanese dishes.
For a bird's eye view of Yokohama after dark, a helicopter tour


is the ultimate experience. Scenic flights depart from Rinko Park. Choose a quick five-minute flight around the bay or a more leisurely ride to Tokyo and back.
Yokohama is a popular shopping destination, drawing visitors from Tokyo to its attractive malls and charming back streets. Yokohama Bay Quarter


has direct access from Yokohama Station. The mall is designed to resemble a cruise ship, and most of the shops and restaurants have water views. Nearby, Minato Mirai 21 has a large variety of shops and restaurants, linked by pleasant walkways. Yokohama Hammerhead


is one of the newest retail destinations, part of the new cruise ship terminal. The name comes from the "hammerhead crane" next to the facility, which was installed in 1914 to handle cargo. Although it is no longer in use, the crane has been preserved as a symbol of Yokohama's modernization.
Anime fans of all ages will enjoy the larger-than-life installation at Gundam Factory Yokohama, which opened at the end of 2020 on Yamashita Pier. The colossal 18-meter-tall Gundam moves and lights up. Visitors can see the moving robot up close from the Gundam Dock Tower. Visit in the early evening for a different view of the robot and the lit up tower against the backdrop of Minato Mirai's twinkling lights. Inside the facility, there is an "Academy", where visitors can learn about the mechanism of the moving Gundam, an official shop and a cafe with themed dishes.
Gundam Factory Yokohama is scheduled to be open until March 31, 2022. Where to see the best night views and seasonal illuminations
Yokohama Bay is made up of parks, piers and islands, connected by bridges and walkways, with unobstructed views of the city lights from every angle. The classic night view is the futuristic cityscape of Minato Mirai 21, with Landmark Tower and the Cosmo Clock 21 Ferris wheel. Osanbashi Yokohama International Passenger Terminal


juts out into the bay, offering an uninterrupted view of Yokohama's lights. Head to Yokohama Landmark Tower Sky Garden


, located on the 69th floor of the Yokohama Landmark Tower, for the sensation of floating above the scene.
The wide bay is the ideal vantage point to see vivid fireworks displays in summer. Head to Rinko Park or Yamashita Park for good views, or book a window table at one of the many restaurants overlooking the bay. Christmas in Yokohama is especially romantic, with illuminations and Christmas trees in the parks and shopping areas. Yokohama Red Brick Warehouse


(Akarenga Soko), features illuminations and an ice rink each winter. Stroll through history after dark
Yokohama has a wealth of historic buildings, many dating back to the early 20th century. Stroll the port area, where key buildings are illuminated at night. The Yokohama Red Brick Warehouse consists of two brick buildings, completed in 1911 and 1913. They were used as a supply base by the US military during World War II, before being returned to their original purpose as storehouses. After falling into disuse, the warehouses were restored in the 1990's and repurposed for retail and events. At night, the warehouses glow with golden uplights, positioned to illuminate their classic lines.
The Yokohama Customs


building, built in 1934, is an elegant ivory structure topped with a dome. Nicknamed "the Queen" for its curved lines, the building looks beautiful at night, bathed in soft white light. Nearby, the Yokohama City Port Opening Memorial Hall


is known as "the Jack". This commanding red and white brick structure was built in 1917, in neo-renaissance style. Lights pick out the intricate details, including arched, stained-glass windows.
Finish in Yokohama Chinatown, with a visit to Yokohama Kanteibyo Temple, built by the local Chinese community in the late nineteenth century. Decorated in opulent style with gold detailing and red lanterns, it looks magical at night. Early risers
After a restful night's sleep, the call of seagulls heralds a new day in the port city. Yokohama's bayside parks, connected by wide pathways and bridges, are ideal for a morning walk or jog. Osanbashi Pier has wide, wooden boardwalks and bay views that make it popular for active mornings. The classic walking course is along the bay, between Yamashita and Rinko parks. For a real challenge, make it a loop, covering 10 kilometers. Along the way, there are several cafes open in the morning for a quick coffee break or breakfast. Some cafes in the Yokohama Red Brick Warehouse near Yamashita Park, are open for breakfast. Closer to Rinko Park, the Queen's Square shopping center has several coffee shops open from early morning. Getting to and around Yokohama
Yokohama is well connected, served by major train lines through Yokohama Station and metro stations, and a shinkansen stop at Shin-Yokohama Station. Yokohama is less than 30 minutes from Tokyo by train. There are direct connections to YCAT, next to Yokohama Station, from Narita Airport and Haneda Airport by Airport Limousine Bus services. The main city area is compact and walkable, with convenient metro stations near the major sights. There are several convenient bus services, including the Bayside Blue Bus and the retro-style "Akai Kutsu"


red city loop bus. Visitors can get a one-day bus ticket to hop on and off as needed. For the ultimate in seamless sightseeing, try a sightseeing taxi


. Several local taxi companies offer private taxi tours in spacious limousines and luxury vans. Business hours
All information is correct at the time of publishing. Business hours may be subject to change; please check with the venues before visiting.
Did this information help you?
out of found this information helpful.