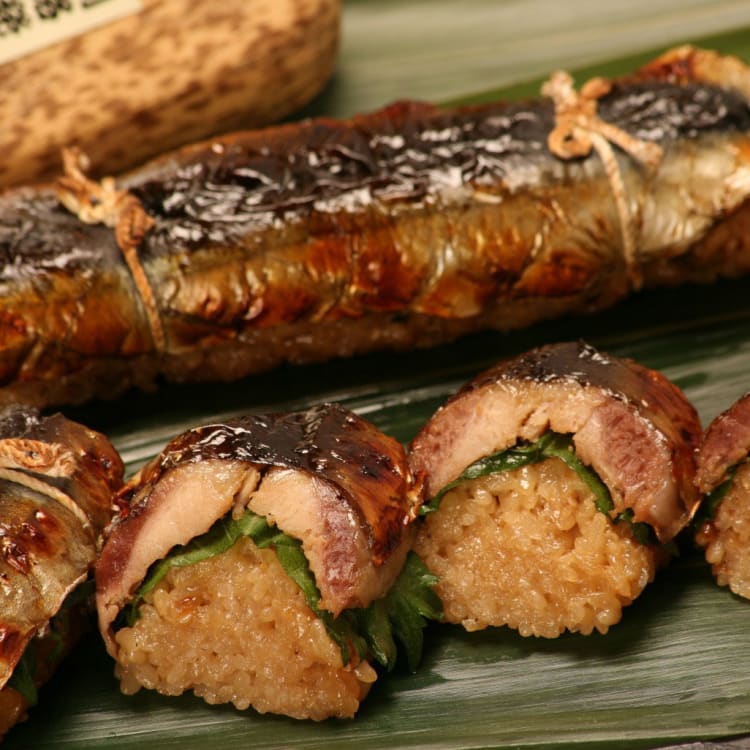 GUIDE
Kushiro and Shiretoko Food
Soba
Kushiro is also known for its many noodle shops. Walk around the city and you will find a number of soba noodle shops, with nearly all of them serving green colored soba noodles. The green color of the noddles come from mixing chlorella with white Sarashina buckwheat.
Chikuroen "Azumaya Sohonten" was the first to create green soba and Kushiro Soba can still be enjoyed today using techniques that have been passed down since 1874.
Try out the restaurat's "Soba Sushi" which is a unique menu item where the soba noodles are wrapped in seaweed and dipped in soy sauce like how sushi is eaten. Another special menu item is the "Kashiwa Nuki" which Kashiwa Soba without the soba.
The locals at Kushiro love to order "Mori Soba" and "Kashiwa Nuki" so when in Rome, do as the Romans do!
Robatayaki
Robatayaki is a method of cooking where fresh seafood is cooked over charcoal, a method similiar to barbequing. Robatayaki is believed to have originated in Kushiro.
In Kushiro, there are a number of establishments that offer robatayaki including Wharf Side Robata where patrons can cook their own food. You can enjoy fresh and juicy seafood that is grilled to perfection while sitting around a sunken hearth in traditional rotabata restaurants.
The robata style is perfect for enjoying the flavors of the special local ingredients such as fish that is straight from the harbor, oysters and other shellfish from local waters as well as crabs and prawns.
Sammanma
Kushiro's Pacific Saury is one of the city's most famous catches . The Pacific Saury, when in season, are nicely fatty with tightly packed meat. The "Sammanma" was created in order to get more people to experience the delicious taste of the Pacific Saury.
Sammanma is made using an entire Pacific Saury with all of its bones removed. It is marinated in a soy based sauce and wrapped in rice. It is then barbequed over charcoal.
The beefsteak plant garnish isn't overpowering and provides a refreshing aftertaste. Each Sammanma is cooked up by hand and individually by master chefs who draws out the taste of the Pacific Saury even more.
To whose who want try out this dish right away, you can head to a restaurant or you can buy a frozen one so that you can enjoy it in your own home.
Sammanma is very popular among foreigners who don't like fish with bones in them.