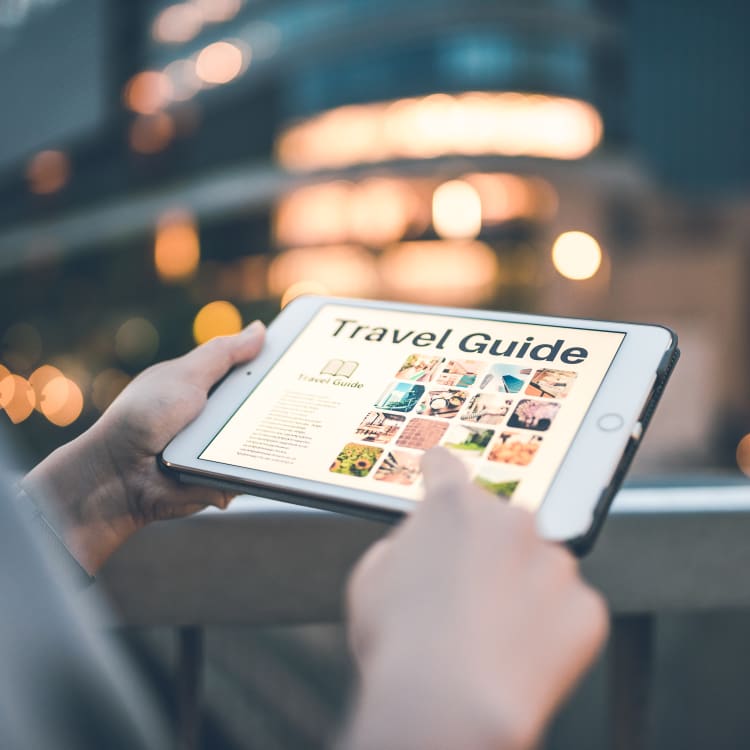 Useful Apps
Download a selection of apps to make your trip to Japan run even smoother. Choose from a list of all-round, navigation, sightseeing and accommodation applications. Your all-round app for traveling in Japan
The Japan Official Travel App is the official smartphone app provided by JNTO, delivering up-to-date information about traveling in Japan for a safe and comfortable journey Find the nearest WiFi hotspots
An app that leads you to WiFi hotspots that you can use to easily access the internet. Can be used at about two thousand access points in Japan. Answers all your "Where can I…?" questions
An app that lets you search for facilities such as restaurants and accommodations near you. The biggest feature of this app is that it presents the taxi dispatches and destinations from a map display smoothly because it runs in conjunction with the "Japan Taxi" app, which was made by a major taxi company. It gives you approximate taxi fares and required times to your destinations so that you can fit taxi rides into your travel budget more easily. Navigate the Tokyo Metro with ease
An app that helps you easily get accustomed to the complicated subway routes of Tokyo. It not only lets you find where to transfer trains by inputting the names of train stations as well as finding routes, but also lets you search from route maps and from famous landmarks such as the Tokyo Skytree and Senso-ji Temple. In addition to displaying search results for major routes, required times, and fares, it provides strong support in you trip through Tokyo as it gives you information such as where to find entrances to recommended underground passages and locations of the optimal trains for transferring. This information can be searched offline just by downloading the app once. Maps at your fingertips
An app for visitors from abroad who want to enjoy strolling in Japan, made by Japan's major map making company, Shobunsha. Shobunsha publishes popular guidebooks in Japan such as "MAPPLE Magazine" and "co-Trip", and this app lets you use maps coupled with the databases of these magazines using GPS data. The contents that can be downloaded for free include guidebooks on Toyama Prefecture and Hokkaido. This app can be used even without an Internet connection once you download it at home or at a Wi-Fi spot. Narita Airport navigator
Convenient, helpful features include flight search, and notification of changes in departure gate and time. Your guide to Ishikawa Prefecture
An app that shows spots such as tourist facilities, lodging facilities, and restaurants within Ishikawa Prefecture as well as routes from your current location to your destination with GPS. It is complete with everything from information on popular tourist spots in areas such as Kanazawa and Noto to the features of Ishikawa Prefecture in 20 themes, and can also be used to find tourist information centers, rent-a-cycle shops, ATMs, emergency evacuation centers, and more. Your guide to Tottori Prefecture
An app specializing in sightseeing in Tottori Prefecture. It is complete with useful information for your trip in Tottori such as traffic information from stations to destinations, information on Wi-Fi spots, ATMs, tourist routes, and more. By downloading this app, it can be used even in environments where Internet access is not available. Manga guide to the charms of Japan
A manga character explains sightseeing spots and dining destinations across Japan, as well as facets of Japanese culture such as how to ride a train and bathe in an onsen. Quick restaurant search
Simple search function based on keyword, area, and category of cuisine. The convenient app shows same-day table availability, issues discount coupons, and makes online reservations. en
ja
cn
tw
hk
ko
th
vn
id
fr
it
es
de
Search hotels nearby with just a tap
Search hotels by tourist destination or facility name, and sort the results by lowest price or highest review score, etc. The app supports 43 languages and displays prices in 53 currencies.