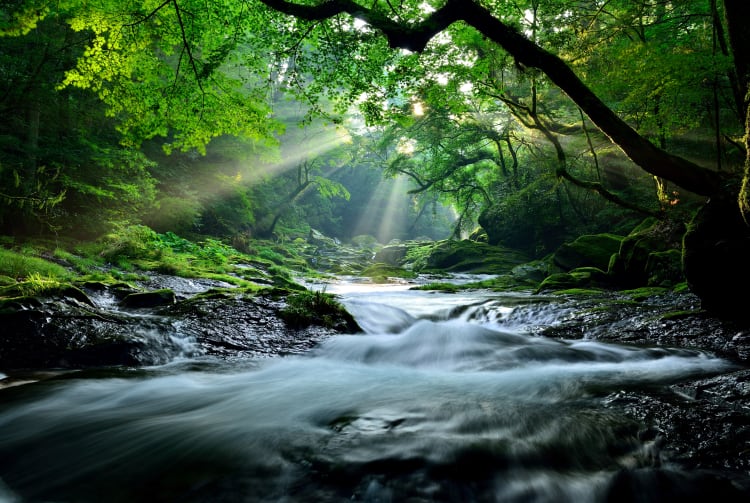 A young hot spring in northern Kumamoto
While most hot springs in Japan have a history dating at least several hundred years, the Kikuchi Onsen hot spring was discovered only in the 1950s. Also known as Waifu Onsen, the resort has become a popular tourist spot. How to Get There
There are no train routes to Kikuchi Onsen, so the best way to travel is by car. If you can read Japanese, you may be able to navigate the public bus routes.
Mineral rich waters
Famous for its beautifying properties, the water at Kikuchi Onsen is so rich in minerals that it seems to stick to the skin. The silky water is slightly alkaline and reaches temperatures of 45 degrees. As well as making your skin more attractive, the water is said to have curative properties and health benefits. Discount ticket
There are around 10 different hot springs to try in the Kikuchi Onsen area, each costing around 500 yen to enter. You can also get a 1,000 yen discount ticket, which grants you entry into any three participating bathing facilities.
Visit Kikuchi Onsen during cherry blossom viewing season
If you are in Kikuchi Onsen during hanami, cherry blossom viewing season, don't miss visiting Kikuchi Shrine, which has around 6,000 cherry trees in its grounds.
قريب من منتجع كيكوتشي أونسن الاستجمام
منتجع كيكوتشي أونسن
Kikuchi,
Kumamoto-ken الطبيعة
كيكوتشي وياماغا
Kikuchi-shi,
Kumamoto-ken مهرجانات وفعاليات
مهرجان فوانيس ياماغا
Yamaga-shi,
Kumamoto-ken جاذبية
فندق أسو فارم لاند
Aso-gun,
Kumamoto-ken التاريخ
قلعة كوماموتو
Kumamoto-shi,
Kumamoto-ken مهرجانات وفعاليات
مهرجان الخريف في قلعة كوماموتو
Kumamoto-shi,
Kumamoto-ken