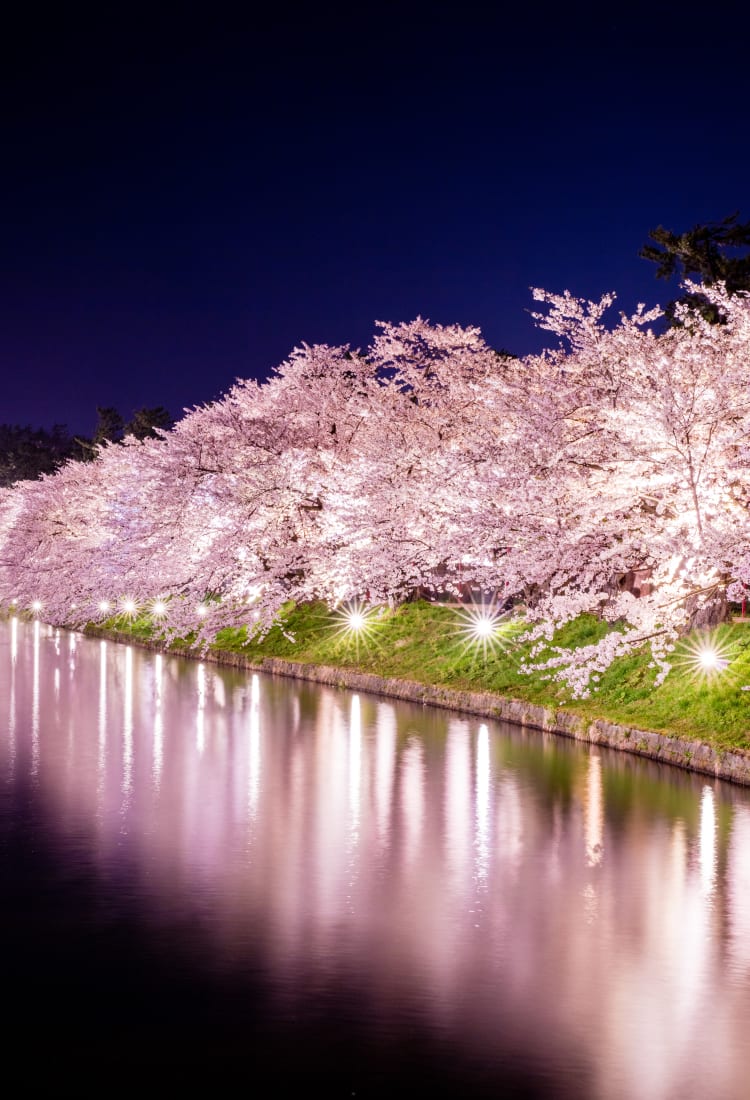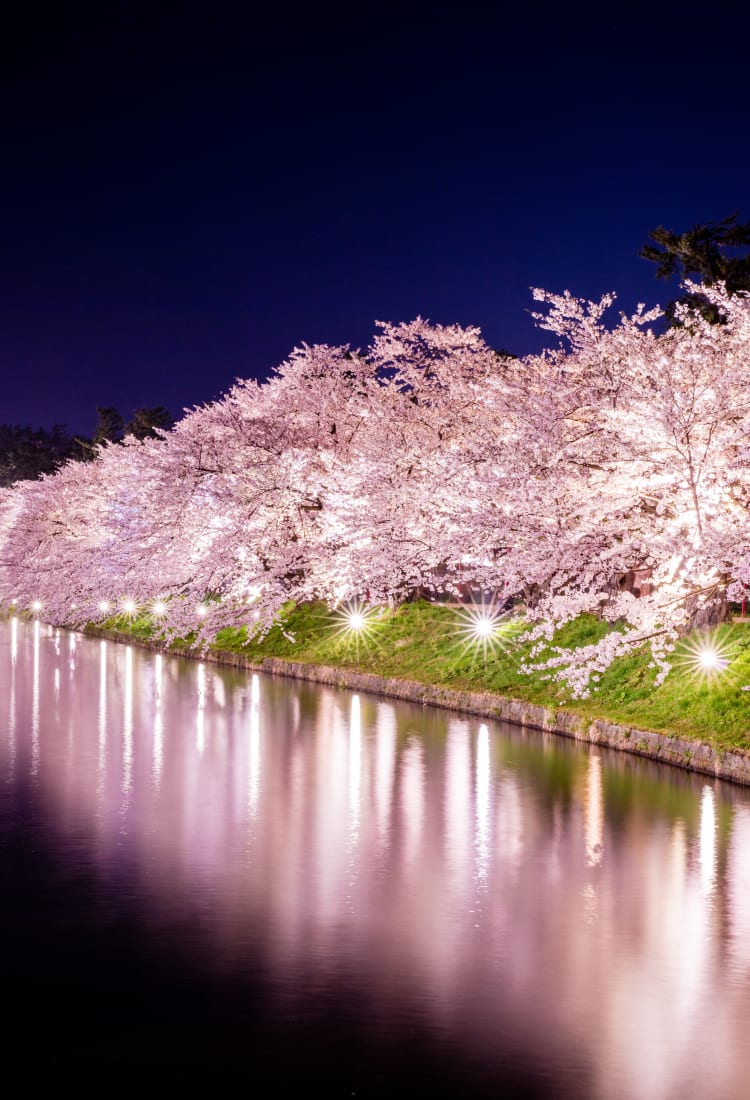 Tohoku
Aomori
Take the road less traveled to Aomori
Discover natural landscapes, primeval forests, apples, rice field art, rice and sake, seafood and snow
Relatively unexplored, Aomori's verdant landscapes, famous festivals and World Heritage sites can all still be called "hidden gems." Hiking through unspoiled wilderness, riding in trains heated by stoves and sampling delectable seafood and sake are just a few of its attractions.
Aomori is accessible via the JR Tohoku Shinkansen from Tokyo, as well as regular JR trains, highway buses, and by car. There are four shinkansen stops in the prefecture—Hachinohe, Shichinohe-Towada, Shin-Aomori and Okutsugaru-Imabetsu. You can also fly to two airports—Misawa and Aomori.
Tokyo is the most common starting point for visitors to Aomori, unless you are traveling by plane. The JR Tohoku Shinkansen will get you to the main city of Aomori in just over three hours, and you can use your Japan Rail Pass. By plane, it takes a little over an hour from Haneda Airport to either of the two Aomori airports and around 90 minutes if you are departing from Osaka. Highway buses run regularly between Tokyo and Aomori, but they will take around 8-10 hours, and are usually overnight.
Aomori Airport serves international flights from several countries in East Asia, while its domestic routes connect Aomori to Sapporo, Osaka, Kobe and Nagoya, in addition to Tokyo.
Don't Miss
Aomori's colorful festivals—Aomori Nebuta, Hirosaki Neputa, and Goshogawara Tachineputa, the Snow Lantern and Cherry Blossom Festival at Hirosaki Castle
World Heritage Site Shirakami Sanchi and Sanriku Fukko National Park
Ancient ruins and great temples, shrines, castles, and Aoni Onsen, a remote hot spring resort with a traditional ryokan lit only by gas lantern
Unrivaled seafood from the cold waters of both the Sea of Japan and Pacific Ocean
Trending Attractions in Aomori
Tsugaru Lacquerware

Tsugaru lacquerware is characterised by its robustness and practicality, but also by its extremely elegant appearance. The technique used in Tsugaru-nuri is a method of smoothing and polishing multiple layers of lacquer to create a pattern. It takes dozens of processes and more than two months to achieve a complex and beautiful lacquer pattern and a sturdy and solid feel. Once used for sword scabbards, this technique is now used for everything from tableware and chopsticks to smartphone cases.

Tsugaru Painted Kites

Traditional Tsugaru kites, depicting brave warriors, have been made since the Edo period (1603-1868) as extra work for local samurai. While kite frames are usually made from bamboo, the cold weather in the Tsugaru region made it difficult for bamboo to grow, and thinly shaved hiba wood, which is light and elastic, was used instead. Kite paintings are often based on heroes and heroic figures from classical novels as well as heroic warriors from Japanese history. The warriors are drawn with thick, strong ink lines and bright red colours, and are as attractive to the eye as the Hirosaki Neputa floats.

Aomori Apples

Aomori Prefecture produces around 60% of Japan's apples. From pruning the branches in winter to the harvest in autumn, the procrss of apple cultivation takes place almost without a break. The delicious taste of Aomori apples is the result of the passionate and diligent work of the growers. Local souvenir shops sell a variety of desserts made from apples, including pies containing whole apples.

Ichigo-ni

This local dish was named after the image of sea urchin sinking into the milky white soup, which looked like "wild strawberries in the morning mist", and is said to have its roots in beach cooking by fishermen. This is a rich soup with plenty of sea urchin and abalone.

Aomori Black Garlic

Black garlic is made by maturing and fermenting white garlic for several weeks in an environment of constant temperature and humidity. It is believed that the darkening of the garlic is due to a chemical reaction called the Maillard reaction. The black garlic becomes sweeter, with a texture like dried fruit.
Spring

Aomori is covered with blooms in springtime—cherry blossoms at Hirosaki Castle, as well as apple blossoms, canola and azaleas—on a scale that is unparalleled in volume and beauty. There is still enough snow remaining in the higher altitudes for some relaxed spring skiing.

Summer

The deep green of virgin beech forests and the passionate festivities of summer festivals provide both serenity and raucous joy to rejuvenate the human spirit. Summer here is also time for getting outside and trekking, cycling and playing golf. The photogenic rice paddy art in Inakadate Village is also worth a visit.

Autumn

The rich, verdant and remote forests of Aomori turn from green to a colorful array of yellows, oranges, reds and browns. As the weather cools, this is also the season to slip into a hot spring.

Winter

For all of its rich green splendor, Aomori is snow country. Trees are transformed into snow monsters, and world-class skiing and snowboarding await you, along with winter festivals, foods and unusual cultural activities.