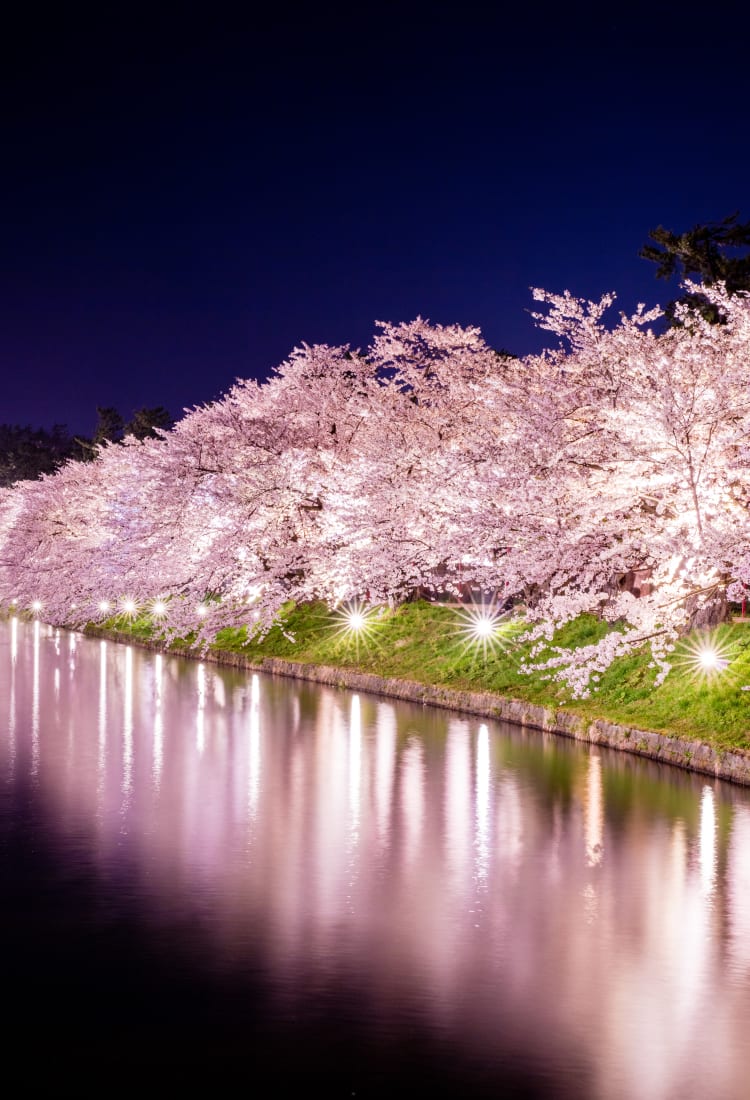 Tohoku
Aomori
Take the road less traveled to Aomori
Discover natural landscapes, primeval forests, apples, rice field art, rice and sake, seafood and snow
Relatively unexplored, Aomori's verdant landscapes, famous festivals and World Heritage sites can all still be called "hidden gems." Hiking through unspoiled wilderness, riding in trains heated by stoves and sampling delectable seafood and sake are just a few of its attractions.
Aomori is accessible via the JR Tohoku Shinkansen from Tokyo, as well as regular JR trains, highway buses, and by car. There are three shinkansen stops in the prefecture—Hachinohe, Shichinohe-Towada, and Shin-Aomori. You can also fly to two airports—Misawa and Aomori.
Tokyo is the most common starting point for visitors to Aomori, unless you are traveling by plane. The JR Tohoku Shinkansen will get you to the main city of Aomori in just over three hours, and you can use your Japan Rail Pass. By plane, it takes a little over an hour from Haneda Airport to either of the two Aomori airports and around 90 minutes if you are departing from Osaka. Highway buses run regularly between Tokyo and Aomori, but they will take around 8-10 hours, and are usually overnight. Aomori Airport serves international flights from several countries in East Asia, while its domestic routes connect Aomori to Sapporo, Osaka and Nagoya, in addition to Tokyo.
Don't Miss
Aomori's colorful festivals—Aomori Nebuta, Hirosaki Neputa, and Goshogawara Tachineputa, the Snow Lantern and Cherry Blossom Festival at Hirosaki Castle
The magnificent nature of the Shirakami Sanchi and Sanriku Fukko national parks
Ancient ruins and great temples, shrines, castles, and Aoni Onsen, a remote hot spring resort with a traditional ryokan lit only by gas lantern
Unrivaled seafood from the cold waters of both the Sea of Japan and Pacific Ocean
Trending Attractions in Aomori
Aomori Black Garlic

This garlic from Aomori is pickled in seawater, which darkens it and gives it a milder flavor. Aomori black garlic is often combined with olive oil to add a delicate garlic aroma to whitefish dishes.

Ichigo-ni

A simple seafood stew with just a few ingredients, but full of flavor. In its most common form, ichigo-ni combines sea urchin and abalone in a piping hot bowl of dashi broth, accented with diced shiso leaf.

Aomori Apples

Aomori Prefecture grows most of Japan's apples, producing firm and juicy fruit with a nice balance of sweet and tart. Local souvenir shops sell an array of desserts featuring apples, including a pie with a whole one inside.

Tsugaru Painted Kites

These enormous colorful kites are made from thin strips of cypress and handmade paper designed to vibrate in the wind and produce a joyful sound while flying. Aomori kites depict scenes and heroes from Japanese history painted in bold, bright colors inspired by ukiyo-e paintings.

Tsugaru Lacquerware

Tsugaru nuri epitomizes the virtue of patience. Over two months, some 40 layers of lacquer are applied to Aomori cypress and polished to achieve striking patterns. Prized for its beauty and durability, this technique once used on samurai scabbards now adorns everything from smartphone cases to chopsticks.
Spring

Aomori is covered with blooms in springtime—cherry blossoms at Hirosaki Castle, as well as apple blossoms, canola and azaleas—on a scale that is unparalleled in volume and beauty. There is still enough snow remaining in the higher altitudes for some relaxed spring skiing.

Summer

The deep green of virgin beech forests and the passionate festivities of summer festivals provide both serenity and raucous joy to rejuvenate the human spirit. Summer here is also time for getting outside and trekking, cycling and playing golf.

Autumn

The rich, verdant and remote forests of Aomori turn from green to a colorful array of yellows, oranges, reds and browns. As the weather cools, this is also the season to slip into a hot spring.

Winter

For all of its rich green splendor, Aomori is snow country. Trees are transformed into snow monsters, and world-class skiing and snowboarding await you, along with winter festivals, foods and unusual cultural activities.