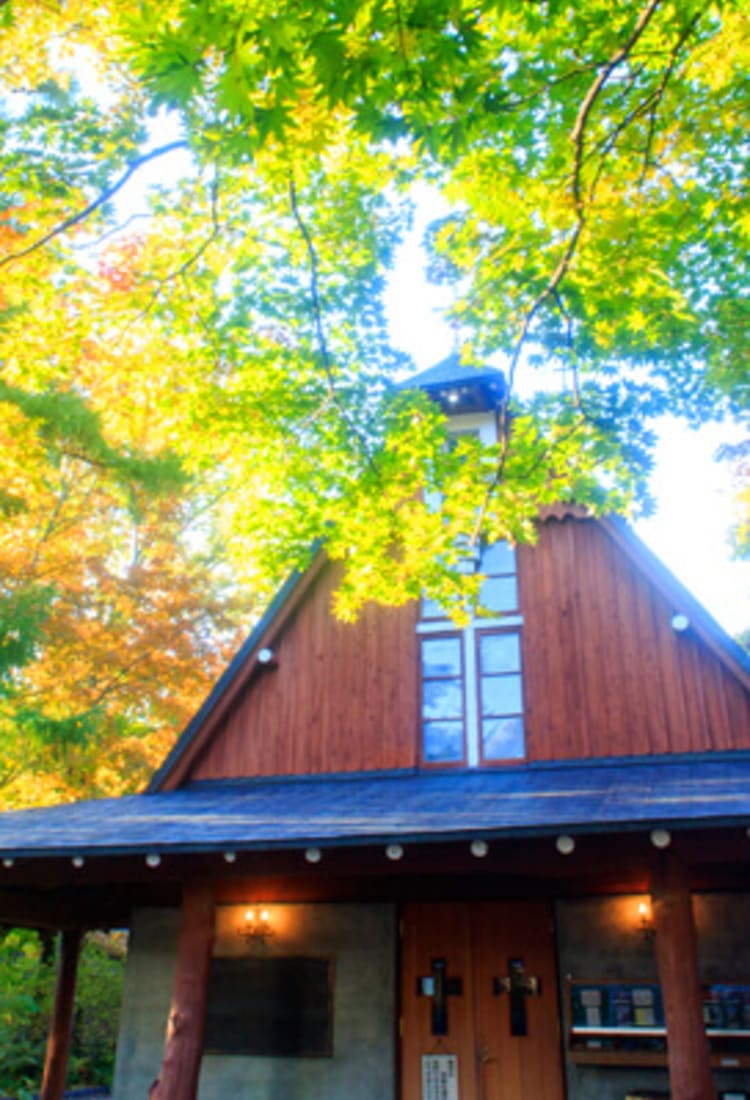 CHUBU
Saint Paul's Catholic Church
Japanese Name: 聖パウロカトリック教会
Saint Paul's Catholic Church was established in Karuizawa in 1935 by the British priest Father L. Ward. The church is one of the historic buildings in Karuizawa designed by architect Antonin Raymond, who received awards from the American Institute of Architects. It features a triangle-shaped steep pitch roof, big steeple, and as-cast concrete.
Father Carlos Martinez held the office of chief priest since 1961 for half a century.
Passing through Church Street from Ginza Street of Karuizawa, the church lies straight ahead. The church blends harmoniously with the surrounding beauty of nature in all seasons and attracts many visitors every year.
Saint Paul's Church is also famous for its beautiful historic building
As one of the historic buildings in Karuizawa, its beautiful appearance stands out even more in the verdant summer seasons. The church is always full of visitors who take pictures or make sketches.
Saint Paul's Church in Summer
St. Paul's Church, also called St. Paul's Catholic Church, is a unique Catholic church in Karuizawa.
Saint Paul's Church Lighting Up
n winter, Karuizawa town is lit up. In particular, every church is illuminated at night and visitors can enjoy their appearance of enhanced beauty.
Saint Paul's Church in Winter
It's freezing in the winter morning and evening in Karuizawa, so star dust always please visitors in this season. You can further concentrate on your prayers in the quiet atmosphere of the snow-covered church.
Operating Hours
7:00 a.m. to 6:00 p.m. (up to sunset in the winter season)
Entry is not allowed during masses and ceremonies.
Schedule of Mass
Catholic masses are on Sundays at 9:00 a.m. and Saturdays at 6:00 p.m.
Non-Catholic Masses are from Monday to Friday at 11:00 a.m.
English masses are available.
Chief priest is Father Takano.
Access
Take the Kusakaru Kotsu Bus towards Kitakaruizawa at JR Karuizawa Station or Seibu Kogen Bus towards Kusatsu (5 minutes ride), get off at Karuizawa and walk for six minutes.
Address: 179 Karuizawa, Karuizawa Town, Kitasaku District, Nagano Prefecture
Saint Paul's Catholic Church
Contact Details
Phone Number: +81-267-42-2429
Notes
Brochures in English available
Website