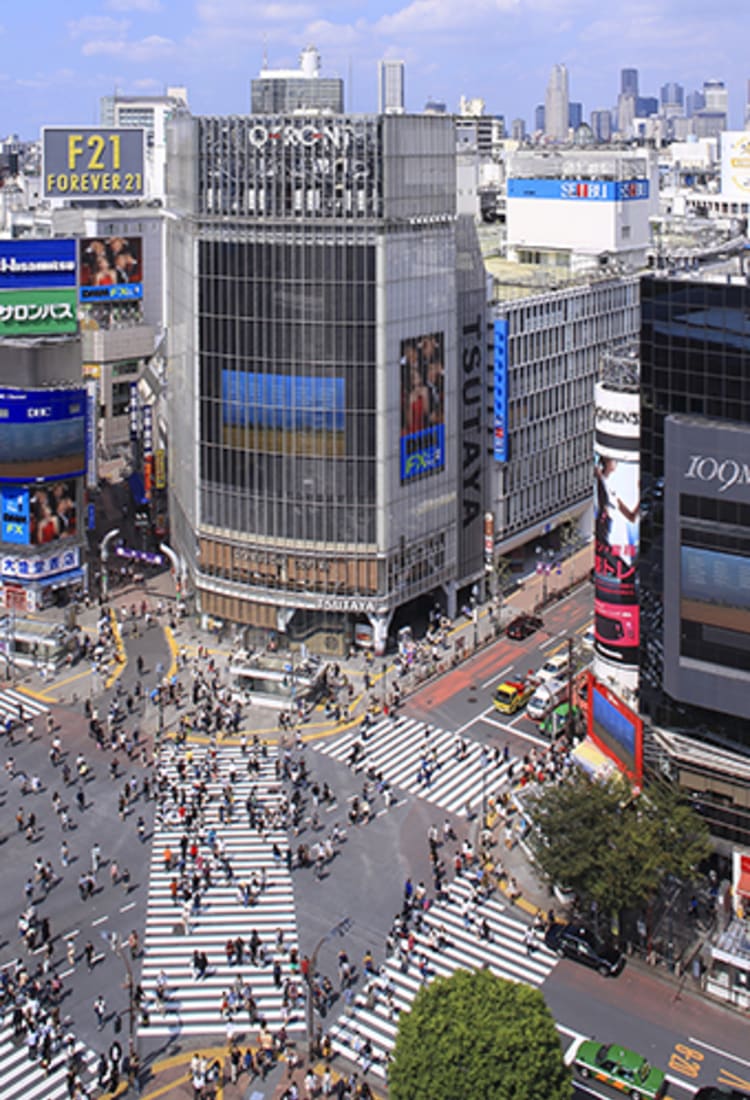 FLY TO JAPAN
NARITA / HANEDA
Haneda Airport

Flying directly into the metropolis from worldwide destinations has become a reality thanks to the development of Haneda, Tokyo's city airport.

Learn More

Narita Airport

Narita Airpot is one of two airports in Tokyo, handling both international and domestic flights.

Learn More
Narita / Haneda Model Course
Whether your port of entry is Narita or Haneda Airport, why not start your Japan adventure in the middle of bustling Tokyo?
Day 1: Tokyo
Shibuya
Known for its iconic intersection dubbed as the busiest crosswalk in the world, Shibuya is the place to be if you want to immerse yourself in modern Japanese culture. Join the crowds and make your way through the Shibuya Scramble, check out an endless array of shops and restaurants, and make sure to say hi to loyal Hachiko, too! SHIBUYA SKY's observation deck is also recommended if you want to see an unobstructed 360-degree view of the vibrant area.
Shinjuku
Next destination: Shinjuku, the district that never sleeps. Also a major business and entertainment district, Shinjuku is filled to the brim with towering skyscrapers, interesting shops and department stores, and hip cafes, bars, and restaurants. There are also several art and history museums in the area if that is more your speed. For nature lovers, definitely check out Shinjuku Gyoen, one of Tokyo's largest and most beautiful parks. And when the night comes, don't be afraid to dive into the bright and colorful nightlife of Kabukicho.
Day 2: Tokyo and Kanagawa
Asakusa
After all the hustle on your first day, start off day 2 on a more traditional note and visit Asakusa where you can find Sensoji Temple, Tokyo's oldest Buddhist temple. On its streets are black and red rickshaws being pulled around, as well as locals and tourists clad in traditional Japanese wear. Leading up to the temple is the Nakamise Shopping Street that is lined with a variety of food stalls and shops selling Japanese souvenirs.
Minato Mirai
Once you get your fill of traditional Japan, it's time to hop on the train and head a little bit outside of the capital and into Yokohama in Kanagawa Prefecture. Located only 30 minutes south of Tokyo by train, Yokohama is the second largest city in the country by population. The stunning night view of its Minato Mirai area is highly praised and one you should absolutely see. For foodies, don't miss the largest Chinatown in Japan, where you can enjoy not only delicious food but also great atmosphere.
Day 3: Yamanashi/Shizuoka
Mt. Fuji
On day 3, go on a day trip to see Japan's highest mountain standing at 3,776 meters, the great Mt. Fuji! There are a few ways to reach Mt. Fuji from Tokyo, including express buses, limited express trains, and the Shinkansen. Once there, feel free to admire the majestic view of the mountain from various vantage points to your heart's content. Popular locations include Lake Kawaguchi and Chureito Pagoda. If you are visiting in summer, you might also want to challenge yourself to climb and conquer the beast.
Day 4: Ibaraki
Hitachi Seaside Park
And finally, to cap your trip off, venture out into Ibaraki Prefecture and spend a day at Hitachi Seaside Park. Gorgeous seasonal blooms await you here—the most photographed ones being baby blue nemophila flowers in spring and crimson kochia bushes in autumn. There is also an amusement park, as well as cycling trails and a forest athletics field for you to enjoy.