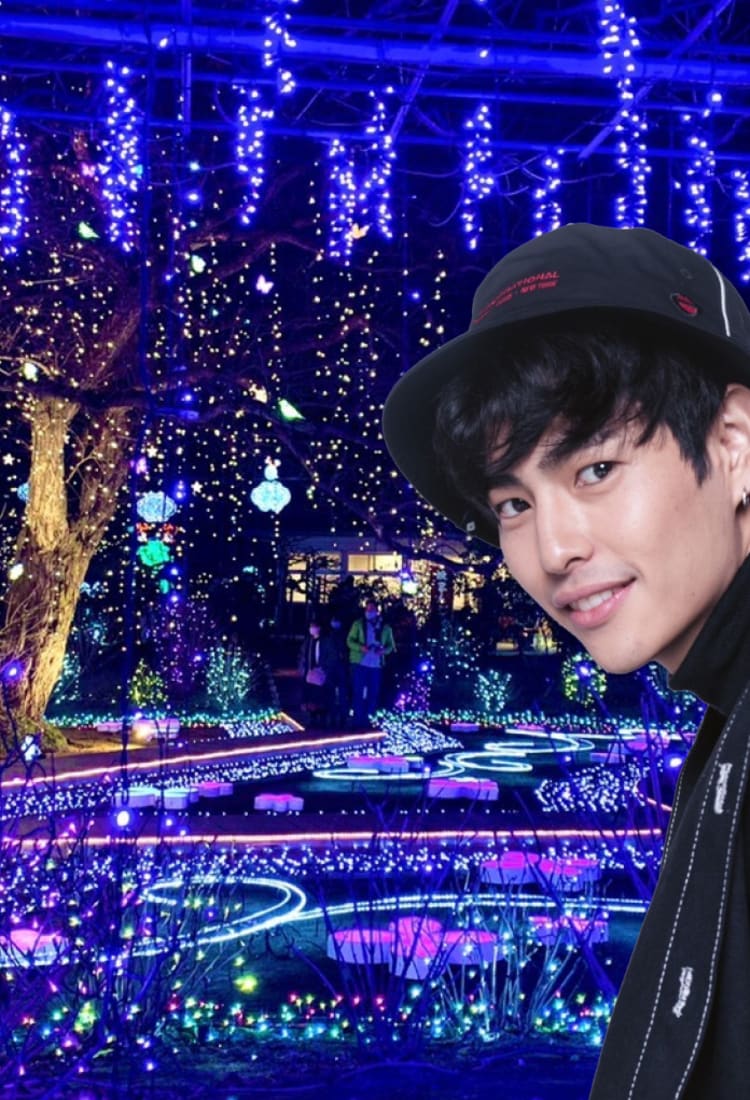 Recommended by Fumiya
Photogenic Spots
Photogenic Spots
When traveling, there is no doubt that you would want to take lots of photos of your trip to share with your family and friends, on social media, and simply to serve as mementos. These days, one factor that people consider when choosing their destinations is how good a place would look in photos.
To help you with your next trip to Japan, here are 10 photogenic spots in different areas of the country as recommended by Japanese influencer Fumiya, also known as the "Konnichi-Wonder Vlogger ng Japan" during his time in Pinoy Big Brother!
1. Ashikaga Flower Park Illumination (Tochigi)
| | |
| --- | --- |
| Fumiya | "Selected as one of CNN's '10 Dream Travel Destinations in the World,' I went to see this masterpiece of beautifully illuminated flowers blooming all over the park at night!"                                                                                                    |
Recognized as one of the best illumination events in Japan and one of the top three in Kanto, the Flower Fantasy Illumination at Tochigi Prefecture's Ashikaga Flower Park is a spectacle you would not want to miss. Over five million lights light up the 100,000-square-meter park during the fall and winter months. Meanwhile, in spring, its massive Japanese wisteria trees and 80-meter white wisteria tunnel are in bloom. The park is captivating all year round, but for the best experience, time your visit during the illumination period.
 
Photo Gallery
2. Ouchi-juku (Fukushima)
| | |
| --- | --- |
| Fumiya | "Preserved mountain village houses known as 'thatched-roof houses' are all lined up, making you feel like you traveled back in time. Feel good old Japan here!"                                                                                    |
Travel back to the Edo period in Ouchi-juku, a former post town along the Aizu-Nishi Kaido trade route, which used to connect Aizu and Nikko. Nestled in the mountains of Fukushima, the town's thatched-roof houses are over 300 years old and are preserved. A visit to this place will surely provide visitors the chance to have a look into Japan's feudal past. For postcard-looking photographs, come in winter when everything is covered in white fluffy snow.
3. Lake Yamanaka (Yamanashi)
| | |
| --- | --- |
| Fumiya | "Japan is synonymous with Mt. Fuji, right? Among the five lakes of Fuji, the one closest to Mt. Fuji is... Lake Yamanaka. It is a resort area that encapsulates Japan and where you can enjoy all four seasons." |
Not only is Lake Yamanaka the largest of the Fuji Five Lakes and the closest to Mt. Fuji, but it is also the second-most developed after Lake Kawaguchi with small towns around it. This area in Yamanashi Prefecture is popular among visitors who are into outdoor activities such as boating, fishing, and camping. The view of Mt. Fuji from one of the lake's several observation points is astounding and makes for a great photo regardless of the season!
4. Hirosaki Park Cherry Blossoms (Aomori)
| | |
| --- | --- |
| Fumiya | "Why do Filipinos love sakura or cherry blossoms as much as Japanese people? A definite recommendation for Filipinos then is Hirosaki Park, where you can see the oldest cherry blossoms in Japan. After all, it is one of Japan's top three cherry blossom viewing spots." |
Every spring, about 2,600 cherry trees of over 50 varieties bloom and turn Hirosaki Park in Aomori Prefecture into a pink paradise. The trees are also enchantingly illuminated at night during the Hirosaki Cherry Blossom Festival, which is usually held from late April to early May. One activity to try is to rent a rowing boat while appreciating the lovely scenery. And for amazing shots, check out the rivers covered with fallen cherry blossom petals that look like a pastel pink carpet.
5. Raizan Sennyoji Daihioin Temple Autumn Leaves (Fukuoka)
| | |
| --- | --- |
| Fumiya | "The autumn leaves at Sennyoji Daihioin are famous in Japan, but there are other benefits of going to this temple where you can wish for an easy childbirth and a good match. Maybe you should go here with your partner!" |
Located on Mt. Rai in Fukuoka Prefecture, Sennyoji Daihioin Temple is a Buddhist temple that was founded by an Indian Buddhist monk. Here you can see many Buddhist statues, an elegant garden, and a 400-year-old giant maple tree that is most beautiful in mid-November with its foliage. Many tourists come to this place to witness the beauty of the autumn leaves and take photos, but make sure to put your camera down, take a moment, and appreciate the pristine nature that surrounds you.
6. Katahara Onsen Hydrangea Village (Aichi)
| | |
| --- | --- |
| Fumiya | "It is part of Japanese culture to enjoy the rainy season, much like the rainy season in the Philippines, by going hydrangea viewing. The Hydrangea Village in Katahara Onsen has 50,000 hydrangeas, so it is a gem of a place." |
Katahara Onsen is a hot spring town in Aichi Prefecture, and its Hydrangea Village (Ajisai no Sato) area is home to 50,000 hydrangea bushes. Every June, the flowers bloom and are beautifully illuminated at night, adding to the lovely charm of the place. Fireflies also aplenty during this season, so you are sure to find great photo opportunities all around!
7. Lake Biwa Great Fireworks Festival (Shiga)
| | |
| --- | --- |
| Fumiya | "A large fireworks display of 10,000 fireworks at Lake Biwa, the largest lake in Japan. The fireworks are reflected on the surface of the lake, making for a really beautiful sight." |
Every summer, one of the biggest fireworks festivals in Japan is held along the shores of Lake Biwa in Shiga Prefecture. Over 10,000 fireworks are launched into the air over the lake along with water jet fountains. This event is usually held in the month of August and sees about 350,000 spectators per year. For the best possible view of the magnificent display, you can choose to opt for paid seating.
8. Katsuragi Kogen Azaleas (Nara)
| | |
| --- | --- |
| Fumiya | "Are there azaleas in the Philippines? Here in Katsuragi, one million azaleas fully bloom during May. I hope you can feel the beauty of the red flowers here, different from autumn leaves." |
Located on the west side of Nara Prefecture is Katsuragi, an area where pretty flowers aplenty all year round but is especially known for its azaleas that bloom in the middle of May. The scenery is picturesque as it is painted with vibrant red azaleas, lush greenery, and the clear blue sky. Hikers flock to the area to enjoy the view, but if you are not up for a hike, take the ropeway to the top instead for a panoramic view.
9. MORI Building DIGITAL ART MUSEUM: teamLab Borderless (Tokyo)
teamLab Borderless, Tokyo © teamLab
 
| | |
| --- | --- |
| Fumiya | "The impressive power of digital content that represents Japan in this museum is overwhelming! Not only are they Instagrammable and photogenic, but you can also feel as if you are part of the amazing art!" |
Located in the Odaiba district of Tokyo, teamLab Borderless is one of international art collective teamLab's permanent museums. Described as "a world of artworks without boundaries," the artworks here move from one room to another and interact with each other. This 10,000-square-meter indoor museum has numerous areas for you to explore, each with their own unique appeal, so you will not run out of share-worthy photographs to snap here!
10. Goryokaku Park (Hokkaido)
| | |
| --- | --- |
| Fumiya | "Definitely check out the star-shaped winter illuminations around Goryokaku Park from its tower! Goryokaku covered in winter snow, particularly, is mysteriously beautiful." |
Goryokaku Park in Hakodate City, Hokkaido is a star-shaped fort designated as a National Special Historic Site. Although photogenic throughout the entire year, it is especially popular during the spring and winter seasons. In spring, thousands of cherry blossom trees bloom in the park, making it a top cherry blossom viewing site. While in winter, usually from December to late February, it hosts one of the most stunning illumination events in the region. Take a stroll around the park with your camera or head to the observatory deck of Goryokaku Tower to see unobstructed views of the fort!