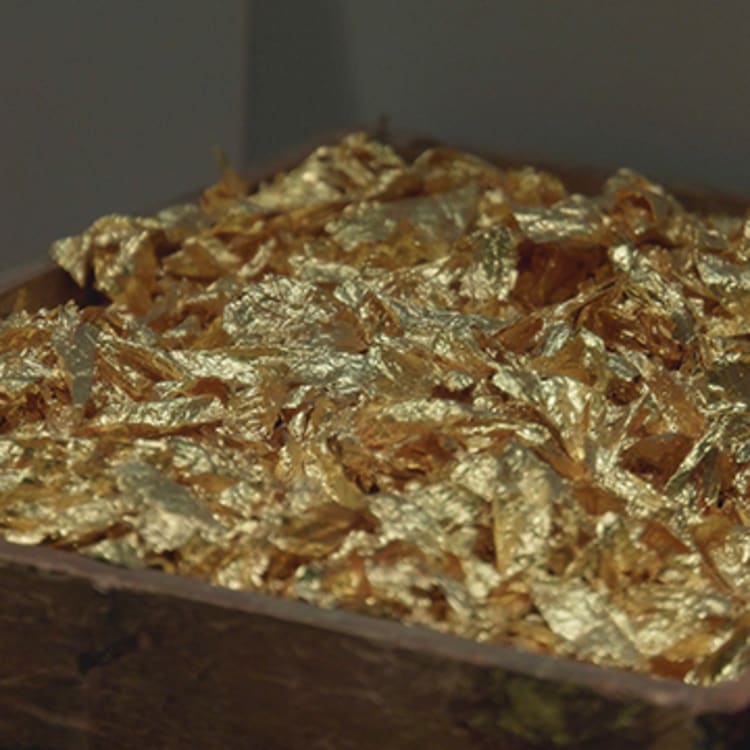 GUIDE
Kanazawa City Gold Leaf & Geisha District
by JNTO on 11 September 2018
Ishikawa Prefecture's capital, Kanazawa City, is famous throughout Japan for its preservation of Edo period (1603-1868) structures, customs, and culture. Some of its famous sights include Kanazawa Castle, Myouryuji Temple, and Kenrokuen Garden, considered to be one the most beautiful traditional Japanese gardens in the country.
However, those aren't the only places worth visiting in Kanazawa City; there are two cultural experiences you should definitely not miss — Kanazawa City's famous gold leaf and the Higashi Chaya (Eastern Teahouse) Geisha District.
Kanazawa's gold leaf history dates back to the 16th century, when the Kaga Clan invited artisans to the city to practise and hone their craft. Hundreds of years later, Kanazawa City now accounts for 99% of gold leaf production in Japan, which is renowned for its resistance to discolouration and oxidisation — making it a key decorative component for lacquerware, sculptures, calligraphy, and many other products. Today, you can get all sorts of souvenirs, cosmetics, and even foodstuff lined with paper-thin gold leaf.
Kanazawa has three geisha districts, known as chaya (teahouse) — Higashi Chaya (the most famous one), Nishi Chaya, and Kazuemachi. The historic Higashi Chaya-gai was built in 1820 as a place for the city's merchants and nobility to enjoy the song and dance of geishas. Today, the area still maintains its traditional wooden chaya, although many of them are now cafes and souvenir shops. However, there are still two traditional teahouses still operating here: Shima Teahouse and Kaikaro Teahouse.
Winter is a good time to visit Kanazawa — it is ideal for sampling its fresh seafood catch, and the traditional teahouses take on a mystical quality with a snowy landscape in the backdrop.
Where can you find the gold leaf attractions?
There are several locations throughout Kanazawa City where you can learn about its history, see how it's produced, and purchase some gold leaf products:
Kanazawa Yasue Gold Leaf Museum (Admission 300 yen adults/children under 18 free): This museum is dedicated to the history of gold leaf production in Kanazawa and features art that incorporate gold leaf including folding screen paintings, ceramics, and lacquerware.
Gold Leaf Sakuda (Admission free): This traditional shop was established in 1919 and is situated near Higashi Chaya. In addition to creating and selling gold leaf products, it also has a mini-museum and holds gold leaf gilding workshops as well.
Kinpaku (Admission free): This shop was established in 1831 and specialises in a variety of gold leaf products including glassware, fashion accessories, and crafts. The shop also provides sightseeing tours for groups that incorporate gold leaf gilding; tour destinationsinclude Kenrouken and Omicho Market.
Where can you find the Geisha District?
You can reach Kanazawa City's Higashi Chaya by taking the Kanazawa Loop Bus from Kanazawa Station and getting off at the Hashibacho bus stop (RL5). From there, it is a 5-minute walk.
While the district has numerous shops, you'll definitely want to check out one of the two traditional teahouses:
Kaikaro Teahouse (Admission 750 yen/1,200 yen with tea): Kaikaro has a café, gift shop, and even geisha performances on some evenings. It also occasionally hosts events such as a geisha parties and calligraphy demonstrations. Reservations are required.
Shima Teahouse (Admission 500 yen adults/300 yen children): Shima serves partly as a museum that provides visitors with insight into the 1800s when geishas used to fill the teahouse with song and dance. In addition to the antique furnishings and geisha accessories, the teahouse also features live shamisen (traditional three-stringed instrument) performances. There will be an additional charge of 500 to 700 yen for tea and sweets.
On the culinary side, Kanazawa City has plenty to offer. Gold leaf is so important to the local culture that it is even incorporated into some food and beverage offerings — including gold leaf shochu. Hakuichi, a gold leaf shop in the Geisha District even sells soft serve ice cream wrapped in gold leaf!
Not surprisingly, the Chaya districts are also famous for their tea and wagashi, traditional Japanese sweets which are delicate works of art, specially made to accompany the tea.
In winter especially, the city is famous for its fresh seasonal seafood straight from the Sea of Japan. Among the fresh winter catch you should absolutely try are snow crab, sushi, and kaisendon — a donburi (rice bowl) loaded with fresh seafood. If you're looking for sushi and kaisendon, Enome is a go-to place, while Takasaki serves fresh Kano crab, a type of snow crab from Ishikawa that's renowned for its sweet taste.
Check out Omicho Market which has over 180 shops serving just about every type of food imaginable — including snow crab, sea urchin, croquettes, and many more!