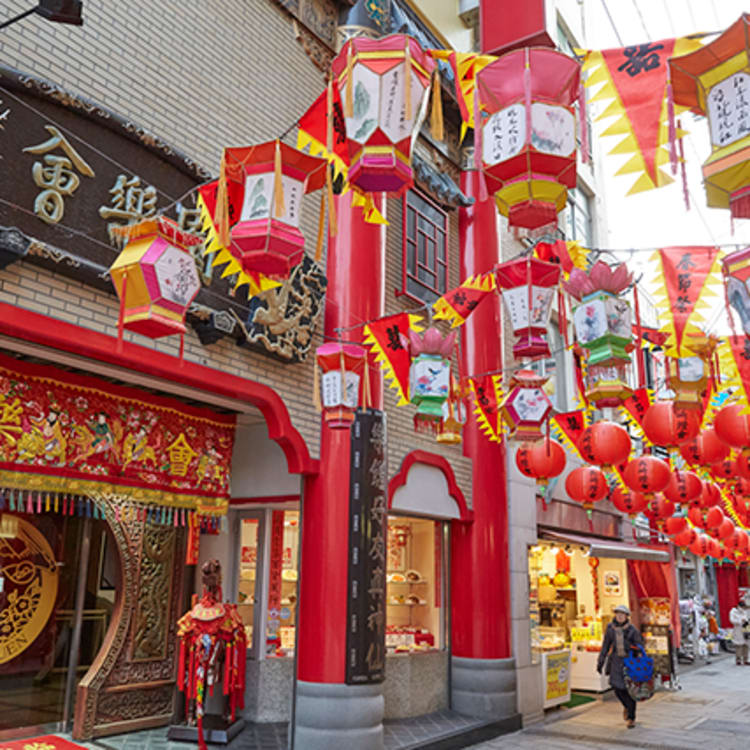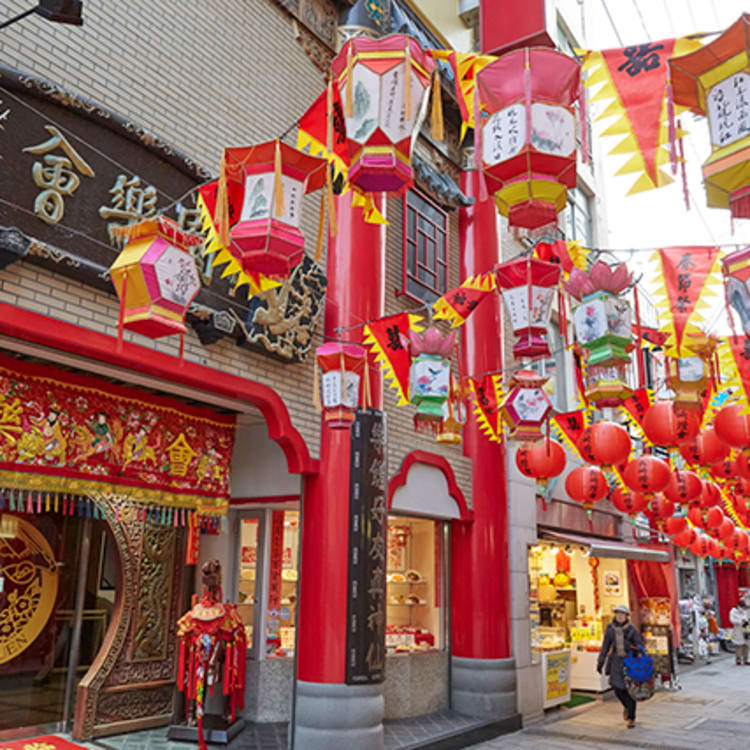 GUIDE
Nagasaki Chinatown Lantern Festival, Nagasaki
by JNTO on 11 September 2018
For some, Chinese New Year is the time of year to enjoy the long break overseas with family and friends – but in Nagasaki's Chinatown there's an opportunity to enjoy both the Chinese New Year festivities and a uniquely Japanese tradition.
The Nagasaki Lantern Festival (5-19 February 2019) was started by Chinese merchants in Nagasaki to celebrate Chinese New Year, but was upgraded to a full-scale festival in 1994 to coincide with Nagasaki's winter season. Over a million visitors came to the light-up last year, so be prepared for some serious shoulder rubbing.
The festivities run up to 15 days – with over 15,000 lanterns illuminating not only Nagasaki's Shinchi Chinatown, but also spreading out into Hamanomachi, Chuo Park, and other parts of the city. It's one of the rare times that China's influence plays such a large role in a Japanese festival – including gigantic zodiac figures that run up to 8 metres tall.
Minato Park and Chuo Park are home to most of the festivities, with fireworks blasting off into the night sky, gravity-defying acrobatics on the ground, lion dancing, and even a beauty contest known as a 'campaign lady'. There's also the Dragon Dance, where participants in traditional Chinese clothing call out to the clouds, attempting to make it rain, as they manipulate the 20m-long dragon.
Take a capsule back in time during the Mazu Procession, a palanquin procession originally carried out by the crews of Chinese ships entering the port at Nagasaki during the Edo period, and the Emperor's Parade, a flashback to the Qing dynasty era with an Emperor and Empress palanquin hoisted down the street, surrounded by hundreds of flag bearers and participants proudly decked out in glorious traditional Chinese costumes. The parade will start at Chuo Park and proceed to Minato Park, from 2pm.
What to Eat in Nagasaki
The hybrid nature of the lantern festival also extends to Nagasaki's rich food culture. It was the multiple layers of history and culture intersect in Nagasaki – which is blessed with a bountiful coastline – that led to its unique food culture during Japan's sakoku (national isolation period) from 1633 to 1853.
Ryotei, or traditional Japanese restaurants, usually serve Nagasaki shippoku ryori, a traditional meal of up to 15 dishes served on a round table to be enjoyed by a large party. The feast is a mixture of Japanese, Chinese, and Western influences, developed during the Edo period as a result of intercultural exchanges. A mainstay of Nagasaki's shippoku ryori cooking is the simmered pork belly known as tobani, an original Chinese dish which has changed over the years to suit Japanese tastes. You can sample shippoku ryori at the revered Shiseki Ryotei Kagetsu, established in 1642, in a traditional dining rooms overlooking over their lush Japanese garden, or at Sakamotoya which is an authentic Japanese style restaurant and inn (ryotei-ryokan).
Some of these restaurants employ the services of the delicate and skilled Nagasaki Kenban (traditional geisha or geiko) who are tasked to entertain guests at the table with artful dancing, singing, conversation, and performance of traditional instruments like the shamisen (traditional three-stringed banjo) and koto (a traditional 13-stringed zither).
Perhaps the most famous dish in Nagasaki is champon noodles – a steaming hot stew of thick noodles swimming with generous portions of vegetables and seafood. Historically, Nagasaki has faced challenges in securing a regular supply of ingredients, so champon's flexibility made it a perfect dish that could include any seasonal ingredients.
Shikairou Chinese Restaurant is perhaps the oldest in Nagasaki at nearly 120 years old, and is credited with inventing this Nagasaki speciality. The first owner, Chin Heijun, created the noodles for cash-strapped exchange students from China in the 1900s. Their version of champon is topped with thinly-sliced omelette – which you can slurp down while enjoying views of the Nagasaki harbour.
The other famous dish in Nagasaki is a relative of champon, and invented by the same man. Sara udon is largely similar to champon, but using thin, deep-fried crispy noodles served with starchy gravy. You can enjoy it traditional style with Worcester sauce as a sour, tart dressing on top.
How to get to Nagasaki Lantern Festival?
The Nagasaki Lantern Festival takes place across Shinchi Chinatown, with processions and celebrations extending to other locations like Chuo Park, Hamanomachi, and the Megane Bridge.
From Nagasaki Station, the city is easily navigated by tram and on foot; most major tourist attractions – including Chinatown – is situated about one kilometre away form the station. Nagasaki is served by four tram lines, providing easy access to most of the city's main attractions and run from 6am to 11pm (120 yen flat fare). Shinchi Chinatown is located a short walk from the Tsukimachi stop along tram lines 1 and 5.
Date: 5 to 19 February 2019
Time: Lanterns lit from 5pm to 10pm (until 11pm on Fridays and Saturdays)
Entrance fee: Free