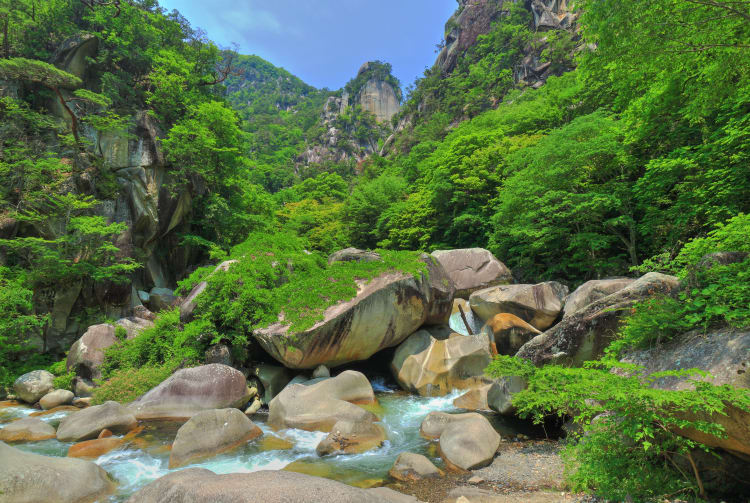 Shosenkyo Gorge is an idyllic, naturally beautiful hiking spot
Shosenkyo Gorge offers a distinctive atmosphere for every season of the year. It is blanketed in snow in the winter, rich with blossoming flowers in the spring, a prime hiking route in the summer, and rich with autumnal colors when fall arrives.
How to Get There
Shosenkyo Gorge is accessed from Kofu Station on the Chuo Main Line.
From Shinjuku or Tokyo Station


, Kofu is west on the Chuo Main Line. On the Limited Express Kaiji , the trip takes 100 minutes from Shinjuku Station.
The gorge, located north of Kofu City, is a 20-minute drive from Kofu Station. There are also two bus stops in the gorge. The Greenline Shosenkyo is next to the Senga-Taki Waterfalls. The Shosenkyo Taki Ue bus stop is near a small village filled with shops at the top of the hiking route. Rambling in the wilderness
The ideal way to enjoy the area is through hiking. A four-kilometer trail begins at Nagatoro Bridge and leads to the beautiful gorge. While walking through the area, you will see sharp granite cliffs cut by waterfalls and rivers as well as particularly large rocks said to resemble Mt. Fuji, a monkey, and even a tengu, a demonic figure from Japanese folklore. Take the ropeway up
If you are looking for a less strenuous way to take in the views, there is also a ropeway that takes you to a height of just over 1,000 meters.
At the top of the ropeway sits a small shop selling souvenirs and a restaurant that offers stunning views of the Southern Japan Alps and Mt. Fuji


. The summit is biggest attraction, however, is the panoramic viewing platform, which is often crowded with photographers because the view is truly spectacular.
Waterfalls and towering stones
The gorge has many different attractions to wow visitors, such as several waterfalls, including Sengataki Falls and Otaki Falls, a two-tiered waterfall. Ishimon is a towering natural stone structure peppered with lush green trees, and Kakuenpo is the rock formation that rises over the gorge's river.
There are also stunning manmade attractions, including the Nagatoro Bridge and the Arakawa Dam. الطبيعة
مضيق شوسنكيو
Kofu-shi,
Yamanashi-ken التاريخ
ضريح تاكيدا-جينجا
Kofu-shi,
Yamanashi-ken جاذبية
مصنع النبيذ صنتوري تومينوكا
Kai-shi,
Yamanashi-ken مهرجانات وفعاليات
مهرجان شينغنكو
Kofu-shi,
Yamanashi-ken الفنون والتصميم
متحف مقاطعة ياماناشي للفنون
Kofu-shi,
Yamanashi-ken مهرجانات وفعاليات
قرية هايدي
Hokuto-shi,
Yamanashi-ken