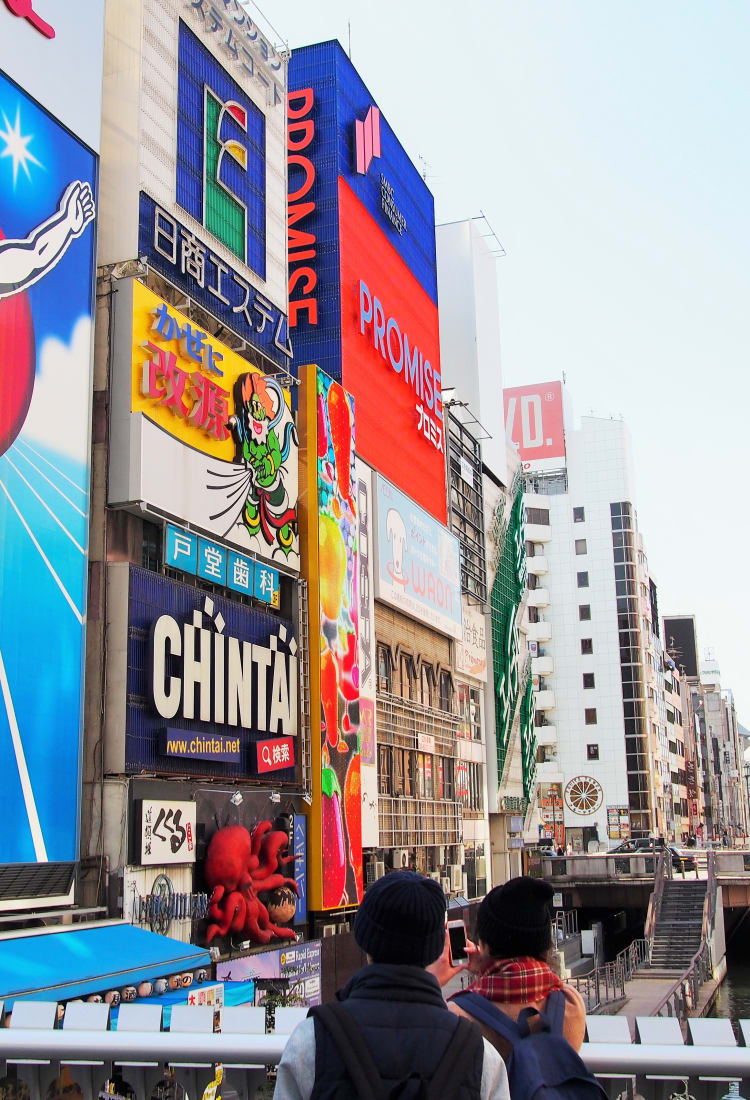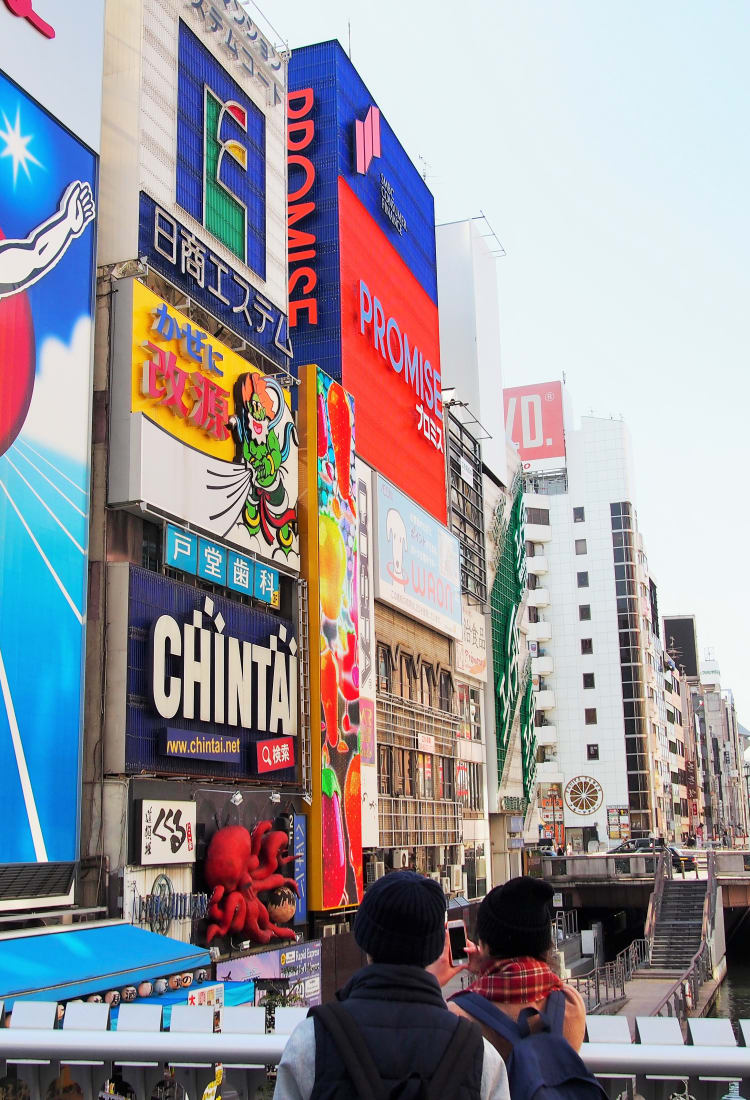 MODEL ROUTE
Kansai
Route (Day 1)
Shin-Osaka Station → (20 minutes by train) → Osaka Castle → (30 minutes by train) → Shinsekai → (30 minutes on foot) → Dotonbori → (30 minutes by train) → Umeda Sky Building
Osaka Castle
The Osaka Castle is a beloved symbol of Osaka. It is also a popular tourist attraction, thanks to its imposing exterior and an interior that boasts a number of splendid and intricate decorations. The castle has an observation deck from where you can get a view of the city streets, and many artefacts related to the preeminent shogun (warlord) Toyotomi Hideyoshi, who built the castle. An elevator is installed inside, making it an attractive option to take an efficient tour from the top floor, walking your way down.
Osaka Castle
Address: 1-1 Osaka-jo, Chuo-ku, Osaka-shi, Osaka
URL:
http://www.osakacastle.net/english/ (English)
Shinsekai
Shinsekai is the busiest downtown area in Osaka, always bustling with crowds. It is known for its eye-catching billboards and numerous statues of "Billiken," famous as the god of good fortune. Shinsekai has a wide variety of establishments from kitschy shops that exude a retro atmosphere to the trendiest fashion spots. Make sure to take in a stroll through this "deep downtown" district if you visit Osaka.
Dotonbori
Dotonbori, like Shinsekai, is one of the representative downtown districts of Osaka. It is famous for its eating establishments that serve dishes unique to Osaka. Kushikatsu (skewers of battered and deep-fried ingredients), for instance, offers a wide variety of vegetarian options in addition to deep-fried meat and seafood. The narrow streets are also crowded with other kinds of shops, for instance, stalls serving takoyaki and okonomiyaki. Taking a river cruise down the Dotonbori river, which runs through the central part of the city, is also very popular among tourists. Board a cruise to leisurely take in the sights of Osaka while enjoying the humorous commentary of the guide. Dotonbori
Address: Dotonbori, Chuo-ku, Osaka-shi, Osaka
URL:
http://www.dotonbori.or.jp/en/ (English)
Umeda Sky Building
If you would like to enjoy a night-time view of Osaka city, we recommend the Floating Garden Observatory of the Umeda Sky Building. From a height of 170 m above ground, the observatory offers exquisite panoramic views. The "Sky Walk," with its distinctive round design, is illuminated from the bottom at night to make you think you are literally walking on air. Enjoy a romantic moment in this magical place. Umeda Sky Building
Address: 1-1-88 Oyodonaka, Kita-ku, Osaka-shi, Osaka
URL:
http://www.skybldg.co.jp/skybldg/english.html (English)
Route (Day 2)
Kyoto Station → (30 minutes by train and on foot) → Kiyomizudera Temple → (on foot) → Yuba-kaiseki lunch → (on foot) → Zazen experience → (on foot) → Maiko experience → (30 minutes on foot and by train) → Fushimi Inari Shrine
Kiyomizudera Temple
Kiyomizudera is one of the representative temples of Kyoto. The main temple building, listed as a World Heritage Site, has an impressive structure. It has a balcony that protrudes from the hillside supported only by pillars called jigokudome, erected without using a single nail. The structure attracts a lot of attention because of its unique construction rarely seen in any other country. The Kiyomizudera Temple is also said to be one of the top "power spots" in Japan. It draws many visitors to its Otowa waterfall, which is said to have wish-granting powers, and "Love Stones," which are popular among women who believe the stones can tell their love fortunes. Kiyomizudera Temple Address: 1-294 Kiyomizu, Higashiyama-ku, Kyoto-shi, Kyoto
URL:
http://www.kiyomizudera.or.jp/en/ (English)
Yuba-kaiseki
Yuba has been considered a delicacy in Kyoto since ancient times. It is the thin skin that forms on top of heated soymilk, and is very nutritious. It is used in a wide variety of dishes in Japanese cuisine. Restaurants around the Kiyomizudera Temple serve particularly high-grade yuba that is carefully prepared by the chef, a single skin at a time. It is a rare local cuisine that you can taste in Kyoto as it has abundance of fresh & clean water. Zazen Experience
Why not try some zazen meditation if visiting the temples of Kyoto? Zazen is a Buddhist practice that corrects your posture and unifies mind and body. There are temples in Kyoto that offer zazen experience sessions even for those who are new to it. In addition to the appropriate sitting posture and breathing techniques, you can learn about zazen meditation at these sessions, thereby gaining a deeper understanding of Buddhism and Buddhist temples. Bishamon-do Shorinji (zazen experience) Address: 15-795 Honmachi, Higashiyama-ku, Kyoto-shi, Kyoto
URL:
http://shourin-ji.org/english/ (English)
Maiko Experience
Maiko, or apprentice geishas, are one of the most popular cultural traditions of Kyoto. The city offers visitors the experience of dressing up as a maiko and taking a stroll around the old-fashioned neighbourhood of Gion. Since you can choose your own kimono and hair ornaments, you can enjoy being transformed into a one-of-an -kind maiko. After getting dressed up, you can take a stroll in the neighbourhood. The city of Kyoto is dotted with shops selling traditional Japanese sweets that are ideal for taking a little break during your walk. Do try them out as part of your travel experience. Yume Koubou Gion Branch (maiko experience)
Address: 5F Migiwakan Hanamikaikan, 244-1, Nakanocho, Higashiyama-ku, Kyoto-shi, Kyoto
URL:
http://www.yumekoubou.info/english/ (English)
Fushimi Inari Shrine
In Kyoto, just as popular as the Kiyomizudera Temple is the Fushimi Inari Taisha Shrine. The highlight of the shrine is the Senbon Torii, a row of 1000 scarlet torii gates that line the 4 km path leading up to the shrine—they truly are a sight to behold. Also popular among visitors are the fox ema (wooden wishing plaques), and the Omokaru-ishi wish stones, which are said to change their perceived weight depending on the likelihood of your wish coming true. The Fushimi Inari Shrine can be visited any time of the day. You can also visit early in the morning when fewer people are around, or after dark when the shrine is lit up, for a different kind of experience. Fushimi Inari Shrine
Address: 68 Fukakusa Yabunouchi-cho, Fushimi-ku, Kyoto-shi, Kyoto
URL:
http://inari.jp/en/ (English)