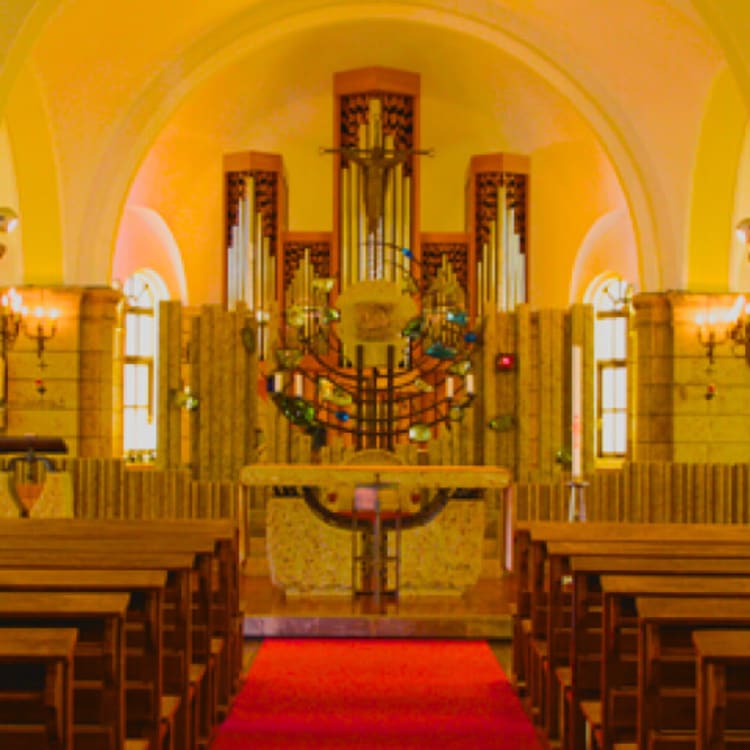 KANTO
Matsugamine Catholic Church
Japanese Name: カトリック松が峰教会
The Matsugamine Catholic Church was founded in 1932 and is one of the largest existing buildings built with Oya stone. The Oya stone is an igneous stone found only in the area of Oya Town in Utsunomiya City, Tochigi Prefecture. The stone was used to build outer walls and storehouses because of its softness and ease of processing.
Inside the Church
The interior of the Romanesque chapel is also decorated with a lot of Oya stone, creating a unique atmosphere and a pipe organ is installed at the back of the altar.
Illumination at Night
The church is illuminated every day from sunset to 8:20 p.m.
Operating Hours
8:00 a.m. to 8:00 p.m.
Special Notice
No mass service provided by an application.
Schedule of Mass
Japanese services are held every Sunday at 10:00 a.m.
English services are held every first and third Sundays of the month at 2:00 p.m.
Portuguese services are held every first Sunday of the month at 4:00 p.m.
The church's chief priests are Father Kazuhiko Yamaguchi and Father Nelson Seno Cabasisi.
Access
Take a bus from JR Utsunomiya Station (West Exit) and get off at Tobu Ekimae or Tobu Nishiguchi bus stop
The church is a five-minute walk from Tobu Utsunomiya Station.
Address: 1 Chome-1-5 Matsugamine, Utsunomiya City, Tochigi Prefecture
Contact Details
Email address: maria-tanjyou@moon.ucatv.ne.jp
Phone Number: +81-28-635-0405
FAX: +81-28-635-9666
Website
http://www2.ucatv.ne.jp/~matumine.sea/index_e.html