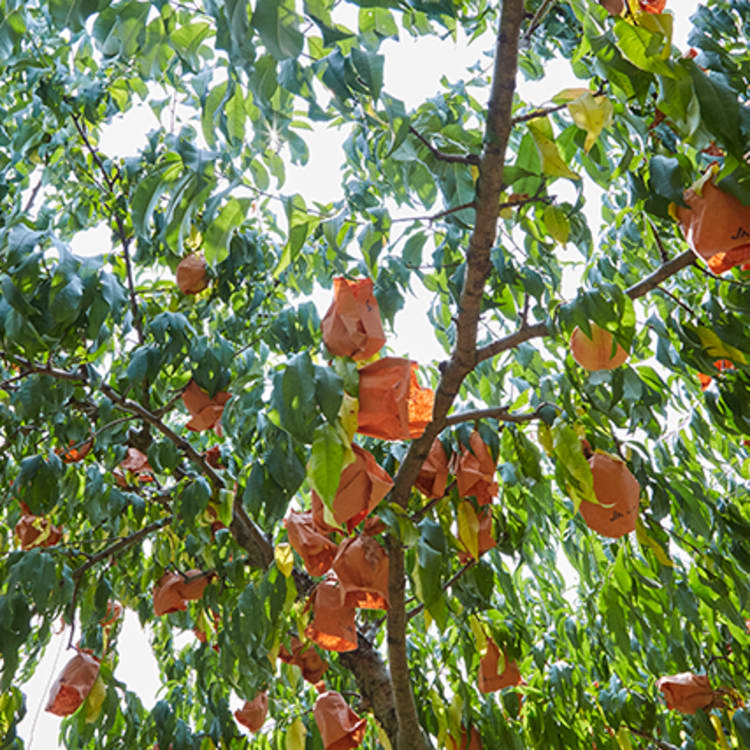 GUIDE
Autumn Fruit Picking in Fukuoka
by JNTO on 10 September 2018
Fukuoka Prefecture is a leading fruit producing prefecture in Japan, boasting bountiful fruit orchards particularly in the southern Chikugo area. It produces huge volumes of strawberries, kiwis, grapes, and persimmons. The good news for fruit-loving travellers is that most of the fruit orchards in the prefecture are open to the public for 'pick-your-own' fruit activities.
The best time to visit for fruit picking activities is between late summer and late fall, with many orchards open from August to December. The only exception is strawberring picking season, which is in winter from January to April. The Chikugo area is ideal for fruit cultivation thanks to the gentle hills and sun exposure, with orchards mainly centered around the towns of Tanoshimaru, Ukiha, Asakura, and Yame.
What fruits can you pick?
Persimmons (kaki) are a Japanese favourite, and you can pick these bright orange fruits from October to December. The town of Asakura is Japan's leading producer of persimmon, which produces many varieties including Nishimura, Izu, and Matsumoto. You can pick persimmons from Migita Orchard which also offers persimmon pizza making workshops.
The famous Kyoho grape, with its noticeably larger size and sweet taste, was first cultivated in Fukuoka Prefecture in a town called Tanushimaru. Today there are a number of orchards that offer grape picking, which are in season from late August till September. In addition to Kyoho grapes, you can also find many other local varieties including Suiho, Shinano Smile, and Aki Queen grapes. Nagano Kajitsuen boasts the most variety of grapes you can pick in the region (from 1,000yen/kg).
If you love kiwis, head to Tachibana-machi in Yame which boasts the top kiwi production in the country. Kiwis here are produced using an innovative fruit-ripening device to make them sweet and ready for export. You can see kiwis covering giant sections of the sloping plains, and at Omachidani no Sato, you can overnight at the farm in late October.
Figs are also popular in Fukuoka. The picking season is earlier, usually from early August to late September. Eco Farm Yokomizo-en has three fig varieties – including the popular Masui Dauphin – which are organically grown, and can be picked till November.
There are plenty of other local fruits you can pick as well, including mikan (Japanese mandarin) which are in season from October to December, and nashi (round Japanese pears) which are in season from late July to November.
Many farms boast different fruits and vegetables that you can pick no matter when you visit. Some farms charge an entry fee (some are free), and you pay for the fruits you have picked by weight in kilograms. There may be different charges for eat-in and take-away. Some farms also have a cafe, restaurant or BBQ pit where you can sample dishes made with fresh-picked produce. For a list of fruit orchards open to the public, check this list.
How do you get to fruit picking sites?
The orchards are mainly dotted around the Chikugo area, roughly an hour's drive (or train ride) from Fukuoka City to the southwest of the prefecture near Kurume City. While there are train stations at towns like Kurume, Tanoshimaru, Ukiha, and Asakura, the best way to get to these orchards is by rental car as there are limited public transport options. All of the orchards have free parking space, and some of them require advance booking before arrival.
Date: August to December (for grapes, pears, figs, persimmons, kiwis, oranges)
Time: 9am-5pm (opening hours may differ according to orchard and fruit availability)
Entrance fee: Varies (from free to 300 yen per person, 200 yen for children aged 3-11)