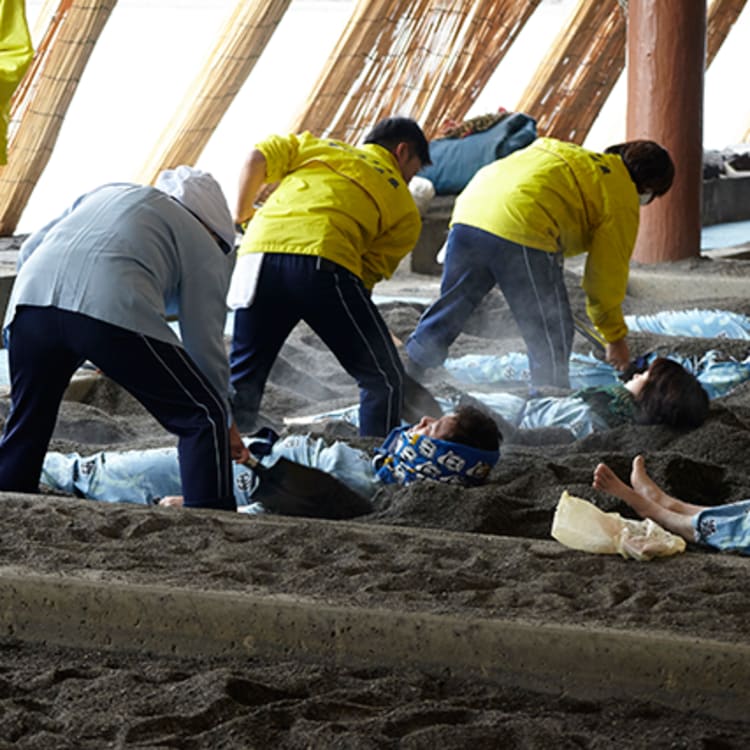 GUIDE
Bathing in hot sand in Ibusuki, Kagoshima
by JNTO on 10 September 2018
Winter is often a great time to visit Japan for its famous hot springs, or onsen. However, head south on the island of Kyushu to Kagoshima Prefecture's Satsuma Peninsula and you'll find the onsen town of Ibusuki. Perched on the edge of Kagoshima Bay, Ibusuki is situated in an area renowned for its volcanic activity; however, visitors come here specifically to bathe not in water, but in hot sand.
The warm, dark sands of Ibusuki are composed of an intense infusion of minerals from volcanic hot springs, and attract sand bathers from all over Japan for its healing properties. Sand bathing (or suna-mushi) has been a tradition here since the Edo period, practised by those seeking a cure for anything from rheumatism to asthma, anemia, and diabetes.
At 50-55ºC, the warm sand is considered a beauty treatment thanks to its moisturising elements, and a study by Kagoshima University revealed that inhaling the steam improves blood circulation better than average hot springs.
How a sand bath works
Suna-mushi can be experienced at shaded pavilions or open-air with an umbrella to shade your face from the sun.
The first step is to slip into a yukata robe that is made to allow the volcanic steam from the sand to transfer to your body (this means bathers don't wear anything under the yukata for the best effect). Then you make your way down the beach and pick a spot, and you will be immediately attended to by shovel-toting attendant who will literally bury you up to your chin in warm sand.
Most people recommend staying buried for 10 to 20 minutes to ensure enough time to inhale the amount of geothermal steam, and to get enough sweat going to rid your body of toxins. Typically after a suna-mushi, you soak in an onsen bath for a complete experience.
Where can you experience suna-mushi?
Ibusuki's sand baths can be enjoyed at onsen hotels with hot sand beaches, or public facilities like Saraku Sand Bath Hall which is located along the waterfront in the middle of Ibusuki City. It's the most popular facility for visitors, featuring indoor baths and a steam room.
Another popular facility is Healthy Land, located at the southern end of the city at the secluded Yamagawa Beach. The complex comprises a hot sand bathing facility (Sayuri) and large outdoor hot spring baths (Tamatebako) that overlook nearby Mt. Kaimondake, known as the "Mt. Fuji of Satsuma" thanks to its conical shape.
Local cuisine of Ibusuki
Ibusuki is known for a number of local delicacies known as "onsen-tamaran-don", or ontamaran-don, which refers to eggs cooked in onsen served over meat and vegetables in a bowl of rice. While "onsen tamago" refers to eggs boiled in hot spring waters, the eggs in Ibusuki are cooked in the hot sand. There are different versions of ontamaran-don; the most popular is kurobuta-soboro-don, or onsen tamago served over ground kurobuta (Berkshire pig) in rice.
Kagoshima's Kurobuta Pork dates back to about 400 years ago, when the Berkshire swine was first introduced to Kagoshima. Today, it's highly regarded throughout Japan for its tender flesh which produces a light, crisp flavour. Ontamaran-buta is basically any dish made using locally-grown kurobuta, served with onsen tamago. Aoba is one of the most well-known restaurants in Ibusuki where you can sample ontamaran-buta dishes.
No visit to Ibusuki is complete without trying the local specialty, somen nagashi, or cold noodles. Head to Tosenkyo Somen Nagashi for a unique experience where the noodles are placed in a circular container in the middle of your table spun by flowing water – try and catch the noodles with your chopsticks!
How do you get to Ibusuki?
Ibusuki Station is accessible by train from Kagoshima Chuo Station via limited express (50 minutes) and local train (70-80 minutes). The Saraku Sand Bath Hall is a 15-minute walk from Ibusuki Station. Healthy Land is accessible by bus from Ibusuki Station bound for Kaimon Station, stopping at Healthyland-iriguchi bus stop where it's a five-minute walk.
Saraku Sand Bath Hall
When: All year around
Time: 8:30am to 9pm (last entry is 8.30pm)
Entry fee: 1,080 yen (adults); 590 yen (children 3-11 years old)

Healthy Land
When: Open all year round; Tamatebako closed on Thursday
Time: Tamatebako 9:30am-7.30pm (last entry 7pm); Sayuri 9am-5:30pm (last entry 5pm)
Entry fee: Combined tickets 1,130 yen (adult); 620 yen (children 3-18 years old)