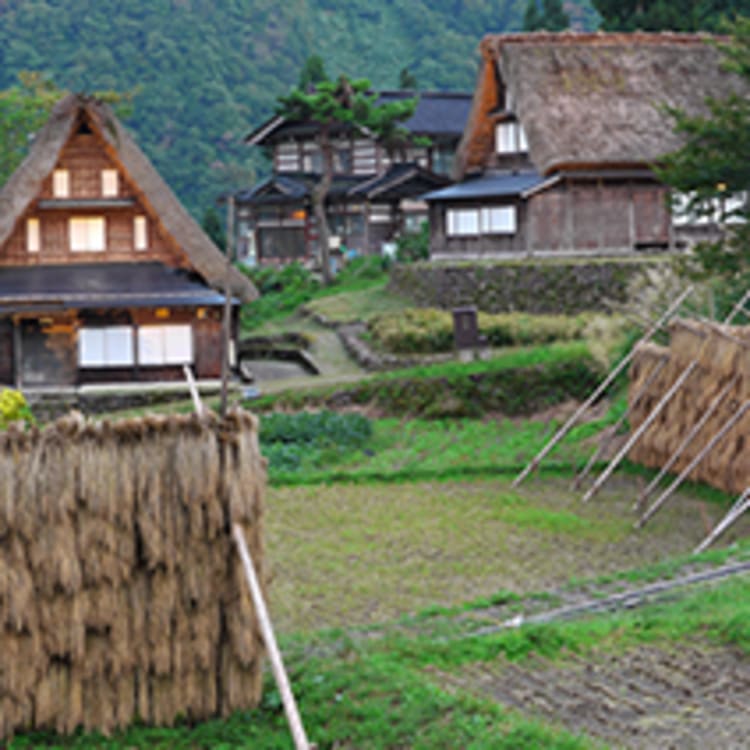 GUIDE
Bus Travel in Japan
by JNTO Travel on 21 September 2018
Thanks to its well-oiled transport system, travelling across Japan is a breezy process, be it by train or bus. Many travellers often forget that travelling by bus can be a very convenient and often cheaper option to connect to various destinations.
Depending on your destination, some journeys are even shorter by bus than by train since you don't need to bother with train transfers. In destinations not serviced by trains, buses give you access to ski resorts like Zao in Tohoku, remote mountain villages like Gokayama in Toyama, or hot spring resort towns like Kurokawa Onsen in Kyushu.
Gokayama
Kurokawa Onsen
Not only are bus fares generally cheaper than trains, you can also sleep on long-distance night buses, thus saving you money on accommodation costs. For example, a shinkansen from Tokyo to Morioka in Iwate prefecture costs over 14,000 yen, while an overnight bus starts from 5,700 yen – the train takes about 2 hours compared to 8 hours by sleeper bus.
Another bus advantage is that there is no need to drag your heavy luggage around stations since you can check-in your luggage on buses.
Mirroring the railway providers, Japan's long-distance bus companies also offer bus passes, exclusive to non-Japanese passport holders, that give you convenience and savings for travel around the country.
Travelling by long-distance bus
Japan has a dense network of highway buses that connect major cities across Japan, with many of them being overnight sleeper buses. There are many bus operators offering a range of budgets and comfort level.
Bus companies like Willer Express and VIP Liner operate overnight sleeper buses (yakō basu) with routes covering almost the entire country. Some of their buses have 2, 3, or 4 seats per row, ranging from basic to recliners rivalling airline business class seats.
For unlimited long-distance bus rides, you can purchase a Japan Bus Pass (operated by Willer Express) available in 3-day (12,500 yen), 5-day (15,000 yen), and 7-day (15,000 yen; valid Monday to Thursday) passes valid for non-consecutive day travel (if you travel between Monday and Thursday, the passes are 2,500 yen cheaper). The JBL Pass covers a greater number of routes from bus companies affiliated with the Japan Bus Lines network, offering 7-day (20,000 yen) and 14-day (28,000 yen) passes for consecutive-day travel.
Specially for female travellers
For peace of mind, female travellers can reserve women-only seats, which are an option on most long-distance buses. When booking these seats, only women are allowed to sit in the adjacent seat, so do take note when travelling with male companions. Bus companies often ask for the gender of travellers, as they would often seat solo female passengers together. Some companies, like VIP Liner, also operate women-only sleeper buses.
Regional travel with bus passes
If you're travelling regionally, buses often provide you with faster connections to remote towns not accessible by train. For extra convenience, regional bus passes give you access to both highway buses as well as local buses.
Tohoku
The Tohoku Highway Bus Ticket gives you access throughout the six prefectures in Tohoku – Aomori, Akita, Iwate, Yamagata, Miyagi, Fukushima.
Passes available:
4 days: 10,000 yen
7 days: 13,000 yen
The pass connects the major cities in the region, within the prefectures of Aomori, Morioka, Yamagata, Miyagi, and Fukushima, and provides fuss-free travel to areas tucked in the mountains. Many of the routes use Sendai in Miyagi Prefecture as a base.
For example, you can travel from Sendai to Zao Onsen in Yamagata Prefecture, located on the foot of Mt. Zao, which is famous for its sulfuric hot spring waters – among the most acidic in the country. It's particularly convenient for ski trips; Zao's slopes are famous for snow-glazed trees nicknamed 'snow monsters'.
Mt. Zao
Buses are the only way to access other mountainous hot spring areas like Nyuto Onsen (Akita Prefecture) and Naruko Onsen (Miyagi Prefecture).
You can also visit the Edo-era coastal town of Tsuruoka (Yamagata Prefecture), a Creative City of Gastronomy for its ancient dishes (zaiju sakubutsu) and Buddhist vegetarian meals (shojin ryori).
Shojin-Ryori
You can purchase the bus pass online, as well as make advance reservations for bus routes that require it.
Shoryudo
The Shoryudo Bus Pass is valid for travel in the Shoryudo region, covering the prefectures of Toyama, Ishikawa, Nagano, Gifu, and Aichi. The region is dotted with plenty of well-preserved thatched villages tucked in mountain valleys, and historic Edo-era towns.
Passes available:
3 days (Takayama, Shirakawa-go, Kanazawa): 7,500 yen
3 days (Matsumoto, Magome, Komagane): 7,000 yen
5 days (Shoryudo wide): 13,000 yen
All the passes can be used between Central Japan International Airport (Nagoya) and Takayama (Gifu Prefecture), which has a beautifully-preserved Edo-era town lined with many historic homes, shops, and sake breweries that have been here for centuries. Nearby is Hida Folk Village which is an open-air museum featuring traditional thatched houses.
The 3-day pass to Takayama, Shirakawa-go, and Kanazawa covers bus routes on the western side of the region, ideal for first-timers to the region. Shirakawa-go is a UNESCO-listed village that consists of 250-year old thatched-roofed farmhouses – a highlight is an overnight stay in one of these. Kanazawa is known for its well-preserved Higashi-chaya geisha district, where you can have tea in historic teahouses.
Takayama
The 3-day pass to Matsumoto, Magome, Komagane covers the eastern side, covering historic towns of Magome and Nakatsugawa which were once part of the ancient Nakasendo highway between Tokyo and Kyoto. Within Nagano Prefecture, you can travel to the beautiful alpine setting of Komagane, or check out Matsumoto's famous castle.
Matsumoto Castle
The 5-day pass covers all the western routes and some of the eastern routes like Matsumoto, as well as the historic village of Gokayama and Takaoka city in Toyama Prefecture.
In addition, the passes give you discounts at tourist attractions. You can purchase the pass online or via travel agencies. Before boarding a bus, you have to reserve your seat at the bus terminal counter.
Kyushu
The SunQ Pass is valid throughout Kyushu in Fukuoka, Nagasaki, Miyagi, Kumamoto, Kagoshima, Saga, and Oita prefectures, connecting all the major cities and airports on the island.
Passes available:
3 days North Kyushu (Nagasaki, Fukuoka, Oita, Kumamoto, Shimonoseki): 9,000 yen
3 days South Kyushu (Kumamoto, Kagoshima, Miyagi): 8,000 yen
3 days All Kyushu (including Shimonoseki): 11,000 yen
4 days All Kyushu (including Shimonoseki): 14,000 yen
The passes for All Kyushu and North Kyushu also cover travel to/from Shimonoseki in Yamaguchi Prefecture on the mainland. Kumamoto Prefecture is covered by both North Kyushu and South Kyushu passes.
Buses are the best way to access some of Kyushu's best hot spring towns like Kurokawa which has no train station. Located in a forested valley, Kurokawa is dominated by nature, traditional wooden architecture and stone pavements. You can sample their famous Rotenburo Meguri ("tour of outdoor baths") by purchasing an onsen-hopping pass (tegata) for 1,300 yen.
In some cases, travelling by bus is faster than by train – in the case of Fukuoka to the hot spring town of Yufuin, the bus journey is 30 minutes shorter. The pass also includes ferry rides – for example, between Kagoshima City and Sakurajima, an icon of the bay with its conical volcano that smokes constantly.
You can purchase the pass online, at designated bus counters, or via travel agents. While you can simply hop on most of the buses, you can reserve seats on those that require reservations at bus terminal counters or by phone.
A comparison:
Bus Pass
Region(s) covered
Pass validity
Price (¥)
OTohoku Highway Bus Ticket
(highway and local buses)
Aomori, Akita, Iwate, Yamagata, Miyagi, Fukushima
4 days
10,000
7 days
13,000
Shoryudo Bus Pass (Chubu)
(highway and local buses)
Toyama, Ishikawa, Nagano, Gifu, Aichi
3 days (west)
7,500
3 days (east)
7,000
5 days
13,000
Sun Q Pass (Kyushu)
(highway and local buses)
Fukuoka, Nagasaki, Miyagi, Kumamoto, Kagoshima, Saga, Oita (and Shimonoseki)
3 days (north)
9,000
3 days (south)
8,000
3 days (all)
11,000
4 days (all)
14,000
OTohoku Highway Bus Ticket
(highway and local buses)
Aomori, Akita, Iwate, Yamagata, Miyagi, Fukushima
4 days
10,000
7 days
13,000
Japan Bus Line (JBL Pass)
(highway buses)
Covers 40 prefectures across Japan including Hokkaido
7 days
20,000
14 days
28,000
Willer Express
(Japan Bus Pass)
- non-consecutive day use
Across much of mainland Japan, Fukuoka, Matsuyama
3 days (Mon-Thu)
10,000
3 days (all days)
12,500
5 days (Mon-Thu)
12,500
5 days (all days)
15,000
7 days(Mon-Thu)
15,000
•passes only valid for consecutive days, unless specified
How to use bus passes
Bus passes can be purchased via travel agents, at selected bus terminals, as well as online.
Long-distance buses:
Both the JBL Pass and Japan Bus Pass can be purchased online; you also reserve (or amend) each trip online without any physical ticket or pass involved.
Regional buses:
For regional passes, once you have purchased online, you have to collect your physical passes at designated locations (depending on the pass) in Japan. While you can simply hop on many of the buses – look for buses with stickers indicating the pass name, ie. SunQ Pass – some long-distance routes will require advance reservation; depending on the pass, you can do so online or at bus terminals.