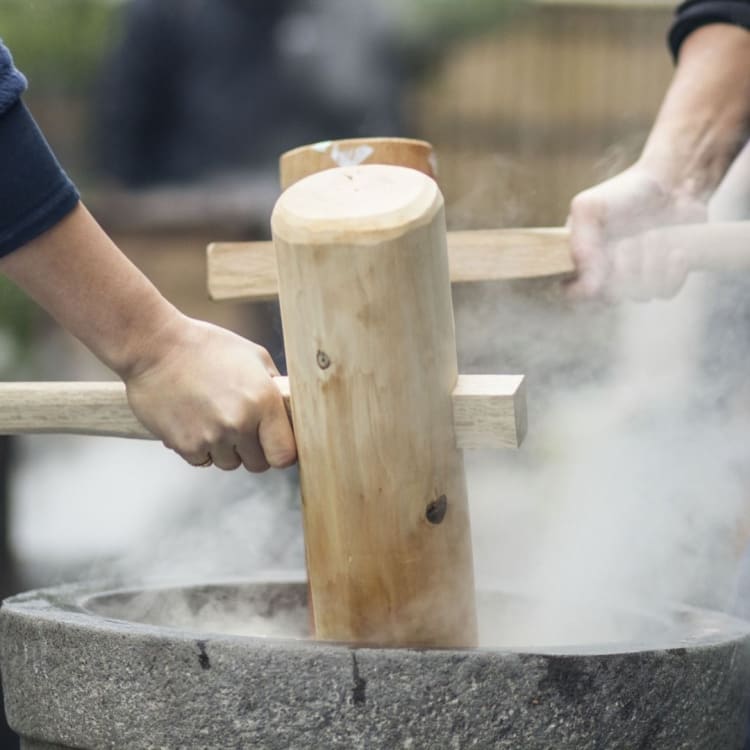 STORY
​Countdowns, "Hatsuuri" and "Hatsumode"! A guide to the New Year in Japan!
by JNTO on 27 November 2019
With just a few days to go to the New Year, we inevitably start preparing for the year. Whether we be sad to see the year end, or excited for a new starts, a keen sense of anticipation is in the air as the clock ticks towards a new beginning.
In Japan, the "year-crossing" is known as "Toshikoshi". All countries have their own Toshikoshi traditions, be it partying at a concert, holding small parties with friends and celebratory wine, or kissing your loved one at the stroke of midnight. What do you do choose Tokyo as the new year's place?
 
If you want to know more details about the Japanese New Year, please check this article:
https://japanbyjapan.com/blog/enjoy-new-year-japan-tips-toshikoshi-and-shogatsu
 
"Shogatsu Sanganichi" and a celebration of firsts
 
Most Japanese companies are closed for the year-end, as well as the first three days of the New year. These first three days are called "Shogatsu Sanganichi". Many restaurants and facilities are shuttered during this period, while those still open for business might shorten their operating hours, so it is important to plan ahead and make sure you will not result in disappointment before shops reopen. It is also highly recommended to check all the official schedules of your destinations.
 
©Isetan Shinjuku Store

※"Hatsuuri" at Isetan Shinjuku Store in 2019
In the city, most departmental stores start their businesses again by the first or second day of the new year (the day of opening varies and depends on Hatsu-Uri (literally "the first sale of the year") schedule of each store). For example, Mitsukoshi and Isetan are popular for Hatsu-Uri.
For this occasion, numerous stores in Japan fill in some random items into their own versions of grab bags called "Fukubukuro" (fortune bag), which are often seen as an attractive bargain as they are sold for only about one-third of the total sales value of the items inside.
As buyers cannot see the content of the fortune bag inside, they are like mystery bags that you cannot pick and choose. This test of luck is why they are called "fortune bags", but nevertheless the lure of a good bargain is hard to resist.
Experienced shoppers know to watch out for the starting timings for the sales of these fortune bags at each store, and camp out early as the bags can sell out in a matter of minutes. Fukubukuro hunters are always on the lookout for the offers from Mitsukoshi and Isetan as their gift bags offer a wide variety of items, ranging from clothes, cosmetics and jewelry, to even food and furniture!
 
First shrine or temple visit to set the tone for the new year – "Hatsumode"
 
"Hatsu Uri" is just one of the many "firsts" ("hatsu" in Japanese) that Japan celebrates over the new year. There is "Hatsu Hinode" (first sunrise), whereby people will look for a good vantage point that offers a breathtaking view of the rising sun on New Year's Day; there is also "Hatsu Yume" (first dream), where the Japanese believe that the first dream of a new year will hint what lies ahead.
 
Still, when a local mentions the "firsts" in a new year,"Hatsumode" will certainly be one of the activities that will immediately be thought of. "Hatsumode" refers to the first shrine or temple visit one makes in the new year.
During Hatsumode, visitors pray for good fortune for the new year and also get "Omamori", which are fortune charms; some would also bring their previous year's Omamori to discard them appropriately and according to customs.
Companies, too, have their employees take part in Hatsumode as a group – by doing so it is believed that their businesses may receive blessings.
Hatsumode is typically done on the first few days of the year, with some people visiting even after midnight and straight from countdown events to Hatsumode. Major train lines operate through the night to cater these crowds, but this also means that public transport during this period is bound to be packed, so be mindful when planning your itinerary.
When visiting a shrine or a temple, keep in mind that one should always behave in a courteous manner, not just to other visitors, but to the deities and gods.
We recommend you bow once before stepping through the Torii gates to let God about your presence, and refrain from walking in the middle of the paths, as that is believed as where the deities pass through.
Now that your interest is piqued, you might be wondering where in Tokyo would be a suitable place for the year-end countdown. Here are three shrines and temples within Tokyo where you can ring in the new year both figuratively and literally.
Meiji Jingu

As one of the most prominent shrines within Tokyo, Meiji Jingu (Meiji Shrine) receives about 3 million visitors just for Hatsumode! Its accessible location right beside JR Harajuku Station on the Yamanote Line is a boon to its popularity as well.
Meiji Jingu is open through the night and all the way until the first of the new year, so a countdown and Hatsumode is an option.
Be warned, though, that the roads leading to the shrine are bound to be packed before midnight. Once it hits midnight, the crowds will start moving slowly towards the shrine. For those who want to avoid the crowds, consider visiting at around four o'clock in the morning instead, when the crowds typically thins out.
Meiji Jingu
Address: 1-1 Yoyogi Kamizono-cho, Shibuya, Tokyo
Access: From JR Yamanote Line Harajuku Station, about 1 minute on foot.
Opening Hours: during New Year period: 6:40 a.m. – 0:00 a.m. (31st December), 0:00 a.m. – 7:00 p.m. (1st January), 6:40 a.m. – 6:30 p.m. (2nd – 3rd January), 6:40 a.m. – 6:00 p.m. (4th January)
 
Zojo-ji
©Zojoji Temple
Located next to Tokyo Tower, Zojo-ji (Zojo Temple) is hard to miss when passing by the area, with its striking red main gate being easily recognizable from afar. Its architectural structures fit nicely within a camera frame with Tokyo Tower in the background, creating an arresting juxtaposition of traditional and modern that is enhanced when Tokyo Tower lights up at night.
©Zojoji Temple
History junkies will know that Zojo-ji holds a special connection with the Tokugawa clan, which ruled Japan during the Edo period. Six Tokugawa shogunates are actually buried within the mausoleum in the temple grounds. Zojo-ji is also home to a Black Amida Buddha statue, which Ieyasu Tokugawa, the first shogun of the Tokugawa shogunate, credited for his victories in war – in the same vein, the temple offers an Omamori for those seeking victory and luck in winning.
©Zojoji Temple
Similar to Meiji Jingu, Zojo-ji is open throughout the night for countdown. Keep an eye on the time and look around when it hits 11pm – a large fire is lit on the temple grounds as part of the "Jobone" sacred burning ritual.
This ritual is where old fortune charms and tablets from the past year are burnt, and visitors are welcome to observe it.
 
Zojo-ji
Address: 4-7-35 Shibakoen, Minato-ku, Tokyo
Access: From JR Yamanote Line Hamamatsucho Station, about 10 minutes on foot; from Toei Asakusa Subway Line Daimon Station, about 5 minutes on foot.
 
Tsukiji Honganji
Counting down with a crowd of like-minded well-wishers can be exciting, but it may not be a thing for everyone. If you would prefer a relatively quieter time with family and friends, consider making Tsukiji Honganji your Hatsumode destination of choice.
As the name suggests, Tsukiji Honganji is located near the Tsukiji Fish Market. This temple has a unique exterior facade that is designed based on ancient Indian Buddhist architecture. Its interior is also unusually different, as it houses stained glass decorations, as well as a large pipe organ from Germany.
While the crowds here are not as overwhelming as those at places such as Meiji Jingu and Zojo-ji, do still expect to have to queue to carry out your Hatsumode. Party crackers are handed out to those counting down to the new year, with everyone pulling them in unison at the stroke of midnight. The first visitors on the night of the New Year's Eve with numbered limited tickets handed out beforehand will also be allowed to ring the temple's bell, which is not something usually open to the public.
Tsukiji Honganji
Address: 3-15-1 Tsukiji, Chuo, Tokyo
Access: Direct access from Tokyo Metro Hibiya Line Tsukiji Station
 
There are many different ways and places to welcome the year of 2020, but keep in mind: always be kind to those around you, dress warmly to avoid catching a cold in the new year, and – have fun! Whether you choose to stay up the entire night for countdown or just take it easy and carry out your Hatsumode, the celebration of firsts will no doubt be an irreplaceable experience in ringing in the new year.
 
If you want to know more details about the Japanese New Year, please check this article:
https://japanbyjapan.com/blog/enjoy-new-year-japan-tips-toshikoshi-and-shogatsu