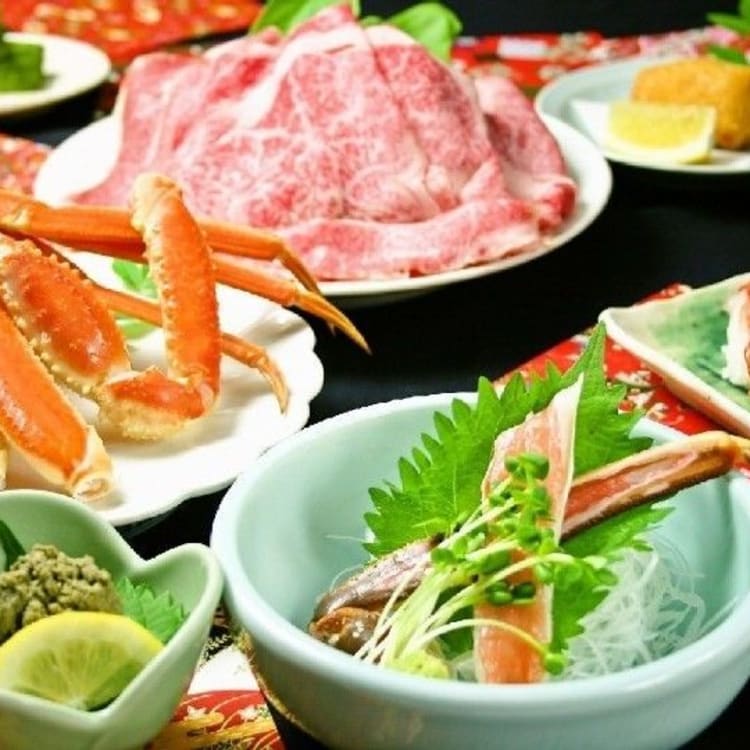 STORY
​From Delicious Sushi to Fresh Crabs, to Luxury Seasonal Fruits – Amazing "All-You-Can-Eat" Buffets!
by JNTO on 25 October 2019
Fine Japanese food such as fresh seafood, sushi, and fruits can be costly even in Japan. If you want to savour these to your heart's content without burning a hole in your wallet, we have a perfect solution for you- "all-you-can-eat" buffet.
Japan's buffet system is similar to that in many countries. By paying a fixed price, you can enjoy as much as you want within a certain time limit (typically 60 or 90 minutes). The only difference is the premium and fresh ingredients you can only get in Japan!
Fruit Paradise in Japan for Fruit Lovers – Takano Fruit Parlour & Fruit Bar at Shinjuku Main Store
If you have ever walked into a Japanese supermarket, you will realise how luxurious fresh fruits are in Japan. However, they can be expensive because of their exceptional quality and the amount of hard work the farmers put in to cultivating the fruits.
Located on the fifth floor of the Shinjuku Takano complex, Takano Fruit Parlour & Fruit Bar is one of the best fruit stores in Japan. It was established in 1885 as Shinjuku Takano and has been a leading brand since then. Not only does its fruit bar has a wide selection of fruits available in its menu to choose from, its buffet menu also offers various dishes. Its menu changes monthly or seasonally, so you can expect a wide spread of both savoury dishes from soup and pasta to desserts such as fruits and cakes.
The time limit for its buffet is 90 minutes, so you take your time to enjoy the yummy food!
Takano Fruit Parlour & Fruit Bar Shinjuku Main Store
Access: From JR Yamanote Line Shinjuku Station, walk for about 1 minute
Address: 5/F, 3-26-11 Shinjuku, Shinjuku Ward, Tokyo
Operating Hours: 11:00 a.m. – 9:00 p.m. (last order 8:30 p.m.)
 
SWEETS PARADISE
If you are a fan of Japanese desserts, SWEETS PARADISE is, as its name suggests, a heavenly place for you. It is a famous dessert buffet chain-restaurant in Japan, serving mainly desserts such as cakes, pudding, mousse, and ice-cream. You can choose your dining time from the restaurant's three buffet menus with time-limits of 50 minutes, 70 minutes, or 80 minutes. In the basic 50-minute plan, they offer an amazing spread of more than 30 different types of cakes ranging from fruit cakes to chocolate cakes, to cheesecakes, simply any cake you can think of. If you have had enough of sweet stuff (which we doubt you would), you can have a break and have some refreshing salad, or even savoury pasta dishes.
 
If you want to try various kinds of Japanese cakes at one go, Sweets Paradise is the place for you! The sweets chain can be found across the country, including Tokyo, Kyoto, Osaka, etc. If luck is with you, you may even have a chance to enjoy its season exclusives. Be sure to check out their scheduled menus in advance!
The Japan Winter's treat - crab buffet
All gourmet lovers know that autumn and winter are time for fresh and juicy seafood! Many travel to Japan during this period especially for crabs ("Kani" in Japanese). Crabs are typically quite expensive, especially Japanese Snow crabs (also known as Zuwai-gani in Japanese). However, you can have as much as you want at a crab buffet in Tokyo! There are a lot of crab specialty restaurants in Japan. Tarabaya (たらば屋) is a traditional crab restaurant which is conveniently located just in front of JR Kichijoji Station's South Exit. It serves mainly Hokkaido cuisine with a wide range of fresh crab dishes in different cooking styles such as sashimi, sushi, tempura, shabushabu and many more. They also have an amazingly valuable course which includes Zuwai-gani all-you-can-eat options for 90 minutes.
Tarabaya
Access: From JR Chuo Line Kichijoji Station, walk for about 1 minute
Address: New Centre Building 5/F, 1-4-3 Kichijoji-minamicho, Musashino-shi, Tokyo
Operating hours: 4:00 p.m. - 11:00 p.m. (last order at 9:30 p.m.)
※Closed on every 3rd Tuesdays of the month (except December)
Enjoy premium sushi at affordable prices in Ginza and Tsukiji
The capital of the country, Tokyo, is a war zone for authentic Japanese restaurants, especially sushi. Many people may think sushi is expensive. However, these two restaurants serving all-you-can-eat sushi will change your perspectives.
Ginza Maguro Ya
Ginza Maguro Ya (ぎんざまぐろや) is a sushi place strategically located in Tsujiki, the popular fish market in Tokyo. The restaurant offers a wide spread of fresh sushi such as uni (sea urchins), tuna, and salmon roes. Their buffet course has a longer 90-minute time limit so you can slowly enjoy your fresh seafood in peace.
Please also note that this buffet menu is only available on Saturdays and public holidays.
Ginza Maguro Ya
Address: 1/F Koshiba Building, 6-8-10 Tsukiji, Chuo Ward, Tokyo
Access: From Tokyo Metro Hibiya Line Tsukiji Station, walk for about 5 minutes
Operating hours: [Weekdays] 11:00 a.m. – 2:00 p.m., 5:00 p.m. – 10:00 p.m. (last order 9:30 p.m.), [Saturdays and public holidays] 11:00 a.m. – 5:00 p.m.
※Closed on Sundays
※Limited quantity
 
If you are looking for another sushi buffet in town, Itamae Sushi (板前寿司) is perfect for you. It is a chain sushi restaurant famous for quality tuna. They even have live tuna-cutting shows for eaters to have a glimpse of the skills of the tuna-cutting experts. You can savourthe fresh sushi as much as you can in 70 minutes! They also serve tempura, fried dishes, Maki-sushi (sushi rolls) and many more.
There are 11 stores in Tokyo and one store in Kofu City, Yamaguchi Prefecture, whereas the all-you-can-eat-sushi course is only available at the Tokyo Ueno and Yamaguchi Kofu branches from 5:00 p.m. (As of October 2019)
 
Itamae Sushi Ueno Store
Access: From JR Yamanote Line Ueno Station, walk for about 5 minutes
Address: Ueno C-road Building 1-2/F, 4-4-5 Ueno, Taito-ku, Tokyo,
Operating Hours: [Monday - Saturday & Public holiday] 11:30a.m. - 3:30 a.m.,
[Sunday]11:30 a.m. – 11:00 p.m.
*Irregular holidays