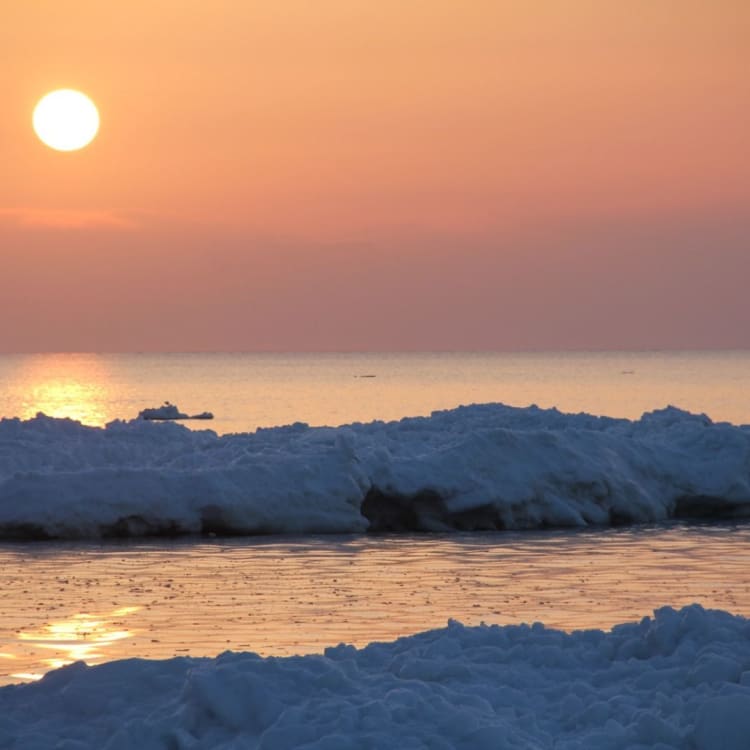 STORY
​Drift Ice (Ryuhyo) Cruise in Hokkaido- the Wonder Only in Japan and in the Right Timing
by JNTO on 27 November 2019
"Ryuhyo" drifts to Sea of Okhotsk in east Hokkaido every mid-winter. This time, we will be looking at the strictly time-limited but interestingly unique drift ice cruise activities in Japan, the "extreme cold" below zero degree Celsius even in daytime in the winter of Hokkaido, as well as points to note like clothing for beginners venturing into the cold weathers.
All You Need to Know about Drift-Ice!
What is the Difference between Ryuhyo cruise and Ryuhyo walk?
Hokkaido is a popular vacation spot, while it is also known for its drift ice in a relatively low latitude.
Every year, the sea ice along the coast of Siberia is moved by seasonal winds and ocean currents to the south. While being carried away, floes grow in size because of the low temperature, and they eventually become the drift ice along the coast of the Sea of Okhotsk in Hokkaido.
The best season to see the drift ice is from late January to March. Well-equipped with sightseeing facilities and services are three areas-Abashiri, Monbetsu and Shiretoko Utoro. In the season, drift-ice moves very close to the port.
You need to join tours to get close to the drift ice, which is divided to "Drift Ice Cruise" (a close watch on a cruise) and "Drift Ice Walk" (walking on the ice in real life in life jacket and under the supervision of a tour guide).
In the latter activity, the highlight of it is that you can jump into the seawater. Fret not, you remain afloat due to the seawater. You can even meet with cliones if you were lucky enough!
What to Pack and What to Do for Cold Protection? Any Tips?
In winter, the lowest temperature at the Sea of Okhotsk may drop to below minus 20 degree Celsius!
To join the drift ice tour, you need to have a pair of gloves, scarf, beanie (or earmuff, etc.), moisture-wicking underwear, and thick socks. It would be even better if you could have heat pads around your underwear. The key point to note is to keep yourself really warm with thermal innerwear. You may also want to have a long coat or windbreaker on the top.
In addition, beware that the cruise maybe quite bumpy because of the waves, so do not forget your medicines for motion sickness, particularly for those who get them frequently.
Impressive Drift Ice Cruise
Here are the drift ice tour agencies and facilities!
Meet with Overwintering Animals Like White-Tailed Eagles and Steller's Sea Eagles!
Shiretoko Nature Cruise (Shiretoko Peninsula)

This is a boat cruise to tour through the floating ice and watch the overwintering animals and birds! You may be able to meet with white-tailed eagles and Steller's sea eagles arriving and taking rests from their long hauls during the drift ice season, or even ribbon seals and sea lions!
The cruise captain, fishermen, and staff are all experts of the sea of Shiretoko, and they are likesailing handbooks themselves, so your tour will be safe, secure and comfortable! From the cruise boat, you can also take in the magnificent horizons of drift ice and panoramic view of Shiretoko Peninsula!
Dynamic, Vibrant Tour whereby with Cracking Sound of Ice!
"Abashiri Drift Ice Sightseeing & Icebreaker Ship Aurora"
Departing from Abashiri Port, Aurora drills through the thick ice with cracking sounds all the way in the journey. When the drift ice passes through under the ship, the bumpiness and loud cracking can simply shake your soul! However, do not fret. The ship is relatively large and stable, hence the ride is suitable for those who suffer from motion sickness. It tours around the area's highlights such as Notoromisaki Cape, Futatsuiwa rocks, and the Cap Rock.
Can you imagine how wonderful this cruise is?
Of course,you will meet white-tailed eagle, sea eagle, seagulls, etc. during the cruise!
You can also refer to past article by our JAPAN by Japan user for more information: https://japanbyjapan.com/discover/abashiri-drift-ice-sightseeing
Deepen Your Knowledge of Drift Ice Season through The Okhotsk Ryu-hyo Museum(Abashiri)
A museum to see real drift ice preserved at -15 degree Celsius, with a fascinating show of lights and sound effects, titled the "Drift Ice Experience Terrace" and a chance to catch the rarely seen animal called "clione", usually only seen during the drift ice season.
To complete the tour, enjoy a sumptuous lunch made with local ingredients while taking in the wonderful views of the Sea of Okhotsk, Lake Abashiri, Lake Notoro and the nature wonder of drift ice at restaurant "Café&restaurant 360". Do not miss out the observatory terrace with offering breathtaking panoramic views!
Okhotsk Ryu-hyo Museum
Address: 244-3, Tentozan, Abashiri, Hokkaido
Access: At JR Abashiri station, take Abashiri bus "City Sightseeing Facilities Tour" for around 15 minutes and get off at "Tentozan"
Time: 【May to October】 8:30 a.m. - 6:00 p.m., 【Nov to Apr】 9:00 a.m. - 4:30 p.m., 【end of year and New Year (29th Dec – 5th Jan)】 10:00 a.m. – 3:00 p.m.
※ Last admission at 30 minutes before closure.